FREE SHIPPING USA ONLY. International Customers: Please add international shipping: http://m.onesmedia.com/category/313432
TERESA BREWER COLLECTION
OLD TIME RADIO - 1 CD - 7 mp3 - Total Playtime: 2:47:11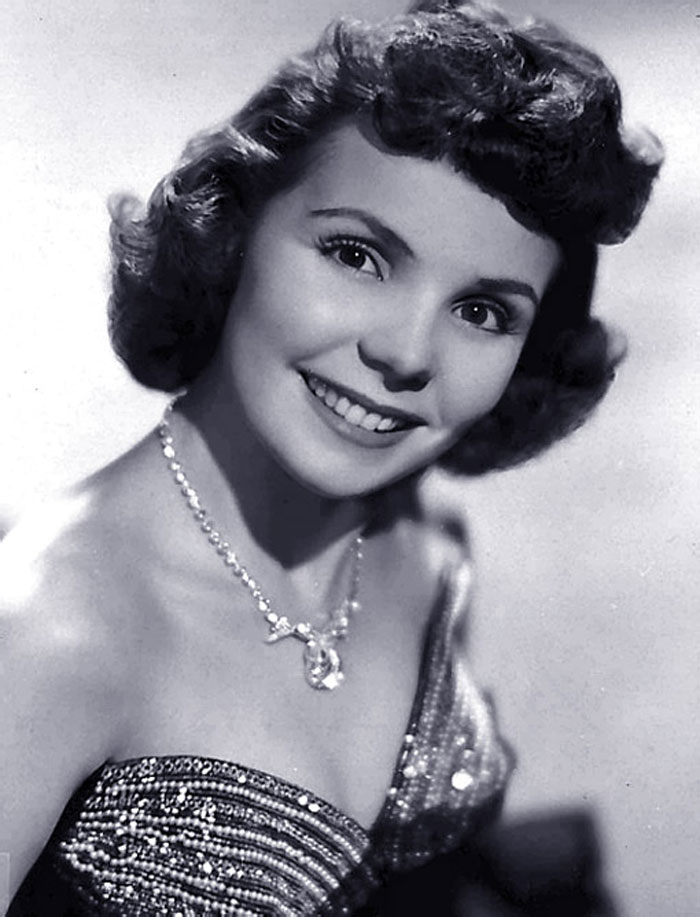 Teresa Brewer (May 7, 1931 – October 17, 2007) was an American pop singer whose style incorporated elements of country, jazz, R&B, musicals and novelty songs. She was one of the most prolific and popular female singers of the 1950s, recording nearly 600 songs.
An agent, Richie Lisella, heard her sing and took her career in hand, and soon she was signed to a contract with London Records. In 1949 she recorded a record called "Copenhagen" with the Dixieland All-Stars. The B side was the song "Music! Music! Music!". Unexpectedly, it was not the A side but the B side which took off, selling over a million copies and becoming Teresa's signature song. Another novelty song, "Choo'n Gum", hit the top 20 in 1950, followed by "Molasses, Molasses". Although she preferred to sing ballads, her only recorded ballad to make the charts was "Longing for You" in 1951.
In 1951 Brewer switched labels, going to Coral Records. Since she never learned to read music, she had demos sent to her to learn the melodies of the songs she would record. Despite her lack of formal training, she had a number of hits for Coral. One recording, "Gonna Get Along Without You Now" (1952) was better known in a 1956 version by Patience and Prudence and was also a hit in 1964 for Skeeter Davis as well as Tracey Dey. In 1952, she also recorded "You'll Never Get Away" in a duet with Don Cornell, followed in 1953 by her best selling hit, "Till I Waltz Again with You".
In the mid-1950s she did a number of covers of rhythm and blues songs like "Pledging My Love" and "Tweedle Dee". She covered some country songs like "Jilted", "I Gotta Go Get My Baby", and "Let Me Go, Lover!." In 1956 she co-wrote "I Love Mickey", about New York Yankees center fielder Mickey Mantle, who appeared on the record with Brewer. It was also reported that the two had developed a mutual attraction. Another 1956 hit was Brewer's syncopated rendition of "Mutual Admiration Society". In 1957 she recorded more covers: of country song "Teardrops in My Heart" and R&B songs "You Send Me" and "Empty Arms". In 1960, she had another hit with a cover of the standard "Have You Ever Been Lonely?". Her final charted recording was "Milord" in 1961, an English language version of a song by Édith Piaf.
In 1962 she switched labels again, to Philips Records, where she recorded many singles and albums over a five-year period, including Gold Country in 1966. In addition to having her record new and contemporary material, Philips put Brewer in the studio to re-record her earlier material with new arrangements, instrumentation and recording equipment: the resulting album (PHM 200-062) was issued as Teresa Brewer's Greatest Hits. After leaving Philips, Brewer made a few recordings for other companies, but with no more big chart hits. In the 1970s she released a few albums on Flying Dutchman Records owned by her second husband, jazz producer Bob Thiele. In 1975 she released an album Unliberated Woman produced by Elvis Presley's producer Felton Jarvis. One of the tracks is "For the Heart" written by Dennis Linde.
She appeared in the 1953 musical Those Redheads From Seattle - she was a natural redhead herself. She appeared on television as a guest star on The Muppet Show and Sha Na Na in 1977.
 
SHOWS LIST
Bing Crosby Chesterfield Show - 51-05-09 Guest - Fred Astaire and Teresa Brewer
Bing Crosby Chesterfield Show - 51-05-23 Guest - Louis Armstrong, Teresa Brewer
Bing Crosby Chesterfield Show - 51-06-13 Guest - Bert Wheeler and Teresa Brewer
Bing Crosby Chesterfield Show - 51-06-20 Guest - Teresa Brewer, Tommy Dorsey and Joe Venuti
Bing Crosby Chesterfield Show - 52-05-14 Guest - David Niven, Teresa Brewer
Steve Allen Show - Guest - Teresa Brewer
Teresa Brewer & The Lancers - Let Me Go Lover
THESE ARE MP3 RECORDINGS
THEY WILL NOT PLAY IN REGULAR CD PLAYERS
CLICK HERE TO KNOW MORE ABOUT mp3
CLICK HERE TO LEARN MORE ABOUT OUR PRODUCTS
We guarantee delivery of your item. If your item doesn't get there or is damaged, please notify us and we'll reship for you.
FULL REFUND IF NOT SATISFIED
Item number
OTR-1CD-TeresaBrewer
Currently there are no reviews available for this product. Be the first to write a review.