FREE SHIPPING USA ONLY. International Customers: Please add international shipping: http://m.onesmedia.com/category/313432
MERCURY THEATER
OLD TIME RADIO - CD-ROM - 42 mp3
Total Playtime: 28:20:45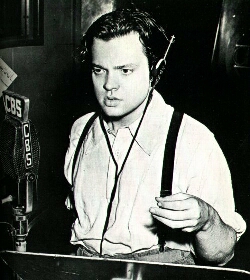 In 1937, Welles and the Mercury company earned a reputation for their inventive adaptation of William Shakespeare's Julius Caesar set in contemporary Fascist Italy. They moved on to productions of The Shoemaker's Holiday, Heartbreak House, Too Much Johnson and Danton's Death in 1938. In 1939 Five Kings was produced along with The Green Goddess. The last theatrical production of the company was Native Son in 1941.
[edit] Radio

Welles had already worked extensively in radio drama, playing the title character in The Shadow for a year and directing a seven-part adaptation of Victor Hugo's Les Misérables, both for the Mutual Broadcasting System. In 1938, he was offered a chance to direct his own weekly, hour-long radio series, initially promoted as First Person Singular. However, this title was never announced on the air. Radio Guide initially mentioned the series' debut as Mercury Theatre before later listing it as The Mercury Theatre on the Air.

Welles insisted his Mercury company — actors and crew — be involved in the radio series. This was an unprecedented and expensive request, especially for one so young as Welles. Most episodes dramatized works of classic and contemporary literature. It remains perhaps the most highly regarded radio drama anthology series ever broadcast, most likely due to the creativity of Orson Welles.

The Mercury Theatre on the Air was an hour-long dramatic radio program which began in the summer of 1938 on the CBS radio network. Paul Holler, writing in Critique, described the program's origin:

Radio, with its power to excite the imagination and actually involve the audience in the creative process, had huge potential as a medium for serious drama. It seemed inevitable that the day would come when this medium, which had made Orson Welles a household name across the country, would become a part of his serious theater ambitions. That day came in 1938.

It was in that year that CBS, remembering Welles' work on Les Misérables the year before, approached him and Houseman about a series of radio dramas for its summer schedule. The idea was conceived as a series of narratives under the title First Person Singular. But the series would be best remembered by the name it assumed with its second production, The Mercury Theatre on the Air.

As with Les Misérables the previous year, Welles was given complete creative control by CBS over the new series. The choices he made in developing the series were informed by what he had learned in previous years in other radio dramas. Chief among those choices was to create dramas specifically for the radio and not to simply adapt dramas in production at the Mercury Theatre for broadcast. In close collaboration with John Houseman and other writers, Welles wrote, directed and performed in the productions. The end result was a series of dramas based on literary, rather than dramatic, works. There were exceptions, most notably Our Town by Welles' early mentor Thornton Wilder. But it was clear to Welles and Houseman that the medium of radio suited the telling of a story far better than the dramatization of it. As a result, some of the most memorable Mercury Theatre on the Air productions were adaptations of great novels. Adventures of Huckleberry Finn, A Tale of Two Cities, The Magnificent Ambersons, Heart of Darkness and other major literary works were offered to radio audiences during the Mercury Theatre on the Air's run. [1]

Houseman wrote the early scripts for the series, turning the job over to Howard Koch at the beginning of October. Music for the program was conducted by Bernard Herrmann. Their first radio production was Bram Stoker's Dracula, with Welles playing both Count Dracula and Doctor Seward. Other adaptations included Treasure Island, The Thirty-Nine Steps, The Man Who Was Thursday and The Count of Monte Cristo.

Originally scheduled for nine weeks, the network extended the run into the autumn, moving the show from its Monday night slot, where it was the summer substitute for the Lux Radio Theater, to a Sunday night slot opposite Edgar Bergen's popular variety show.

The early dramas in the series were praised by critics, but ratings were low. A single broadcast changed the program's ratings: the October 30, 1938 adaptation of H. G. Wells' The War of the Worlds.

Possibly thousands of listeners thought Martians were in fact invading the earth, due to the faux-news quality of most of the broadcast. Significant publicity was generated, and The Mercury Theatre on the Air quickly became one of radio's top-rated shows.

The War of the Worlds notoriety had a welcome side effect of netting the show the sponsorship of Campbell's Soup, guaranteeing its survival for a period, and beginning on December 9, 1938, the show was retitled The Campbell Playhouse. The company moved to Hollywood for their second season, and continued briefly after Welles' final performance in March 1940. Welles revived the Mercury Theatre title for a short series in the summer of 1946.

Welles used the banner "Mercury Productions" on many of his films, and several of the actors from his Mercury Theatre Company appeared in them, notably in Citizen Kane, The Magnificent Ambersons and Macbeth.
 
PLEASE READ HOW TO LISTEN TO THIS CD
THESE ARE MP3 CD RECORDINGS
IT WILL NOT PLAY IN REGULAR CD PLAYERS
You will need CD players that read mp3 files.
Here some of the more popular mp3 players:
Coby, Memorex, Panasonic, Philips, Sony and many more. Be sure you buy a model that support mp3 files.
You can upload the files in ipods like Apple Ipod, Sansa and 100's more.
Many new car CD players reads mp3, again check your player first.
Many new home DVD players and virtually every Blu Ray reads mp3 files, please check your manual. Finally you can use your computer. If you're reading this web page, you already have everything you need to listen this mp3 CD
THIS CD WILL BE DELIVERED IN WHITE PAPER SLEEVE
We guarantee delivery of your item. If your item doesn't get there or is damaged, please notify us and we'll reship for you.
FULL REFUND IF NOT SATISFIED
EPISODES LIST
Mercury Theater 38-07-11 (01) Dracula
Mercury Theater 38-07-18 (02) Treasure Island
Mercury Theater 38-07-25 (03) A Tale of Two Cities
Mercury Theater 38-08-01 (04) The Thirty Nine Steps
Mercury Theater 38-08-08 (05) I'm a Fool, My Little Boy, Open Window
Mercury Theater 38-08-15 (06) Abraham Lincoln
Mercury Theater 38-08-22 (07) The Affairs of Anatole
Mercury Theater 38-08-29 (08) The Count of Monte Cristo
Mercury Theater 38-09-05 (09) The Man Who Was Thursday
Mercury Theater 38-09-11 (10) Julius Caesar
Mercury Theater 38-09-25 (12) The Immortal Sherlock Holmes
Mercury Theater 38-10-09 (14) Hell on Ice
Mercury Theater 38-10-16 (15) Seventeen
Mercury Theater 38-10-23 (16) Around the World in Eighty Days
Mercury Theater 38-10-30 (17) War of the Worlds
Mercury Theater 38-11-06 (18) 2 Complete Stories
Mercury Theater 38-11-13 (19) A Passenger to Bali
Mercury Theater 38-11-20 (20) Pickwick Papers
Lady Esther Presents 41-09-15 (01) Shredni Vashtar
Lady Esther Presents 41-09-29 (03) The Interlopers-The Song of Solomon-I'm a f
Lady Esther Presents 41-10-06 (04) The Black Pearl-Anabel Lee
Lady Esther Presents 41-10-13 (05) If in Years to Come-Poetry Used in Drama
Lady Esther Presents 41-11-03 (07) Wild Oranges
Lady Esther Presents 41-12-01 (11) Wilber Brown, Habitat Brooklyn-Something's Going to Happen to Henry
Lady Esther Presents 41-12-22 (13) The Happy Prince
Lady Esther Presents 42-01-12 (16) The Apple Tree
Lady Esther Presents 42-01-19 (17) My Little Boy

Mercury Summer Theater 46-06-07 (01) Around The World In Eighty Days
Mercury Summer Theater 46-06-14 (02) The Count Of Monte Cristo
Mercury Summer Theater 46-06-21 (03) The Hitchhiker
Mercury Summer Theater 46-06-28 (04) Jane Eyre
Mercury Summer Theater 46-07-05 (05) A Passenger To Bali
Mercury Summer Theater 46-07-12 (06) The Search For Henri Lefevre
Mercury Summer Theater 46-07-19 (07) Life With Adam
Mercury Summer Theater 46-07-26 (08) The Moat Farm Murder
Mercury Summer Theater 46-08-02 (09) The Golden Honeymoon
Mercury Summer Theater 46-08-11 (10) Hell On Ice
Mercury Summer Theater 46-08-16 (11) Abednego, The Slave
Mercury Summer Theater 46-08-23 (12) Two Stories
Mercury Summer Theater 46-08-30 (13) Moby Dick
Mercury Summer Theater 46-09-06 (14) The Apple Tree
Mercury Summer Theater 46-09-13 (15) King Lear

 
Item number
OTR-1CD-MercuryTheater
Currently there are no reviews available for this product. Be the first to write a review.