FREE SHIPPING USA ONLY. International Customers: Please add international shipping: http://m.onesmedia.com/category/313432
HUMPHREY BOGART COLLECTION
OLD TIME RADIO - CD-ROM - 73 mp3
Total Time: 37:17:22
Humphrey DeForest Bogart (December 25, 1899 – January 14, 1957) was an American actor.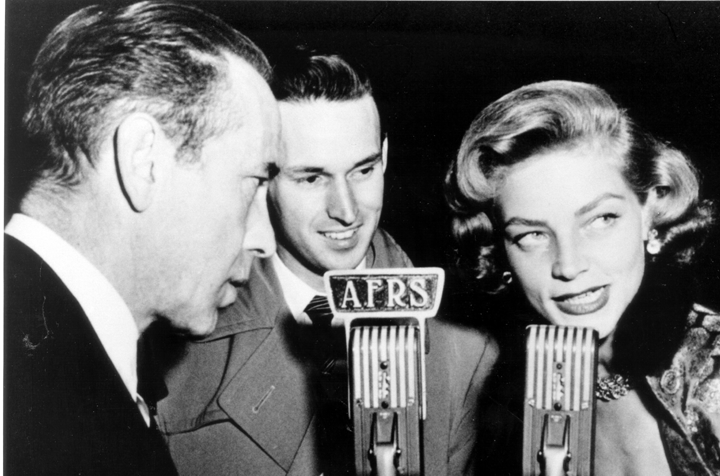 After trying various jobs, Bogart began acting in 1921 and became a regular in Broadway productions in the 1920s and 1930s. When the stock market crash of 1929 reduced the demand for plays, Bogart turned to film. His first great success was as Duke Mantee in The Petrified Forest (1936), and this led to a period of typecasting as a gangster in B-movies. His breakthrough came in 1941, with High Sierra (1941) and The Maltese Falcon (1941). The next year, his performance as Rick Blaine in Casablanca (1942) raised him to the peak of his profession and at the same time, cemented his trademark film persona, that of the hard-boiled cynic who ultimately shows his noble side. Other successes followed, including To Have and Have Not (1944), The Big Sleep (1946), Dark Passage (1947), and Key Largo (1948), with his wife Lauren Bacall; The Treasure of the Sierra Madre (1948); The African Queen (1951), for which he won his only Academy Award; Sabrina (1954), and The Caine Mutiny (1954). During a film career of almost thirty years, he appeared in 75 feature films.

At the time of his death from cancer in 1957, Bogart was one of the most respected figures in American cinema. Since his death, his persona and film performances have been considered as having a lasting impact and have led to him being described as a cultural icon. In 1997, Entertainment Weekly magazine named him the number one movie legend of all time. In 1999, the American Film Institute ranked him the Greatest Male Star of All Time.
Bogart performed radio adaptations of some of his best known films, such as Casablanca and The Maltese Falcon. He also recorded a long-running radio series called Bold Venture with Lauren Bacall.
PLEASE READ HOW TO LISTEN TO THIS CD
THESE ARE MP3 CD RECORDINGS
IT WILL NOT PLAY IN REGULAR CD PLAYERS
You will need CD players that read mp3 files.
Here some of the more popular mp3 players:
Coby, Memorex, Panasonic, Philips, Sony and many more. Be sure you buy a model that support mp3 files.
You can upload the files in ipods like Apple Ipod, Sansa and 100's more.
Many new car CD players reads mp3, again check your player first.
Many new home DVD players and virtually every Blu Ray reads mp3 files, please check your manual. Finally you can use your computer. If you're reading this web page, you already have everything you need to listen this mp3 CD
THIS CD WILL BE DELIVERED IN WHITE PAPER SLEEVE
We guarantee delivery of your item. If your item doesn't get there or is damaged, please notify us and we'll reship for you.
FULL REFUND IF NOT SATISFIED
EPISODES LIST
Academy Award Theater 460703 Maltese Falcon
Bing Crosby Show guest Bogart & Bacall 520212
Bold Venture 51-03-26 (01) Deadly Merchandise (aka Gun Runners)
Bold Venture 51-04-02 (02) Kuan Yen Statue (aka Priceless Shanghai Statue)
Bold Venture 51-04-09 (03) Opium Smugglers and Young Girl
Bold Venture 51-04-16 (04) Johnny Rice Story (aka Thugs and Slugs aka A Bullet For Shannon)
Bold Venture 51-04-23 (05) Treasure on Flamingo Cay (aka Spanish Gold)
Bold Venture 51-04-30 (06) He Who Laughs Last (aka Dixon and Lane)
Bold Venture 51-05-07 (07) Espionage and Murder in San Toma
Bold Venture 51-05-14 (08) A Muncie Murderess in Havana
Bold Venture 51-06-04 (11) Blue Moon
Bold Venture 51-06-11 (12) Tears of Siva (aka Tears of Sheba)
Bold Venture 51-07-02 (15) Russian Roulette
Bold Venture 51-07-09 (16) The Mystery of the Mary K
Bold Venture 51-07-16 (17) Death At The Wedding
Bold Venture 51-07-23 (18) A Twelve Year Promise (aka Oil W
Bold Venture 51-07-30 (19) Search For Tommy Reed (aka Looking for Tommy Reed)
Bold Venture 51-08-20 (22) The Ghost Ship
Bold Venture 51-09-10 (25) Out of Control (aka Phyllis Calvert Murder)
Bold Venture 51-09-17 (26) Black Tie Affair (aka Slate's Tuxedo Pocket)
Bold Venture 51-10-15 (30) Camellias and a Ruby
Bold Venture 51-10-22 (31) Passage for Mario Carrada
Bold Venture 51-10-29 (32) Darby and Joan Incorporated
Bold Venture 51-11-05 (33) Mutineers of the SS Marino Victo
Bold Venture 51-11-12 (34) Bold Venture Stolden
Bold Venture 51-11-19 (35) Twelve Year Promise (aka Oil Wells)
Bold Venture 51-12-03 (37) Cruise To Batabano (aka Emilio Lopez Story)
Bold Venture 51-12-10 (38) Voodoo Vendetta (aka Alice Ramsey Kills Husband)
Bold Venture 51-12-17 (39) Tabard of Pizarro (aka Alice Markel Poisoning)
Bold Venture 51-12-24 (40) Escape From Guantanamo (aka Paul Brewer Story)
Bold Venture 51-12-31 (41) Crazy Old Carlos (aka Carlos And Juan Ruiz Story)
Bold Venture 52-01-07 (42) Innocence in Trujillo
Bold Venture 52-01-14 (43) An Invitation to Death
Bold Venture 52-02-11 (47) I'm Going To Die (aka Isle of Pines)
Bold Venture 52-02-18 (48) The One That Got Away (aka Matt Jeffrey Dies)
Bold Venture 52-02-25 (49) Man From Sumatra (aka Welcome back to Civilization)
Bold Venture 52-03-03 (50) The Big KO (aka Joe Ryan Shot)
Bold Venture 52-03-10 (51) Revenge Is Sweet (aka Joe Ralston)
Bold Venture 52-03-17 (52) Haven's Venezuelan Isle (aka Runaway Wife)
Bold Venture 52-04-07 (55) With Friends Like These (aka Death of Rudy Keijon)
Bold Venture 52-04-14 (56) Marriage And Murder (aka Sailor Duvall's Husband)
Bold Venture 52-04-21 (57) Mystery Of The Mary K
Bold Venture 52-07-14 (69) Slate's Stolen Identity
Bold Venture Death By A Fighting Bird
Bold Venture Diamond Fencing and Fisticuffs
Bold Venture El Indio
Bold Venture Fetsui Jade
Bold Venture Murder Is No Joke
Bold Venture Suicide Or Murder
Bold Venture Tiny Haven
Bold Venture Title Unknown - First Line - 'Out of gas, huh, That's nice.
Edgard Bergan Guest Bogart 43XXXX
Jack Benny Guest Show 470105
Lux Radio Theater 371122 The Petrified Forest
Lux Radio Theater 390416 Bullets or Ballots Rehearsal
Lux Radio Theater 390417 Bullets Or Ballots
Lux Radio Theater 430208 The Maltese Falcon
Lux Radio Theater 440124 Casablanca
Lux Radio Theater 450430 Moontide
Lux Radio Theater 461014 To Have and Have Not
Lux Radio Theater 490418 Treasure of Sierra Madre
Lux Radio Theater 491128 Key largo
Lux Radio Theater 521215 The African Queen
Profile - Humphrey Bogart - 57-01-16
Screen Guild Theater 1940 01 07 (038) The Petrified Forest m
Screen Guild Theater 1941 11 02 (089) The Amazing Dr Clitter
Screen Guild Theater 1943 01 25 (128) Across the Pacific
Screen Guild Theater 1943 04 26 (141) Casablanca
Screen Guild Theater 1943 09 20 (162) The Maltese Falcon
Screen Guild Theater 1944 04 17 (192) High Sierra
Suspense 450308 133 Love's Lovely Counterfeit
Theater of Romance 1945 09 11 Conflict
Theater of Romance 1945 12 18 One Way Passage
Item number
OTR-1CD-HumphreyBogart73
Currently there are no reviews available for this product. Be the first to write a review.