FREE SHIPPING USA ONLY. International Customers: Please add international shipping: http://m.onesmedia.com/category/313432
SIX SHOOTER Volume 2
OLD TIME RADIO - 12 AUDIO CD - 24 Shows - Volume 1 - Total Playtime: 12:33:31
The Six Shooter brought James Stewart to the NBC microphone on September 20, 1953, in a fine series of folksy Western adventures. Stewart was never better on the air than in this drama of Britt Ponset, Frontier drifter created by Frank Burt. The epigraph set it up nicely: "The man in the saddle is angular and long-legged: his skin is sun dyed brown. The gun in his holster is gray steel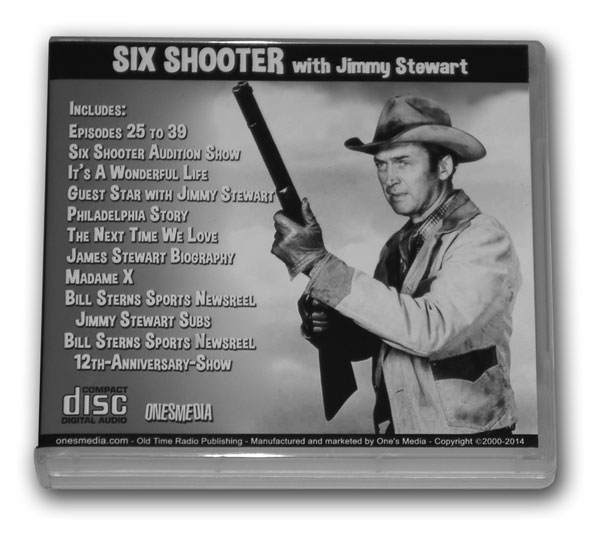 and rainbow mother- of-pearl. People call them both The Six Shooter." Ponset was a wanderer, an easy-going gentleman and --- when he had to be ---a gun-fighter. Stewart was right in character as the slow-talking maverickwho usually blundered into other people's troubles and sometimesshot his way out. His experiences were broad, but The Six Shooter leaned more to comedy than other shows of its kind.. Ponset took time out to play Hamlet with a crude road company. He ran for mayor and sheriff of the same town at the same time. He became involved in a delighful Western version of Cinderella, complete with grouchy stepmother, ugly sisters, and a shoe that didn't fit. And at Christmas he told a young runaway the story of A Christmas Carol, Substituting the original Dickens characters with Western heavies. Britt even had time to fall in love, but it was the age-old story of people from different worlds, and the romance was foredoomed despite their valiant efforts to save it. So we got a cowboy-into-the-sunset ending for this series, truly one of the bright spots of radio. Unfortunately, it came too late, and lasted only one season. It was a transcribed show, sustained by NBC and directed by Jack Johnstone. Basil Adlam provided the music And Frank Burt wrote the scripts. Hal Gibney announced.
SHOWS LIST
CD 1
Thicker Than Water - 1954-03-14 Episode 25
Duel At Lockwood - 1954-03-21 Episode 26
CD 2
Aunt Ema - 1954-04-01 Episode 27
General Gillfords Widow - 1954-04-08 Episode 28
CD 3
Crisis At Easter Creek - 1954-04-15 Episode 29
Johnny Springer - 1954-04-22 Episode 30
CD 4
Revenge At Harness Creek - 1954-04-29
Episode 31 Anna Norquest - 1954-05-06 Episode 32
CD 5
The Double Seven - 1954-05-13 Episode 33
The Shooting Of Wyatt King - 1954-05-20 Episode 34
CD 6
Blood Relations - 1954-05-27 Episode 35
Silver Threads - 1954-06-03 Episode 36
CD 7
The New Sheriff - 1954-06-10 Episode 37
When The Shoe Doesn't Fit - 1954-06-17 Episode 38
CD 8 Myra Barker - 1954-06-24 Episode 39 (Last Episode)
Six Shooter Audition Show - 1953-07-15
CD 9
It's A Wonderful Life (Lux Radio Theater) - 1947-03-10
Guest Star Guest Jimmy Stewart - 1947-08-28
CD 10
Philadelphia Story (Lux Radio Theater) - 1942-07-20
Bill Sterns Sports Newsreel - Jimmy Steward Subs 48-07-23
CD 11
The Next Time We Love (Screen Directors Playhouse) 51-03-29
James Stewart Biography
CD 12
Madame X (Lux Radio Theater) 37-06-14
Bill Sterns Sports Newsreel - 12th-Anniversary-Show 50-10-20
THESE ARE REGULAR AUDIO CD
WILL PLAY IN ANY CD PLAYER, DVD PLAYER OR COMPUTERS
THIS COLLECTION WILL BE DELIVERED IN A BOX SET WITH ART WORK
CLICK HERE TO LEARN MORE ABOUT OUR PRODUCTS
We guarantee delivery of your item. If your item doesn't get there or is damaged, please notify us and we'll reship for you.
FULL REFUND IF NOT SATISFIED
Item number
OTR-12CDA-SixShooter2
Currently there are no reviews available for this product. Be the first to write a review.