FREE SHIPPING USA ONLY. International Customers: Please add international shipping: http://m.onesmedia.com/category/313432
THE SUSPENSE COLLECTION Volume 11
OLD TIME RADIO - 12 AUDIO CD - 24 Shows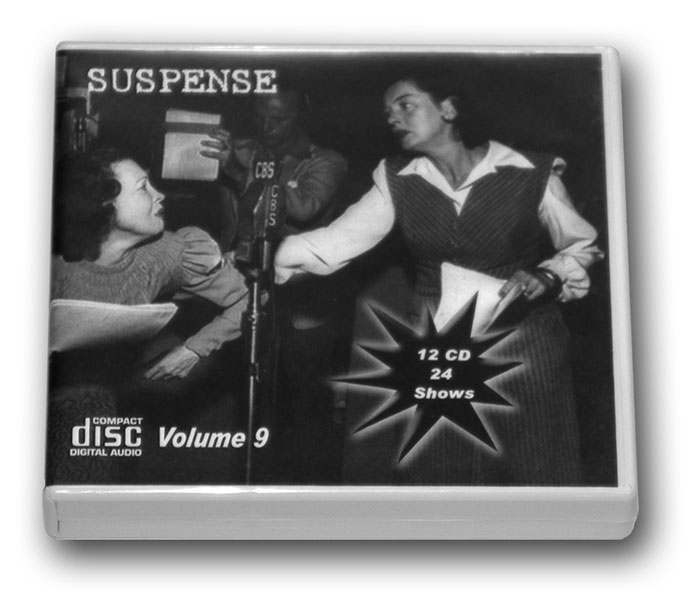 Suspense, one of the premier drama programs of the Golden Age of Radio, was subtitled "radio's outstanding theater of thrills." It was heard on CBS from 1942 through 1962. Approximately 945 episodes were broadcast during its long run, and more than 900 are extant in mostly high-quality recordings
Suspense went through several major phases, characterized by different hosts, sponsors and director/producers. There were a few rules which were followed for all but a handful of episodes: Protagonists were usually a normal person suddenly dropped into a threatening or bizarre situation. Evildoers must be punished in the end. The program made only occasional forays into science fiction and fantasy. Among its science fiction entries were "The Man who Went Back to Save Lincoln" (a time travel fantasy) and an adaptation of Curt Siodmak's Donovan's Brain, as well as an adaptation of an H.P. Lovecraft short story, "The Dunwich Horror".
Alfred Hitchcock directed its audition show (for the CBS series Forecast). This was an adaptation of "The Lodger," a story Hitchcock had filmed in 1926 with Ivor Novello. Martin Grams, Jr., author of Suspense: Twenty Years of Thrills and Chills, described the Forecast origin of Suspense:
On the second presentation of July 22, 1940, Forecast offered a mystery/horror show titled Suspense. With the co-operation of his producer Walter Wanger, Alfred Hitchcock received the honor of directing his first radio show for the American public. The condition agreed upon for Hitchcock's appearance was that CBS make a pitch to the listening audience about his and Wanger's latest film, Foreign Correspondent. To add some flavour to the deal, Wanger threw in Edmund Gwenn and Herbert Marshall as part of the package. All three men (including Hitch) would be seen in the upcoming film, which was due for a theatrical release the next month. Both Marshall and Hitchcock decided on the same story to bring to the airwaves, which happened to be a favorite of both of them: Marie Belloc Lowndes' "The Lodger." Alfred Hitchcock had filmed this story for Gainsborough in 1926, and since then it had remained as one of his favorites.
Herbert Marshall portrayed the mysterious lodger, and co-starring with him were Edmund Gwenn and character actress Lurene Tuttle as the rooming-house keepers who start to suspect that their new boarder might be the notorious Jack-the-Ripper. [Gwenn was actually repeating the role taken in the 1926 film by his brother, Arthur Chesney. And Tuttle would work again with Hitchcock exactly 20 years later, playing Mrs Al Chambers in Psycho.] Character actor Joseph Kearns also had a small part in the drama, and Wilbur Hatch, head musician for CBS Radio at the time, composed and conducted the music specially for the program. Adapting the script to radio was not a great technical challenge for Hitchcock, and he cleverly decided to hold back the ending of the story from the listening audience in order to keep them in suspense themselves. This way, if the audience's curiosity got the better of them, they would write in to the network to find out whether the mysterious lodger was in fact Jack-the-Ripper. For the next few weeks, hundreds of letters came in from faithful listeners asking how the story ended. Actually a few wrote threats claiming that it was "indecent" and "immoral" to present such a production without giving the solution.
In the early phase, the program was hosted by "The Man in Black" (played by Joseph Kearns or Ted Osborne) and many episodes written or adapted by the prominent mystery author John Dickson Carr. Escape was a similar anthology thriller and suspense program. Both occasionally adapted the same stories, though Escape had lower budgets--and thus, fewer sound effects and name actors.
THESE ARE REGULAR AUDIO CD
CAN BE PLAYED IN ANY CD PLAYER, DVD PLAYER OR COMPUTERS
THIS COLLECTION WILL BE DELIVERED IN A BOX SET WITH ART WORK
We guarantee delivery of your item. If your item doesn't get there or is damaged, please notify us and we'll reship for you.
FULL REFUND IF NOT SATISFIED
CD 1
Green-Eyed Monster - 1947-04-17 Episode 241
Win, Place and Murder - 1947-04-24 Episode 242
CD 2
Lady in Distress - 1947-05-01 Episode 243
Dead Ernest - 1947-05-08 Episode 244
CD 3
Death at Live Oak - 1947-05-15 Episode 245
Knight Comes Riding - 1947-05-22 Episode 246
CD 4
A Thing of Beauty - 1947-05-29 Episode 247
Make Mad the Guilty - 1947-06-05 Episode 248
CD 5
Stand-In - 1947-06-12 Episode 249
Dead of Night - 1947-06-19 Episode 250
CD 6
Phobia - 1947-06-26 Episode 251
Money Talks - 1947-07-03 Episode 252
CD 7
Murder by the Book - 1947-07-10 Episode 253
That Real Crazy Infinity - 1962-05-27 Episode 927
CD 8
Murder by an Expert - 1947-07-24 Episode 255
Mortmain - 1947-07-31 Episode 256
CD 9
Quiet Desperation - 1947-08-07 Episode 257
Smiley - 1947-08-14 Episode 258
CD 10
Murder Aboard the Alphabet - 1947-08-21 Episode 259
Double Ugly - 1947-08-28 Episode 260
CD 11
The Argyle Album - 1947-09-04 Episode 261
The Twist - 1947-09-11 Episode 262
CD 12
The Visitor - 1947-09-18 Episode 263
The Blue Hour - 1947-09-25 Episode 264
Item number
OTR-12CDA-SuspenseCollection11
Currently there are no reviews available for this product. Be the first to write a review.