FREE SHIPPING USA ONLY. International Customers: Please add international shipping: http://m.onesmedia.com/category/313432
RICHARD DIAMOND, PRIVATE DETECTIVE Volume 1
OLD TIME RADIO - 12 AUDIO CD - 24 Shows - Total Playtime 11:48:04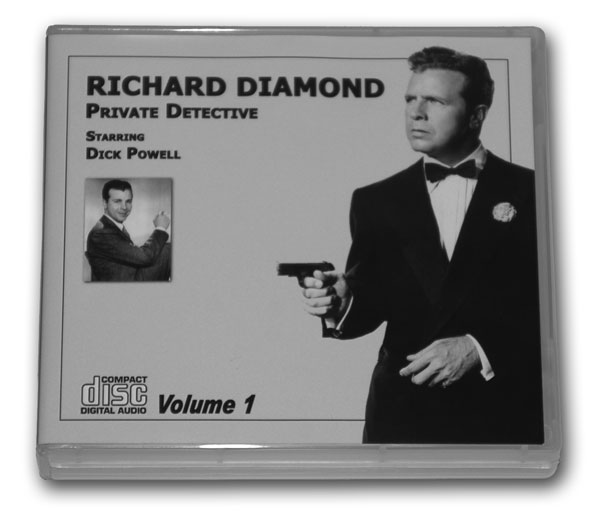 Richard Diamond, Private Detective is a detective drama which was on radio from 1949 to 1953 and on television from 1957 to 1960.
Dick Powell starred in the Richard Diamond, Private Detective radio series as a rather light-hearted detective who often ended the episodes singing to his girlfriend, Helen (Virginia Gregg). It began airing on NBC on April 24, 1949, picked up Rexall as a sponsor on April 5, 1950, and continued until December 6, 1950. The shows were written by Blake Edwards. Its theme, "Leave It to Love", was whistled by Powell at the beginning of each episode.

With Camel cigarettes as a sponsor, it moved to ABC from January 5, 1951, to June 29, 1951, with Rexall returning for a run from October 5, 1951, until June 27, 1952.

Substituting for Amos 'n' Andy, it aired Sunday evenings on CBS from May 31, 1953 until September 20, 1953.

Because Dick Powell was known for musical comedies prior to his appearance as Philip Marlowe in Raymond Chandler's Murder, My Sweet (1944) and because he was a detective who sang in Richard Diamond, Private Eye, some regard this radio series as an influence on the character of Philip E. Marlow (Michael Gambon) in Dennis Potter's Chandleresque The Singing Detective (1986).
Powell's company, Four Star Television, produced the TV series, which premiered on CBS but was later telecast for its last year on NBC. David Janssen starred as Diamond, a hard-boiled private detective in the film noir tradition. His secretary, Sam, was shown only from the waist down to display her beautiful legs. Initially, these were the legs of Mary Tyler Moore, but later, the legs of other actresses were seen. Russ Conway appeared occasionally as Lieutenant Pete Kile during the final season. At one point during the three-year run, the show's setting was moved from New York City to Los Angeles.

Original music by Frank De Vol included the theme for the first and second seasons. The third season featured a jazz score by Pete Rugolo, including a new theme. The final theme was by Richard Shores.

Guest stars included Chris Alcaide, Francis De Sales, Don Keefer, and Joyce Meadows.

Syndicated repeats of the series were re-titled Call Mr. D.
THESE ARE REGULAR AUDIO CD
CAN BE PLAYED IN ANY CD PLAYER, DVD PLAYER OR COMPUTERS
THIS COLLECTION WILL BE DELIVERED IN A BOX SET WITH ART WORK
We guarantee delivery of your item. If your item doesn't get there or is damaged, please notify us and we'll reship for you.
FULL REFUND IF NOT SATISFIED
EPISODES LIST
CD 1
Richard Diamond 49 05 15 Ralph Chase Case
Richard Diamond 49 05 22 The Stolen Purse
CD 2
Richard Diamond 49 05 29 The Betty Moran Case
Richard Diamond 49 06 19 Fred Sears Murder Case
CD 3
Richard Diamond 49 06 26 The Tom Waxman Bombing Case
Richard Diamond 49 07 02 The Bloody Hat Case
CD 4
Richard Diamond 49 07 09 Charles Walsh, Bob Wells
Richard Diamond 49 07 16 The Man Who Hated Women
CD 5
Richard Diamond 49 07 23 The Martin Hyer Case
Richard Diamond 49 08 06 The Lynn Knight Case
CD 6
Richard Diamond 49 08 20 The Jean Cooper Murder Case
Richard Diamond 49 08 27 The Eddie Garrett Case
CD 7
Richard Diamond 49 09 03 The Harry Baker Case
Richard Diamond 49 09 10 The Van Dyke Seance Case
CD 8
Richard Diamond 49 09 17 The Jerome J Jerome Case
Richard Diamond 49 09 24 The 200000 Dollar Bundle
CD 9
Richard Diamond 49 10 08 Gibson Murder Case
Richard Diamond 49 10 15 The Bogus Bills Case
CD 10
Richard Diamond 49 10 22 Rene Bennet Protection Case
Richard Diamond 49 10 29 Bill Kirby Murder Case
CD 11
Richard Diamond 49 11 05 The Singing Critic
Richard Diamond 49 11 12 50000 Dollar Diamond Heist
CD 12
Richard Diamond 49 11 19 The Jacoby Case
Richard Diamond 49 11 26 William Carter Loses Memory
Item number
OTR-12CDA-RichardDiamond
Currently there are no reviews available for this product. Be the first to write a review.