FREE SHIPPING USA ONLY. International Customers: Please add international shipping: http://m.onesmedia.com/category/313432
WYLLIS COOPER COLLECTION
OLD TIME RADIO - 2 CD-ROM - 136 mp3 - Total Playtime: 64:17:39
Wyllis Oswald Cooper (January 26, 1899 - June 22, 1955) was an American writer and producer.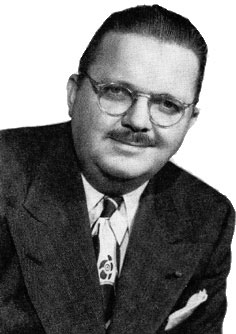 He is best remembered for creating and writing the old time radio programs Lights Out (1934–1947) and Quiet, Please (1947–1949)
Born Willis Oswald Cooper in Pekin, Illinois, he attended Pekin High School, graduating in 1916. He soon joined the U.S. Cavalry where, achieving the rank of Sergeant, he spent time on the Mexican border. In 1917, he became a part of the Signal Corps and was sent to France during World War I. While in France he was gassed at the Meuse-Argonne Offensive 1 at the Wayback Machine (archived October 27, 2009). He remained on active duty until 1919 when he left to become an advertising writer, though he maintained his reserve status.
By the late 1920s he was writing advertising copy in Chicago and entered radio, writing scripts for the 1929-1931 NBC radio program The Empire Builders. He later worked as continuity editor of CBS Chicago and, in 1933, left to take the same position at NBC Chicago. In 1934 he created his best known dramatic series, a late night horror radio program called Lights Out, which he also directed. Airing at midnight, the program quickly earned a reputation for its gory deaths and sound effects.
The show would prove to be a long-term success, but in 1936, Cooper capitalized on the fame of Lights Out and resigned from NBC, moving to Hollywood, California, where he worked as a screenwriter for various film studios. He wrote the screenplay for the 1939 film Son of Frankenstein (which introduced the character of "Ygor") and contributed to a few of the Mr. Moto films. At the same time, he continued to provide radio scripts for various series including Hollywood Hotel.
Arch Oboler, who took over the writing of Lights Out when Cooper left, would suggest that Cooper was the first person to create a unique form of radio drama, writing, "Radio drama (as distinguished from theatre plays boiled down to kilocycle size) began at midnight, in the middle thirties, on one of the upper floors of Chicago's Merchandise Mart. The pappy was a rotund writer by the name of Willys (sic) Cooper."
By 1940, Cooper moved to New York City where he changed his name from "Willis" to "Wyllis" in order "to please his wife's numerological inclinations". He continued to make his living writing radio scripts for various network programs including The Campbell Playhouse, the sponsored successor of Orson Welles' Mercury Theatre.
During World War II, he was made a consultant to the Secretary of War and produced, directed and wrote The Army Hour, a weekly news and variety propaganda series.
In 1944, Cooper joined the radio department of New York's Compton Advertising, Inc. In 1947, he created what was arguably his finest radio effort, Quiet, Please, which began over the Mutual Broadcasting System network but which later moved to ABC.
He also wrote and directed a crime anthology for NBC called Whitehall 1212 that debuted on November 18, 1951. Hosted by Chief Superintendent John Davidson, fictional curator of the Black Museum at Scotland Yard, it featured an allegedly all-British cast and told stories inspired by artifacts held by the famous London crime museum. Cooper's show competed with a similar program (hosted by Orson Welles), which ran on Mutual in 1952.
As television became the dominant entertainment medium, Cooper experimented with various programs including a series he wrote and produced called Volume One.
Cooper resided in Glen Gardner, New Jersey, and died in High Bridge, New Jersey on June 22, 1955.
EPISODES LIST
Disc 1
Chamber Music Society 41 09 08 First Song Overture from Marriage of Figaro
Cloak and Dagger 50-07-30 (10) Swastika on the Windmill
Crime Club 47-04-24 ep22 The Topaz Flower
Lights Out 45-07-21 Reunion After Death
Lights Out 45-08-25 Man In The Middle
Lights Out 46-07-13 (002) The Coffin in Studio B
Lights Out 46-07-20 (003) Haunted Cell
Lights Out 46-07-27 (004) Battle of the Magicians
Lights Out 46-08-03 (005) Revenge of India
Lights Out 46-08-10 (006) Ghost on the Newsreel Negative
Lights Out 47-07-16 (002) Death Robbery
Whitehall 1212 51-11-18 (01) The Blitz Murder Case
Whitehall 1212 51-12-02 (03) The Fonier Case
Whitehall 1212 51-12-09 (04) The Murder of Duncan Frazier
Whitehall 1212 51-12-16 (05) The Man Who Murdered His Wife
Whitehall 1212 51-12-23 (06) The Heathrow Affair
Whitehall 1212 52-01-06 (07) The Murder of Charles Brooks
Whitehall 1212 52-01-13 (08) Kashmere Is Murdered
Whitehall 1212 52-01-20 (09) The Case of Donald Simms
Whitehall 1212 52-01-27 (10) The Murder of Little Philip Avery
Whitehall 1212 52-02-03 (11) The Pete Williams Case
Whitehall 1212 52-02-10 (12) Case of Arthur Freeman
Whitehall 1212 52-02-17 (13) Case of the Late Mrs Harvey
Whitehall 1212 52-02-24 (14) Murder of Peter Amory
Whitehall 1212 52-03-02 (15) The Case of Air Cadet Gordon
Whitehall 1212 52-03-09 (16) Case of Dr Duncan Allen
Whitehall 1212 52-03-16 (17) Case of Thomas Applebee
Whitehall 1212 52-03-23 (18) Case of the Black Gladstone Bag
Whitehall 1212 52-03-30 (19) Murder of a Bloody Belgian
Whitehall 1212 52-04-13 (20) Case of the Fatal Bath
Whitehall 1212 52-04-20 (21) Case of Mrs Minerva Bannamon
Whitehall 1212 52-04-27 (22) Case of Francesca Nicholson
Whitehall 1212 52-05-04 (23) Case of William George Greenly
Whitehall 1212 52-05-11 (24) The Case of Margery Tate
Whitehall 1212 52-05-18 (25) The Case of Sydney Wolfe
Whitehall 1212 52-05-25 (26) The Case Of Maggie Ralenson
Whitehall 1212 52-06-01 (27) Case of Winfred Hog
Whitehall 1212 52-06-08 (28) Case of the Strange Bondfire
Whitehall 1212 52-06-15 (29) Case of the Homemade Handbag
Whitehall 1212 52-06-22 (30) Murder of Mrs Ann Battersby
Whitehall 1212 52-06-29 (31) Case of the Weed Eradication
Whitehall 1212 52-07-06 (32) Murder of Mr Sweet
Whitehall 1212 52-07-13 (33) The Tapir House Murder
Whitehall 1212 52-07-20 (34) Case of the Unidentified Woman
Whitehall 1212 52-07-27 (35) The Case Of The Magenta Blotting Pad
Whitehall 1212 52-08-03 (36) The Case of Nora Brady
Whitehall 1212 52-08-10 (37) Case of the Missing Clarinet
Whitehall 1212 52-08-17 (38) Case of Dugel Henry
Whitehall 1212 52-08-24 (39) Murder of Lady Madge Johnson
Whitehall 1212 52-08-31 (40) Case of the Madden Family
Whitehall 1212 52-09-07 (41) Case of the Eaton Brothers
Whitehall 1212 52-09-14 (42) Case of the Winchester Bottles
Whitehall 1212 52-09-21 (43) Case of the Inoperative Wireless
Whitehall 1212 52-09-28 (44) The Case Of The Electric Torch
Disc 2
Quiet Please 47-06-15 (002) I've Been Looking for You
Quiet Please 47-06-22 (003) We Were Here First
Quiet Please 47-06-29 (004) The Ticket Taker
Quiet Please 47-07-20 (005) Cornelia
Quiet Please 47-07-27 (006) I Remember Tomorrow
Quiet Please 47-08-03 (007) Inquest
Quiet Please 47-08-10 (008) Bring Me to Life
Quiet Please 47-09-10 (014) How Are You, Pal
Quiet Please 47-10-06 (018) Not Enough Time
Quiet Please 47-10-13 (019) Camera Obscura
Quiet Please 47-10-27 (021) Don't Tell Me About Halloween
Quiet Please 47-11-03 (022) Take Me out to the Graveyard
Quiet Please 47-11-10 (023) Three
Quiet Please 47-11-17 (024) Kill Me Again
Quiet Please 47-11-24 (025) In Memory of Bernadine
Quiet Please 47-12-01 (026) Come In, Eddie
Quiet Please 47-12-08 (027) Some People Don't Die
Quiet Please 47-12-15 (028) Little Fellow
Quiet Please 47-12-29 (030) Rain on New Year's Eve
Quiet Please 48-01-05 (031) Little Visitor
Quiet Please 48-01-12 (032) The Room Where Ghosts Live
Quiet Please 48-01-19 (033) Baker's Dozen
Quiet Please 48-01-26 (034) Green Light
Quiet Please 48-02-02 (035) The Pathetic Fallacy
Quiet Please 48-02-09 (036) A Red and White Guidon
Quiet Please 48-02-16 (037) Whence Came You
Quiet Please 48-02-23 (038) Wear the Dead Man's Coat
Quiet Please 48-03-01 (039) Sketch for a Screenplay
Quiet Please 48-03-08 (040) Never Send to Know
Quiet Please 48-03-22 (042) A Night to Forget
Quiet Please 48-04-05 (044) I Always Marry Juliet
Quiet Please 48-04-12 (045) Twelve to Five
Quiet Please 48-04-19 (046) Clarissa
Quiet Please 48-04-26 (047) 13 and 8
Quiet Please 48-05-03 (048) How Beautiful Upon the Mountain
Quiet Please 48-05-10 (049) There Are Shadows Here
Quiet Please 48-05-17 (050) Gem of Purest Ray
Quiet Please 48-05-24 (051) In the House Where I Was Born
Quiet Please 48-06-14 (054) Not Responsible After 30 Years
Quiet Please 48-06-28 (055) Let the Lillies Consider
Quiet Please 48-07-05 (056) Wahine Tahiti
Quiet Please 48-07-19 (057) As Long as I Live
Quiet Please 48-07-26 (058) The Man Who Stole a Planet
Quiet Please 48-08-02 (059) It's Later Then You Think
Quiet Please 48-08-09 (060) The Thing on the Fourble Board
Quiet Please 48-08-16 (061) Presto-Change-O, I'm Sure
Quiet Please 48-08-23 (062) 3000 Words
Quiet Please 48-09-06 (064) The Third Man's Story
Quiet Please 48-09-13 (065) Symphony in Minor
Quiet Please 48-09-19 (066) Anonymous
Quiet Please 48-09-26 (067) Light the Lamp for Me
Quiet Please 48-10-03 (068) Meet John Smith, John
Quiet Please 48-10-10 (069) Beezer's Cellar
Quiet Please 48-10-17 (070) And Jeannie Dreams of Me
Quiet Please 48-10-24 (071) Good Ghost
Quiet Please 48-10-31 (072) Calling All Souls
Quiet Please 48-11-07 (073) Adam and the Darkest Day
Quiet Please 48-11-14 (074) The Evening and the Morning
Quiet Please 48-11-21 (075) One for the Book
Quiet Please 48-11-28 (076) My Son John
Quiet Please 48-12-05 (077) Very Unimportant Person
Quiet Please 48-12-26 (080) Berlin, 1945
Quiet Please 49-01-02 (081) The Time of the Big Snow
Quiet Please 49-01-09 (082) Portrait of a Character
Quiet Please 49-01-30 (085) Northern Lights
Quiet Please 49-02-06 (086) Tap the Heat, Bogdan
Quiet Please 49-02-13 (087) Valentine
Quiet Please 49-02-20 (088) Where Do You Get Your Ideas
Quiet Please 49-02-27 (089) If I Should Wake Before I Die
Quiet Please 49-03-06 (090) The Man Who Knew Everything
Quiet Please 49-03-13 (091) Dark Rosaleen
Quiet Please 49-03-20 (092) The Smell of High Wines
Quiet Please 49-03-27 (093) A Time to Be Born, and a Time to Die
Quiet Please 49-04-17 (096) Shadow of the Wings
Quiet Please 49-05-08 (099) Other Side of the Stars
Quiet Please 49-05-15 (100) The Little Morning
Quiet Please 49-05-21 (101) The Oldest Man in the World
Quiet Please 49-05-28 (102) In the House Where I Was Born
Quiet Please 49-06-04 (103) Tanglefoot
Quiet Please 49-06-11 (104) The Hat, the Bed, and John J Catherine
Quiet Please 49-06-18 (105) Pavanne of the Girl with the Flaxen Hair
Quiet Please 49-06-25 (106) Quiet Please
THESE ARE MP3 RECORDINGS
THEY WILL NOT PLAY IN REGULAR CD PLAYERS
CLICK HERE TO KNOW MORE ABOUT mp3
CLICK HERE TO LEARN MORE ABOUT OUR PRODUCTS
We guarantee delivery of your item. If your item doesn't get there or is damaged, please notify us and we'll reship for you.
FULL REFUND IF NOT SATISFIED
Item number
OTR-2CD-WyllisCooper
Currently there are no reviews available for this product. Be the first to write a review.