FREE SHIPPING USA ONLY. International Customers: Please add international shipping: http://m.onesmedia.com/category/313432
YOURS TRULY, JOHNNY DOLLAR COLLECTION Volume 1
24 Radio Shows - 12 Audio CDs - Total Playtime: 11:28:25
Yours Truly, Johnny Dollar was a radio drama about a "fabulous" freelance insurance investigator "with the action-packed expense account." The show aired on CBS Radio from January 14, 1949 to September 30, 1962. There were 811 episodes in the 12-year run, and more than 720 still exist today.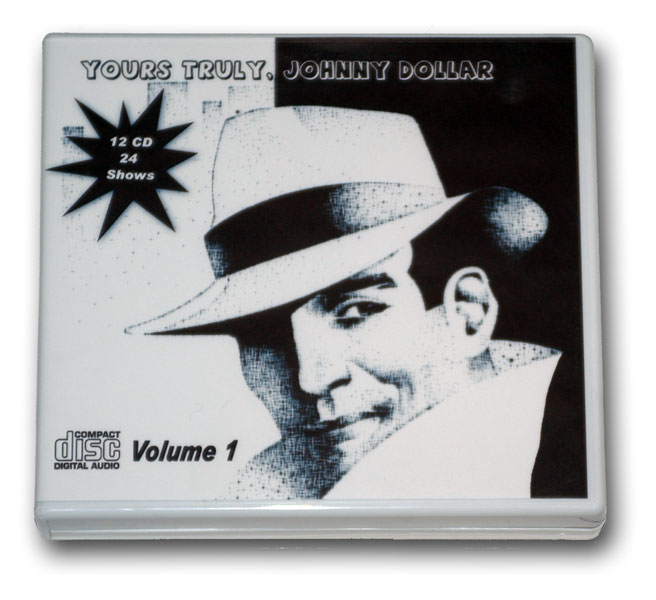 Each story started with a phone call from an insurance executive, calling on Johnny to investigate an unusual claim. Each story required Johnny to travel to some distant locale, usually within the United States but sometimes abroad, where he was almost always threatened with personal danger in the course of his investigations. Johnny's file on each case was usually referenced as a "matter," as in "The Silver Blue Matter" or "The Forbes Matter." Later episodes were more fanciful, with titles like "The Wayward Trout Matter" and "The Price of Fame Matter" (the latter featuring a rare guest-star appearance: Vincent Price).

Each story was recounted in flashback, as Johnny listed each line item from his expense account. Most of the items related to transportation and lodging, but no incidental expense was too small for Johnny to itemize, as in "Item nine, 10 cents. Aspirin. I needed them." Johnny usually stuck to business, but would engage in romantic dalliances with women he encountered in his travels; later episodes gave Johnny a steady girlfriend, Betty Lewis. Johnny's precious recreational time was usually spent fishing, and it was not uncommon for Johnny's clients to exploit this favorite pastime in convincing him to take on a job. The episodes generally finished with Johnny tallying up his account, making final remarks on the report, and traveling back to Hartford, Connecticut, where he was based.

Original run

As originally conceived, Johnny Dollar was a smart, tough, wisecracking detective who tossed silver-dollar tips to waiters and bellhops. Dick Powell starred in the audition show, recorded in 1948, but withdrew from the role in favor of other projects. The role went instead to Charles Russell. The show, for which Powell auditioned, was originally titled "Yours Truly, Lloyd London". Between the audition tape, of December 6, 1948, and the recording of the first episode, January 14, 1949, the name of the show and its lead character were changed.

With the first three actors to play Johnny Dollar -- radio actor Russell and movie tough-guy actors Edmond O'Brien and John Lund -- there was little to distinguish Johnny Dollar from other detective series at the time (Richard Diamond, Philip Marlowe and Sam Spade). While always a friend of the police, Johnny wasn't necessarily a stickler for the strictest interpretation of the law. He was willing to let some things slide to satisfy his own sense of justice, as long as the interests of his employer were also protected. The series ended in September 1954.

Revival

CBS Radio revived Yours Truly, Johnny Dollar in October 1955 with a new leading man, a new director, and a new format. The program changed from a 30-minute, one-episode-per-week affair to a 15-minute, five-nights-a-week serial [Monday through Friday, 8-8:15pm EST] produced and directed by radio veteran Jack Johnstone. The new Johnny Dollar was Bob Bailey, who had just come off another network detective series, Let George Do It. With a new lead and 75 minutes of air time in the week, it became possible to develop each storyline with more detail and with more characters. Almost all of the Johnny Dollar serials were presented by CBS Radio on a sustaining basis (unsponsored, with no commercials); only two of the 55 serials take time out for a sponsor's message.

Bob Bailey was exceptionally good in this format, making Johnny more sensitive and thoughtful in addition to his other attributes. Vintage-radio enthusiasts often endorse Bailey as the best of the Johnny Dollars, and consider the 13-month run of five-part stories to be some of the greatest drama in radio history. The serial scripts were usually written by Jack Johnstone, "John Dawson" (a pseudonym for E. Jack Neuman), Les Crutchfield, or Robert Ryf, Blake Edwards also contributed several scripts and the show was always produced and directed by Johnstone. The show featured an excellent stock company of supporting actors, including Virginia Gregg, Harry Bartell, Vic Perrin, Parley Baer, Howard McNear, John Dehner, Lillian Buyeff, Tony Barrett, Don Diamond, and Forrest Lewis. Movie character actors appeared occasionally, including Jay Novello, Hans Conried, Frank Nelson, Leon Belasco, William Conrad, Edgar Barrier, and Billy Halop.

In late 1956 CBS Radio retooled the show, which reverted to a weekly half-hour drama, appearing on late Sunday afternoons. The scripts were obviously tighter than the daily serials had been, with much less recapitulation. Bob Bailey continued in the role until 1960 (and wrote one episode, "The Carmen Kringle Matter").

The constant pressure of coming up with new mysteries and settings every week posed a problem for the writers. They solved it by occasionally consulting old scripts from other detective series. In one such remake, Bob Bailey as Johnny Dollar talks like Jack Webb as Jeff Regan, Investigator.

Changes at CBS

In 1960 CBS Radio shut down production on the west coast and moved its radio drama unit to New York. Bob Bailey, unwilling to relocate, gave up the Johnny Dollar role. Bailey's last performance was in a script significantly titled "The Empty Threat Matter." This may have been writer Johnstone's editorial comment on CBS's threat to close the shop in California.

In New York, CBS staff producer Bruno Zirato, Jr. (who also directed TV game shows for CBS) took over Yours Truly, Johnny Dollar, although Jack Johnstone continued to write the scripts. Former child actor Bob Readick took over the leading role in a manner reminiscent of the original Dollar, Charles Russell. After six months he was replaced by Mandel Kramer, who gave the role his own low-key interpretation. Many fans rank Kramer second only to Bailey as the most effective Johnny Dollar. Both Readick and Kramer were members of CBS's stock company in New York, and both appeared in other CBS dramas.

The end

The final episodes of Yours Truly, Johnny Dollar and Suspense, airing on CBS, are often cited as the end of the golden age of radio. The last episode of Johnny Dollar, "The Tip-Off Matter", ended at 6:35 p.m. Eastern Time on September 30, 1962, followed immediately by the final broadcast of Suspense.

Although network radio drama returned to the airwaves -- in ABC's Theater Five (1964-65), and CBS Radio Mystery Theater (1974-82) -- these were more experimental "drama workshop" shows, and did not adhere to a continuing format or leading character. Mainstream radio drama, as pioneered in the 1920s, died with Johnny Dollar in 1962.

Remarkably, "Yours Truly, Johnny Dollar" was a popular weekly radio mystery play in the 1960s and early 1070s on Radio Iran (Iran) too. Each episode opened with the sound of a man running, followed by two gunshots and the victim's cry of pain. Next there were two telephone rings and then came the sentence "Eradatmand, Johnny Dollar" (Yours truly, Johnny Dollar) by the portrayer.

The story was translated into Farsi screenplays by Jalal Nematollahi. The lead role of Johnny Dollar was played by Heidar Saremi, a popular radio performer. But contrary to the original play, in Iran, Johnny Dollar was more of a criminal investigator who solved every case through a combination of wits and tactics. At the end of each episode, the narrater asked the radio audience how did Johnny find the perpetrators? Thus, the show was also a mystery quiz and those who guessed correctly were entered into a raffle for a prize.

Actors who portrayed Johnny Dollar

* Dick Powell (Audition show in 1948)
* Charles Russell (February 1949 - January 1950)
* Edmond O'Brien (February 1950 - September 1952)
* John Lund (November 1952 - September 1954)
* Gerald Mohr (Audition show in 1955)
* Bob Bailey (October 1955 - November 1960)
* Bob Readick (December 1960 - June 1961)
* Mandel Kramer (June 1961 - September 1962)
SHOWS LIST
CD 1 The Parakoff Policy - 49-02-18 Ep.1
The Slow Boat from China - 49-02-25 Ep.2

CD 2 The Robert Perry Case - 49-03-04 Ep.3
Murder is a Merry-Go-Round - 49-03-11 Ep.4

CD 3 Milford Brooks III Matter - 49-03-25 Ep.5
Stolen Portrait of the Duke of Massen - 49-04-01 Ep.6

CD 4 Milford Brooks III (Audition with Dick Powell) 48-12-08
The Case of the $100,000 Legs - 49-04-15 Ep.8

CD 5 The Case of Barton Drake - 49-04-22 Ep.9
The Four Cs Matter - 62-09-09 Ep.806

CD 6 Who Took the Taxis for a Ride - 49-07-24 Ep.11
The No Matter Matter - 62-09-16 Ep.807

CD 7 Murder Ain't Minor - 49-08-07 Ep.13
The Deadly Crystal Matter - 62-09-23 Ep.808

CD 8 Out of the Fire into the Frying Pan - 49-08-21 Ep.15
The Tip-Off Matter - 62-09-30 Ep.809

CD 9 The Expiring Nickels - 49-09-04 Ep.17
The Search for Michelle Marsh - 49-09-25 Ep.18

CD 10 The Fishing Boat Affair - 49-10-01 Ep.19
The Racehorse Piledriver Matter - 49-10-08 Ep.20

CD 11 Dr Otto Schmedlich - 49-10-15 Ep.21
Witness, Who's Got the Witness - 49-10-22 Ep.22

CD 12 The Little Man Who Wasn't All There - 49-10-29 Ep.23
The Island of Tin-Yutan - 49-11-05 Ep.24
THESE ARE REGULAR AUDIO CD
CAN BE PLAYED IN ANY CD PLAYER, DVD PLAYER OR COMPUTERS
CLICK HERE TO LEARN MORE ABOUT OUR PRODUCTS
We guarantee delivery of your item. If your item doesn't get there or is damaged, please notify us and we'll reship for you.
FULL REFUND IF NOT SATISFIED
Item number
OTR-12CDA-YTJDVolume1
Currently there are no reviews available for this product. Be the first to write a review.