FREE SHIPPING USA ONLY. International Customers: Please add international shipping: http://m.onesmedia.com/category/313432
MAIL CALL
OLD TIME RADIO - 1 CD - 73 mp3 - Total Playtime: 35:33:58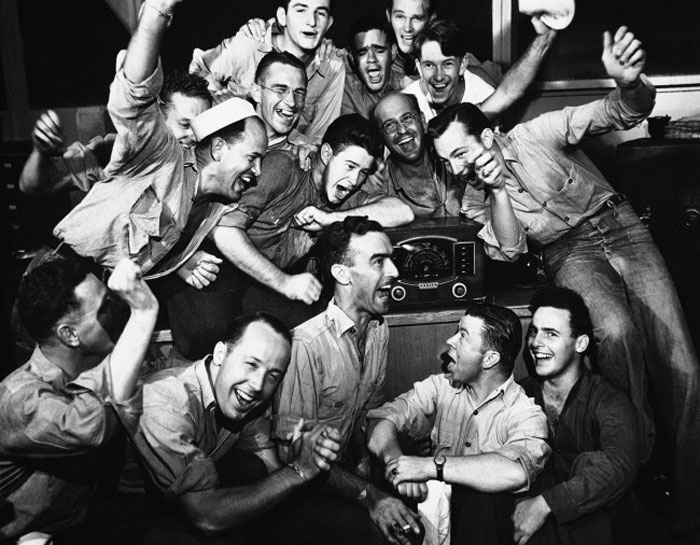 Mail Call was a radio program that entertained American soldiers during World War II. Lt. Col. Thomas A.H. Lewis (commander of the Armed Forces Radio Service) wrote in 1944, "The initial production of the Armed Forces Radio Service was 'Mail Call,' a morale-building half hour which brought famed performers to the microphone to sing and gag in the best American manner." The program featured popular entertainers of that day, such as Bob Hope, Bing Crosby, Judy Garland, and Dinah Shore, performing musical numbers and comedy skits to boost the morale of soldiers stationed far from their homes. Lewis added, "To a fellow who has spent months guarding an outpost in the South Seas, Iceland or Africa a cheery greeting from a favorite comedian, a song hit direct from Broadway, or the beating rhythm of a hot band, mean a tie with the home to which he hopes soon to return.
Mail Call and other AFRS programs were produced in Los Angeles, Calif., with the organization's headquarters at 6011 Santa Monica Boulevard, The location provided access to top-flight entertainers, staff and facilities. The Encyclopedia of Radio noted: "Los Angeles was selected as the headquarters because of its proximity to the entertainment industry, which quickly gave its overwhelming support. The mission of the new AFRS was to provide American servicemen 'a touch of home' through the broadcast of American news and entertainment." Among the behind-the-scenes people was Meredith Willson (perhaps best known for writing "The Music Man"), who was the first musical director for AFRS.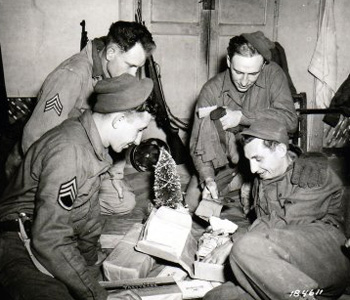 Many of the behind-the-scenes military people involved in Mail Call and other AFRS programs had jobs similar to those they had had in civilian life. Erik Barnouw wrote:

Because its commandant, Colonel Thomas H.A. Lewis, had been vice president of Young & Rubicam -- always known as "Y&R" -- the most Hollywood-oriented advertising agency, much top talent was drawn from the agency's productions. The uniformed staff, representing both army and navy, was supplemented by civilians. Some of the uniformed men had been drafted, then re-routed back to Hollywood and the "Y&Rmy

During at least one interval, however, production shifted to the East Coast. The Oct. 21, 1944, issue of The Billboard magazine carried a story headlined, "AFRS To Cut 4 Major E.T.s In East 12 Weeks." It reported:

The four top armed forces radio service shows, Command Performance, Mail Call, Jubilee and G.I. Journal will be cut in New York from October 15 until November 13, a total of more than 12 shows. Idea is to give G.I.'s a chance to hear Eastern legit and night club talent.

Although production of Mail Call and other AFRS programs was done in the United States, radio facilities in other countries were needed to broadcast the programs. A story in the April 1944 issue of Radio News noted:

American soldiers in the European Theatre of Operations have their own private radio network now -- thanks to the British Broadcasting Corporation and the U.S. Army Signal Corps. ... All this, of course, would not have been possible without the generous and friendly cooperation of the BBC, which waived its monopolistic rights on radio broadcasting in Great Britain and offered many of its own facilities so that the Yanks could enjoy American programs on what the soldiers call the "G.I. Network."

The people of Great Britain not only provided broadcasting facilities through the BBC, but also listened to Mail Call and other programs broadcast by AFRS. An article in the July 9, 1945, issue of Broadcasting magazine headlined "U.S. Programs Are Popular in Britain" cited a survey in Great Britain that "showed that 20,000,000 adults in Britain had recently listened to one or more of the seven programs produced in the United States and rebroadcast in Britain." Two AFRS programs, Command Performance and Mail Call, were among those seven, with listening percentages of 27.5 and 22.9, respectively. A bonus for the artists who donated their time and effort to performing on Mail Call and other AFRS programs was increased international exposure. Author Donna Halper wrote: "Many of the popular female vocalists and comedians, along with some of the most popular men, were now internationally famous" as a result of exposure on Command Performance and Mail Call. She added, "Suddenly, American music was exposed to an entirely new audience, since it was not just the soldiers who listened to AFRS."
After World War II ended, the need for shows like Mail Call diminished, resulting in changes in AFRS programming. Broadcasting magazine reported that the end for Mail Call and eight "other service radio shows requiring outside talent" came in 1950 when the "AFRS budget was ... cut by $153,000 by the Secretary of Defense." Other shows discontinued in the move were as follows Command Performance, Redd Harper Hollywood Roundup, GI Jive, Jill's Juke Box, Chiquita, Personal Album, Lucky Grab Bag and Bob Carleton Show.
EPISODES LIST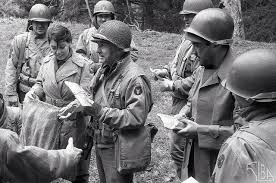 Mail Call 42-11-04 (011) Betty Rhodes, Bing Crosby, Fred Astaire, Fibber McGee and Molly
Mail Call 42-11-11 (012) Bob Burns, Dinah Shore, George Montgomery, Johnny Mercer
Mail Call 43-01-09 (019) Groucho Marx, Betty Grable, Judy Garland
Mail Call 43-03-31 (031) Claire Trevor, Connie Haines, Edgar Bergen
Mail Call 43-04-07 (032) Lionel Barrymore, Frances Langford, Phil Baker
Mail Call 43-06-30 (044) George Jessel, Mary Lee, Paulette Goddard
Mail Call 43-07-15 (046) Edward G Robinson, Dick Powell, Marion Hutton, Ann Miller
Mail Call 43-07-15 (047) Edward G Robinson, Dick Powell
Mail Call 43-08-26 (053) Groucho Marx, Irene Manning, Paulette Goddard
Mail Call 43-09-30 (058) Lionel Barrymore, Baby Snooks, Dennis Day
Mail Call 43-10-20 (061) Bing Crosby, Nora Lou Martin, Frank Morgan, John Conte
Mail Call 43-10-27 (062) Betty Grable, Carlos Ramirez, Fibber McGee and Molly
Mail Call 43-11-24 (066) Laurel and Hardy
Mail Call 43-12-08 (068) Al Pearce, Eddie Anderson, Janet Blair
Mail Call 44-01-05 (072) Jack Benny, Judy Garland, Johnny Mercer, Delta Rhythm Boys
Mail Call 44-01-12 (073) Bing Crosby, Skinnay Ennis, Dorothy Lamour
Mail Call 44-02-09 (077) Adolphe Menjou, Williams Brothers, Irene Manning, Dennis Day
Mail Call 44-02-16 (078) Dedicated to the State of Washington - Bing Crosby, Richard Crooks, Connee Boswell
Mail Call 44-02-23 (079) Lum n Abner, Jerry Cooper, Judy Canova
Mail Call 44-03-08 (081) Dedicated to the State of Pennsylvania - Lionel Barrymore, Connie Haines, Pied Pipers
Mail Call 44-03-29 (084) Dedicated to the Fifth Air Service Command - Dinah Shore, Danny Kaye, Jack Benny
Mail Call 44-04-26 (088) Ed Gardner
Mail Call 44-05-03 (089) Jennifer Jones, Davis Street, Kathryn Grayson
Mail Call 44-05-10 (090) Frances Langford, Judy Canova, Jerry Colonna
Mail Call 44-05-17 (091) Judy Garland, Jimmy Durante, Bing Crosby
Mail Call 44-05-24 (092) Paulette Goddard, WC Fields, Virginia O'Brien, Edgar Bergen
Mail Call 44-06-21 (096) Joan Blondell, James Melton, Marilyn Maxwell
Mail Call 44-06-28 (097) Herbert Marshall, Marjorie Main, Gloria DeHaven
Mail Call 44-07-26 (102) Tribute to Hawaii - Bing Crosby, Connie Haines, Betty Grable
Mail Call 44-08-02 (103) Tribute to Canada - Norma Shearer, Cecilia Parker, Ann Rutherford
Mail Call 44-08-09 (104) Tribute to the State of Maine - Rudy Vallee, Frank Sinatra, Fred Allen, Mary Livingstone
Mail Call 44-08-23 (106) Jeanette MacDonald, Nelson Eddy, Burns and Allen
Mail Call 44-09-13 (109) Garry Moore, Louise Albritton, Marilyn Maxwell, Amos n Andy
Mail Call 44-09-20 (110) Don Ameche, Joe Besser, Nancy Walker
Mail Call 44-09-27 (111) Ginny Simms, Johnny Mercer, Jo Stafford
Mail Call 44-10-05 (112) Kay Kyser, Georgia Gibbs, Kathryn Grayson, Ish Kabibble
Mail Call 44-10-25 (115) Tallulah Bankhead, Danny Kaye, Ethel Smith
Mail Call 44-11-06 (119) Joan Crawford, Red Skelton, Ozzie & Harriet Nelson
Mail Call 44-11-22 (120) Bing Crosby, Rise Stevens, Garry Moore
Mail Call 44-11-29 (121) Bing Crosby
Mail Call 44-12-14 (123) Dinah Shore
Mail Call 44-12-21 (124) Ann Rutherford
Mail Call 44-12-27 (125) Dinah Shore, Carlos Ramirez, Jimmy Durante, Virginia O'Brien
Mail Call 45-01-10 (126) Ann Rutherford, Johnny Mercer, Garry Moore
Mail Call 45-01-17 (127) Groucho Marx, Robert Benchley, Ida Lupino, Gloria DeHaven
Mail Call 45-01-24 (128) Bing Crosby, Lauritz Melchior, Cass Daley
Mail Call 45-01-31 (129) June Allyson, Harriet Hilliard, Ozzie Nelson, Riders of the Purple Sage
Mail Call 45-01-31 (130) Edgar Bergen, Ingrid Bergman
Mail Call 45-02-14 (131) Don Ameche, Marguerite Chapman, Bobbie Baker
Mail Call 45-02-14 (132) Dinah Shore, Dorothy Lamour
Mail Call 45-02-14 (133) Frances Langford
Mail Call 45-02-28 (134) Dick Haymes, King Sisters, Jimmy Durante, Eddie Jackson
Mail Call 45-03-07 (135) Jack Benny, Paulette Goddard, Claudette Colbert, Jeannie Crain, Jinx Falkenburg
Mail Call 45-03-14 (136) Nelson Eddy
Mail Call 45-03-21 (137) Frank Morgan, Burns and Allen, Harpo Marx, Rita Hayworth
Mail Call 45-03-28 (138) Bing Crosby, Betty Davis, Jack Benny
Mail Call 45-04-04 (139) Jack Carson
Mail Call 45-04-11 (140) Judy Garland
Mail Call 45-04-18 (141) Ginny Simms, Robert Benchley, Gildersleeve
Mail Call 45-04-25 (142) Betty Hutton
Mail Call 45-05-02 (143) Bob Hope, Clark Gable, Margaret O'Brien, Dame May Whitty
Mail Call 45-05-16 (145) Betty Grable, George Jessel, Mills Brothers
Mail Call 46-03-27 (188) Groucho Marx, Kenny Baker, Kathryn Grayson
Mail Call 46-05-01 (193) First Song - I Got the Blues
Mail Call 46-05-15 (195) Fred MacMurray, Yvonne DeCarlo, Ralph Edwards
Mail Call 46-05-20 (xxx) George Murphy, Virginia O'Brien, Abigail and Buddy, Burns and Allen
Mail Call 47-00-00 (xxx) Cathy Downs, Victor Borge, Johnny Green
Mail Call 47-01-22 (231) Gloria Dehaven
Mail Call 48-10-13 (320) Peggy Knudsen, Betty Grable, Gregory Ratoff, Orson Welles
Mail Call 49-04-25 (340) Frances Gifford, Jo Stafford, Danny Thomas, Clark Dennis (assembled)
Mail Call xx-xx-xx Compilation, Janice Faye, Host
Mail Call xx-xx-xx Dinah Shore, Jack Benny, Les Paul
Mail Call xx-xx-xx Jack Benny, Celeste Holm, Chico Marx
THESE ARE MP3 RECORDINGS
THEY WILL NOT PLAY IN REGULAR CD PLAYERS
CLICK HERE TO KNOW MORE ABOUT mp3
CLICK HERE TO LEARN MORE ABOUT OUR PRODUCTS
We guarantee delivery of your item. If your item doesn't get there or is damaged, please notify us and we'll reship for you.
FULL REFUND IF NOT SATISFIED
Item number
OTR-1CD-MailCall
Currently there are no reviews available for this product. Be the first to write a review.