FREE SHIPPING USA ONLY. International Customers: Please add international shipping: http://m.onesmedia.com/category/313432
ARTHUR GODFREY COLLECTION
OLD TIME RADIO - CD-ROM - 79 mp3
Total Time 39:06:53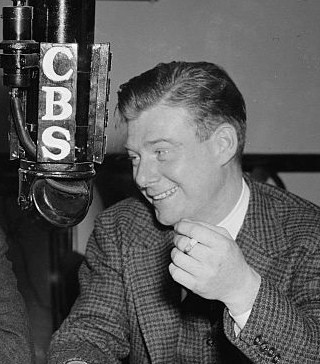 Arthur Morton Godfrey (August 31, 1903 – March 16, 1983) was an American radio and television broadcaster and entertainer who was sometimes introduced by his nickname, The Old Redhead. No television personality of the 1950s enjoyed more clout or fame than Godfrey until a famous on-the-air incident undermined his folksy image and triggered a gradual decline; the then-ubiquitous Godfrey helmed two CBS-TV weekly series and a daily 90-minute television mid-morning show through most of the decade, but by the early 1960s found himself reduced to hosting an occasional TV special.

Arguably the most prominent of the medium's early master commercial pitchmen, he was strongly identified with many of his many sponsors, especially Chesterfield cigarettes and Lipton Tea. After many years for Chesterfield (during which Godfrey came up with the idea and slogan "Buy 'em by the carton"), he severed the relationship during one of his television programs, when his doctors convinced him that his lung cancer was due to smoking. Subsequently, he became a prominent spokesman for anti-smoking education.
On leaving the Coast Guard, Godfrey became a radio announcer for the Baltimore station WFBR (now WJZ (AM)) and moved the short distance to Washington, D.C. to become a staff announcer for NBC-owned station WRC the same year and remained there until 1934.

Recovering from a near-fatal automobile accident en route to a flying lesson in 1931 (by which time he was already an avid flyer), he decided to listen closely to the radio and realized that the stiff, formal style then used by announcers could not connect with the average radio listener; the announcers spoke in stentorian tones, as if giving a formal speech to a crowd and not communicating on a personal level. Godfrey vowed that when he returned to the airwaves, he would affect a relaxed, informal style as if he were talking to just one person. He also used that style to do his own commercials and became a regional star.
In addition to announcing, Godfrey sang and played the ukulele. In 1934 he became a freelance entertainer, but eventually based himself on a daily show titled Sundial on CBS-owned station WJSV (now WWWT) in Washington. Godfrey was the station's morning disc jockey, playing records, delivering commercials (often with tongue in cheek; a classic example had him referring to Bayer Aspirin as "bare ass prin"), interviewing guests, and even reading news reports during his three-hour shift. Godfrey loved to sing, and would frequently sing random verses during the "talk" portions of his program. In 1937, he was a host on Professor Quiz, radio's first successful quiz program. One surviving broadcast from 1939 has Godfrey unexpectedly turning on his microphone to harmonize with The Foursome's recording of "There'll Be Some Changes Made."

He knew President Franklin D. Roosevelt, who listened to his Washington program, and through Roosevelt's intercession, he received a commission in the U.S. Naval Reserve before World War II. Godfrey eventually moved his base to the CBS station in New York City, then known as WABC (now WCBS), and was heard on both WJSV and WABC for a time. In the autumn of 1942, he also became the announcer for Fred Allen's Texaco Star Theater show on the CBS network, but a personality conflict between Allen and Godfrey led to his early release from the show after only six weeks.

Godfrey became nationally known in April 1945 when, as CBS's morning-radio man in Washington, he took the microphone for a live, firsthand account of President Roosevelt's funeral procession. The entire CBS network picked up the broadcast, later preserved in the Edward R. Murrow and Fred W. Friendly record series, I Can Hear it Now. Unlike the tight-lipped news reporters and commentators of the day, who delivered breaking stories in an earnest, businesslike manner, Arthur Godfrey's tone was sympathetic and neighborly, lending immediacy and intimacy to his words. When describing new President Harry S. Truman's car in the procession, Godfrey fervently said, in a choked voice, "God bless him, President Truman." Godfrey broke down in tears and cued the listeners back to the studio. The entire nation was moved by his emotional outburst.

Godfrey made such an impression on the air that CBS gave him his own morning time slot on the nationwide network. Arthur Godfrey Time was a Monday-Friday show that featured his monologues, interviews with various stars, music from his own in-house combo and regular vocalists. Godfrey's monologues and discussions were unscripted, and went wherever he chose. "Arthur Godfrey Time" remained a late morning staple on the CBS Radio Network schedule until 1972.

In 1947, Godfrey had a surprise hit record with the novelty "Too Fat Polka (She's Too Fat For Me)" written by Ross MacLean and Arthur Richardson. The song's popularity led to the Andrews Sisters recording a version adapted to the women's point-of-view.

Godfrey's morning show was supplemented by a primetime variety show, Arthur Godfrey's Talent Scouts, broadcasting from the CBS Studio Building at 49 East 52nd Street where he had his main office. This variety show, a showcase for rising young performers, was a slight variation of CBS's successful Original Amateur Hour. Some of the performers had made public appearances in their home towns and were recommended to Godfrey by friends or colleagues. These "sponsors" would accompany the performers to the broadcast and introduce them to Godfrey on the air. Two acts from the same 1948 broadcast were Wally Cox and The Chordettes. Both were big hits that night, and both were signed to recording contracts. Godfrey took special interest in The Chordettes, who sang his kind of barbershop-quartet harmony, and he soon made them part of his broadcasting and recording "family."

Performers who appeared on Talent Scouts included Lenny Bruce, Don Adams, Tony Bennett, Patsy Cline, Pat Boone, opera singer Marilyn Horne, Roy Clark, and Irish vocalist Carmel Quinn. Later, he promoted "Little Godfrey" Janette Davis to a management position as the show's talent coordinator. Three notable acts rejected for the show were Elvis Presley, Sonny Till & The Orioles, and The Four Freshmen. Following his appearances on the Louisiana Hayride, Presley traveled to New York for an unsuccessful Talent Scouts audition in April 1955; after the Talent Scouts staff rejected The Orioles, they went on to have a hit record with "Crying in the Chapel" and kicked off the "bird group" trend of early rock 'n' roll.

Godfrey was also an avid amateur radio operator, with the station call sign K4LIB. He was a member of the National Association of Broadcasters Hall of Fame in the radio division.
PLEASE READ HOW TO LISTEN TO THIS CD
THESE ARE MP3 CD RECORDINGS
IT WILL NOT PLAY IN REGULAR CD PLAYERS
You will need CD players that read mp3 files.
Here some of the more popular mp3 players:
Coby, Memorex, Panasonic, Philips, Sony and many more. Be sure you buy a model that support mp3 files.
You can upload the files in ipods like Apple Ipod, Sansa and 100's more.
Many new car CD players reads mp3, again check your player first.
Many new home DVD players and virtually every Blu Ray reads mp3 files, please check your manual. Finally you can use your computer. If you're reading this web page, you already have everything you need to listen this mp3 CD
THIS CD WILL BE DELIVERED IN WHITE PAPER SLEEVE
We guarantee delivery of your item. If your item doesn't get there or is damaged, please notify us and we'll reship for you.
FULL REFUND IF NOT SATISFIED
SHOWS LIST
Arthur Godfrey 49-11-28 (14) Guest - The White Guards (AFRS)
Arthur Godfrey 39-09-21 WSJV Washington, DC
Arthur Godfrey 46-07-08 Remo Back From The Flu
Arthur Godfrey 46-07-09 First Song - Shut Your Mouth Baby
Arthur Godfrey 46-11-08 Guest - Dick Benedict
Arthur Godfrey 46-11-13 First Song -Didn't My Lord Deliver Daniel
Arthur Godfrey 46-12-18 First Song - You Keep Coming Back Like A Song
Arthur Godfrey 47-01-13 Guest - Billie Holliday
Arthur Godfrey 47-03-11 Winner - Johnny Daggan
Arthur Godfrey 47-05-19 Winner - The Skyriders
Arthur Godfrey 47-06-10 Winner - Alan Schackner
Arthur Godfrey 47-07-01 First Song - Little White Lies
Arthur Godfrey 47-07-02 First Song - Chi-Baba Chi-Baba
Arthur Godfrey 47-07-03 First Song - In The Good Old Summertime
Arthur Godfrey 47-07-04 First Song - I Want to sing an American Song
Arthur Godfrey 47-07-07 First Song - Heartaches
Arthur Godfrey 47-07-08 First Song - I Got The Sun In The Morning
Arthur Godfrey 47-07-09 First Song - Between the Devil and the Deep Blue Sea
Arthur Godfrey 47-07-10 First Song - The Porter Love Song
Arthur Godfrey 47-07-16 2nd Anniversary Of The Atomic Bomb Test
Arthur Godfrey 47-09-08 First Song - It Had To Be You
Arthur Godfrey 47-09-12 Guests - Dixiebell & Mary Jane
Arthur Godfrey 47-11-21 Predictions
Arthur Godfrey 47-11-28 The Day After Thanksgiving
Arthur Godfrey 47-12-30 After A Big Snowstorm
Arthur Godfrey 48-07-20 First Song - If That Ain't Love
Arthur Godfrey 48-10-08 Guest - Gene Autry
Arthur Godfrey 49-01-20 Mississippi
Arthur Godfrey 49-04-04 Winner - The Tunetimers
Arthur Godfrey 49-04-11 Winner - Stewart Hall
Arthur Godfrey 49-04-18 Winner - Lenny Bruce, John Connolly
Arthur Godfrey 49-04-25 Winner - Ted Martin, Michael Guida
Arthur Godfrey 49-05-02 Winner - Joseph Portney
Arthur Godfrey 49-05-09 Winner - The Novelaires, Evelyn Bradshaw
Arthur Godfrey 49-05-23 Winner - Richard Hayes
Arthur Godfrey 49-05-30 Winner - Julio Giamonte, Carol Donn
Arthur Godfrey 49-09-26 Winner - The Chordettes
Arthur Godfrey 50-04-24 Winner - Kenneth Smith
Arthur Godfrey 50-05-01 Winner - Robert Marshall
Arthur Godfrey 50-05-08 Winner - Billy Albert
Arthur Godfrey 50-05-15 Winner - Mort Jay and the Showmen
Arthur Godfrey 50-05-22 Winner - Beverly Bowser
Arthur Godfrey 50-05-29 Winner - Vera Conti
Arthur Godfrey 50-06-05 Winner - Diane Dixon, The Melodymen
Arthur Godfrey 50-06-12 Winner - Dorothy Steiger
Arthur Godfrey 50-06-26 From Hololulu Last Show Of The Season
Arthur Godfrey 50-10-02 Winner - Georgia Sawtell
Arthur Godfrey 50-12-20 Winner - Connie Francis
Arthur Godfrey 52-09-09 First Joke Is About A Clean Shirt
Arthur Godfrey 53-01-05 First Song - Pretty Baby
Arthur Godfrey 53-06-21 Robert Q Lewis 1 of 2
Arthur Godfrey 53-06-23 Robert Q Lewis 2 of 2
Arthur Godfrey 53-10-15 Firing Julius La Rosa on the Air
Arthur Godfrey 53-10-21 Arthur Is Talking About Kleenex
Arthur Godfrey 64-01-20 30th Anniversary
Arthur Godfrey 64-01-21 30th Anniversary
Arthur Godfrey 64-01-22 30th Anniversary
Arthur Godfrey 64-01-23 30th Anniversary
Arthur Godfrey 65-07-12 From Los Angeles
Arthur Godfrey 65-10-13 News Show
Arthur Godfrey 65-10-14 News Show
Arthur Godfrey 69-03-28 Eisenhower Tribute At Beginning
Arthur Godfrey 72-03-22 First Song - Remember When
Arthur Godfrey 72-03-23 Students From Lyman College
Arthur Godfrey 72-03-25 First Song - Almost Heaven West Virginia
Arthur Godfrey 72-04-04 Recalling 1971
Arthur Godfrey 72-04-12 Recalling 1963
Arthur Godfrey 72-04-19 Recalling 1956
Arthur Godfrey 72-04-20 Recalling 1955
Arthur Godfrey 72-04-21 Recalling 1954
Arthur Godfrey 72-04-22 Recalling 1953
Arthur Godfrey 72-04-23 Recalling 1952
Arthur Godfrey 72-04-24 Recalling 1951
Arthur Godfrey 72-04-25 Recalling 1950
Arthur Godfrey 72-04-26 Recalling 1949
Arthur Godfrey 72-04-27 Recalling 1948
Arthur Godfrey xx-xx-xx Joe E Brown Substitutes
Arthur Godfrey 6x-xx-xx (2586) First Song - My Ukelele (AFRS)
Arthur Godfrey 6x-xx-xx (2587) First Song - Daydream (AFRS)
 
Item number
OTR-1CD-ArthurGodfrey
Currently there are no reviews available for this product. Be the first to write a review.