FREE SHIPPING USA ONLY. International Customers: Please add international shipping: http://m.onesmedia.com/category/313432
GENE KRUPA
OLD TIME RADIO - CD-ROM - 111 mp3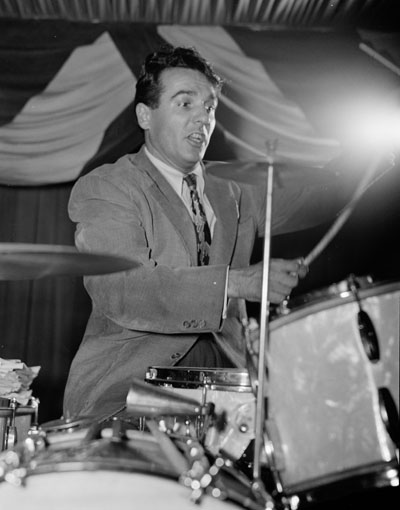 Gene Krupa (January 15, 1909 – October 16, 1973) was an American jazz and big band drummer and composer, known for his highly energetic and flamboyant style.
Eugene Bertram Krupa was born in Chicago, Illinois, the youngest of Anna (Osłowski) and Bartlomiej Krupa's nine children. Bartlomiej was an immigrant from Poland, and Anna was born in Shamokin, Northumberland County, Pennsylvania. His siblings were Clarence, Eleanor, Casimir, Leo, Peter and Julius.

Krupa studied with Sanford A. Moeller and began playing professionally in the mid 1920s with bands in Wisconsin. He broke into the Chicago scene in 1927, when he was picked by MCA to become a member of "Thelma Terry and Her Playboys," the first notable American Jazz band (outside of all-girl bands) to be led by a female musician. The Playboys were the house band at The Golden Pumpkin nightclub in Chicago and also toured extensively throughout the eastern and central United States.

Krupa made his first recordings in 1927, with a band under the leadership of banjoist Eddie Condon and Red McKenzie: along with other recordings beginning in 1924 by musicians known in the "Chicago" scene such as Bix Beiderbecke, these sides are examples of "Chicago Style" jazz. The numbers recorded at that session were: "China Boy", "Sugar", "Nobody's Sweetheart" and "Liza". The McKenzie - Condon sides are also notable for being some of the early examples of the use of a full drum kit on recordings. Eddie Condon describes what happened in the Okeh Records studio on that day (in 'We Called It Music' - pub: Peter Davis, 1948):
" Mezzrow (Milton "Mezz" Mezzrow) was helping Krupa set up his drums. 'What are you going to do with those?' Rockwell (Okeh's 'A&R' man in the 1920s) asked. 'Play them,' Krupa said simply. Rockwell shook his head. 'You can't do that,' he said. 'You'll ruin our equipment. All we've ever used on records are snare drums and cymbals.' Krupa, who had been practicing every day at home, looked crushed. 'How about letting us try them?' I asked. 'The drums are the backbone of the band. They hold us up.' I could see that Rockwell was leery of the whole business; drums or no drums, I figured, we are probably going to get tossed out. 'Let the kids try it,' McKenzie said. 'If they go wrong I'll take the rap.' I didn't know until long afterwards that Red had guaranteed our pay for the job'... "


Quietly we waited for the playback. When it came, pounding out through the big speaker, we listened stiffly for a moment. We had never been an audience for ourselves...Rockwell came out of the control-room smiling. 'We'll have to get some more of this... (Rockwell nodded towards Krupa): didn't bother the equipment at all,' he said. 'I think we've got something,'.[citation needed]

Krupa's big influences during this time were Tubby Hall and Zutty Singleton. The drummer who probably had the greatest influence on Gene in this period was the great Baby Dodds. Dodds' use of press rolls was highly reflected in Gene's playing.

Krupa also appeared on six recordings made by the Thelma Terry band in 1928 In 1929, he was part of the Mound City Blue Blowers sessions, that also included Red McKenzie, Glenn Miller, and Coleman Hawkins, which produced "Hello Lola" and "One Hour", which Krupa was credited with co-writing.

In 1929 he moved to New York City and worked with the band of Red Nichols. In 1933, Krupa first played with Benny Goodman. He became part of the Benny Goodman trio, the first popular integrated musical group in the United States. In 1934 he joined Benny Goodman's band, where his featured drum work made him a national celebrity. His tom-tom interludes on their hit "Sing, Sing, Sing" were the first extended drum solos to be recorded commercially. In 1938, Krupa performed with the Goodman Orchestra in the famous Carnegie Hall Jazz Concert.

After a public fight with Goodman at the Earl Theater in Philadelphia, Krupa left Goodman to launch his own band and had several hits with singer Anita O'Day and trumpeter Roy Eldridge.

In 1939, Gene Krupa and his Orchestra appeared in the Paramount movie Some Like It Hot, which starred Bob Hope and Shirley Ross, performing the title song, "Blue Rhythm Fantasy," and "The Lady's in Love with You." Krupa made a memorable cameo appearance in a pivotal scene of the 1941 film Ball of Fire, in which he and his band performed an extended version of the hit "Drum Boogie," which he composed with trumpeter Roy Eldridge.
Gene Krupa Drive in Yonkers, NY

In 1943, Krupa was arrested for possession of two marijuana cigarettes and was given a three-month jail sentence. Krupa was not a wealthy man and spent most of his savings defending himself of this charge and fell into a depression for several months, believing his career to be over. Then, Goodman invited him to perform with his orchestra. Audiences welcomed Krupa's performances, and while the reunion would never last, Krupa was performing again, thanks to this nudge.

Krupa soon formed his second orchestra. This one was notable for its large string section, and also featured Charlie Ventura on sax. It was one of the largest dance bands of the era, sometimes containing up to forty musicians. He also invited another drummer into the band so that he could take breaks and lead the orchestra from the front. However, audiences were not paying to see him conduct, and he gradually accepted this.

PLEASE READ HOW TO LISTEN TO THIS CD
THESE ARE MP3 CD RECORDINGS
IT WILL NOT PLAY IN REGULAR CD PLAYERS
You will need CD players that read mp3 files.
Here some of the more popular mp3 players:
Coby, Memorex, Panasonic, Philips, Sony and many more. Be sure you buy a model that support mp3 files.
You can upload the files in ipods like Apple Ipod, Sansa and 100's more.
Many new car CD players reads mp3, again check your player first.
Many new home DVD players and virtually every Blu Ray reads mp3 files, please check your manual. Finally you can use your compurer. If you're reading this web page, you already have everything you need to listen this mp3 CD
THIS CD WILL BE DELIVERED IN WHITE PAPER SLEEVE
We guarantee delivery of your item. If your item doesn't get there or is damaged, please notify us and we'll reship for you.
FULL REFUND IF NOT SATISFIED
EPISODES LIST
BennyGoodmanOrch-SingSingSing9MinutesVeraion
BigSidCatlettGeneKrupa-BoyWhatAGirl
BuddyRichGeneKrupa-NightTrain
BuddyRichGeneKrupa-TheDrumBattle
Gene Krupa
GeneKrupaAndHisChicagoans-BluesOfIsrael1935
GeneKrupaAndHisOrchestra
GeneKrupaCharleyVenturaTedNapolian-StompinAtTheSavoy1944
GeneKrupaOrchAnitaODay-BoogieBlues1949
GeneKrupaOrchAnitaODay-GeorgiaOnMyMind
GeneKrupaOrchAnitaODayRoyEldridge-DrumminMan
GeneKrupaOrchAnitaODayRoyEldridge-LetMeOffUptown1941
GeneKrupaOrchAnitaODayRoyEldridge-OldRockinChair
GeneKrupaOrchAnitaODay-SideBySide1941
GeneKrupaOrchAnitaODay-StopTheRedLightsOn1941
GeneKrupaOrchAnitaODay-TeaForTwo1945
GeneKrupaOrch-BeginTheBegine
GeneKrupaOrch-BigNoiseFromWinnetka
GeneKrupaOrchBillBlack-DeepPurple
GeneKrupaOrch-BlueRhythmFantasy
GeneKrupaOrch-BlueRhythmFantasy1940
GeneKrupaOrchBuddyRich-KingPorterStomp
GeneKrupaOrchCharleyVenturaTedNapolian-StompinAtTheSavoy1944
GeneKrupaOrch-Damfinoname
GeneKrupaOrch-DrumBoogie
GeneKrupaOrch-DrumBoogie1941
GeneKrupaOrch-DrumBoogie1945
GeneKrupaOrch-DrumBoogie1945ver_64kb
GeneKrupaOrch-FishMarket1944
GeneKrupaOrch-GrandfathersClock
GeneKrupaOrch-GreenEyes1957
GeneKrupaOrch-Harriet
GeneKrupaOrch-HavingAGoodTime
GeneKrupaOrch-HowboutThatMess
GeneKrupaOrch-LeaveUsLeap
GeneKrupaOrch-LetMeOffUptown
GeneKrupaOrch-Lover
GeneKrupaOrch-Massachusetts
GeneKrupaOrch-Nagasaki
GeneKrupaOrch-NoNameJive
GeneKrupaOrch-OpusNo.1
GeneKrupaOrch-SingSingSing
GeneKrupaOrch-StompinAtTheSavoy1945
GeneKrupaOrch-StompinAtTheSavoy1945_64kb
GeneKrupaOrch-SweetGeorgiaBrown
GeneKrupaOrch-SwingIsHere
GeneKrupaOrch-TheMarinesHymn
GeneKrupaOrch-TuxedoJunction
GeneKrupaOrchVanitaODay-Alreet1941
GeneKrupaOrchVanitaODay-BoogieRide
GeneKrupaOrchVanitaOday-IdDoItAllOverAgain1945
GeneKrupaOrchVanitaOday-IdDoItAllOverAgain1945_64kb
GeneKrupaOrchVanitaODay-KickIt1941
GeneKrupaOrchVanitaOday-MurderHeSays
GeneKrupaOrchVbuddyStewart-ImGonnaLoveThatGal1945
GeneKrupaOrchVbuddyStewart-ImGonnaLoveThatGal1945_64kb
GeneKrupaOrchVdoloresHawkins-SwissLullaby
GeneKrupaOrchVdoloresHawkins-WatchOut
GeneKrupaOrchVhelenWard-MutinyInTheParlor
GeneKrupaOrchVtheG-noters-IShouldCare1945
GeneKrupaOrch-WireBrushStomp
GeneKrupaOrch-YoungManWithABeat
GeneKrupaTrio-LimeHouseBlues1945
GeneKrupaVhelenWard-ImFeelingHighHappy1938
GeneKrupaVhelenWard-ImFeelingHighHappy1938Brunswick78rpm
HelenWardGeneKrupa-ImFeelingHighHappy
JohnnyMessnerOrchVdickPowellFrancisLangfordJohnnyDavisGeneKrupa-HoorayForHollywood
LionelHamptonBennyGoodmanTeddyWilsonGeneKrupa-AHandFullOfKeys1937
LionelHamptonBennyGoodmanTeddyWilsonGeneKrupa-Avalon1937
LionelHamptonBennyGoodmanTeddyWilsonGeneKrupa-BodyAndSoul1937
LionelHamptonBennyGoodmanTeddyWilsonGeneKrupa-CaprichoPaganini1941
LionelHamptonBennyGoodmanTeddyWilsonGeneKrupa-Caravan1937
LionelHamptonBennyGoodmanTeddyWilsonGeneKrupa-ClarinetALaKing1941
LionelHamptonBennyGoodmanTeddyWilsonGeneKrupa-DearOldSouthland1937
LionelHamptonBennyGoodmanTeddyWilsonGeneKrupa-Dinah1937
LionelHamptonBennyGoodmanTeddyWilsonGeneKrupa-DingDongDaddy1937
LionelHamptonBennyGoodmanTeddyWilsonGeneKrupa-EverybodyLovesMyBaby1937
LionelHamptonBennyGoodmanTeddyWilsonGeneKrupa-HouseHop1937
LionelHamptonBennyGoodmanTeddyWilsonGeneKrupa-IdLikeToSeeSomeMoreOfSamoa1937
LionelHamptonBennyGoodmanTeddyWilsonGeneKrupa-InTheShadeOfTheAppleTree1937
LionelHamptonBennyGoodmanTeddyWilsonGeneKrupa-JamSession1937
LionelHamptonBennyGoodmanTeddyWilsonGeneKrupa-JumpinSwing1937
LionelHamptonBennyGoodmanTeddyWilsonGeneKrupa-LaCucarocha1937
LionelHamptonBennyGoodmanTeddyWilsonGeneKrupa-LimehouseBlues1937
LionelHamptonBennyGoodmanTeddyWilsonGeneKrupa-Marie1937
LionelHamptonBennyGoodmanTeddyWilsonGeneKrupa-MoonlightOnTheHighway1937
LionelHamptonBennyGoodmanTeddyWilsonGeneKrupa-MoreThanYouKnow1937
LionelHamptonBennyGoodmanTeddyWilsonGeneKrupa-MyHoneysLovinArms1937
LionelHamptonBennyGoodmanTeddyWilsonGeneKrupa-Nagasaki1937
LionelHamptonBennyGoodmanTeddyWilsonGeneKrupa-NobodysSweetheart
LionelHamptonBennyGoodmanTeddyWilsonGeneKrupa-OneOClockJump1937
LionelHamptonBennyGoodmanTeddyWilsonGeneKrupa-RosesInDecember1937
LionelHamptonBennyGoodmanTeddyWilsonGeneKrupa-SatinTakesAHolliday1937
LionelHamptonBennyGoodmanTeddyWilsonGeneKrupa-SleepyTimeDownSouth1937
LionelHamptonBennyGoodmanTeddyWilsonGeneKrupa-SmoothOne1941
LionelHamptonBennyGoodmanTeddyWilsonGeneKrupa-Swing1937
LionelHamptonBennyGoodmanTeddyWilsonGeneKrupa-TheCount1941
LionelHamptonBennyGoodmanTeddyWilsonGeneKrupa-VeiniVeini1937
LionelHamptonBennyGoodmanTeddyWilsonGeneKrupa-VibraphoneBlues1937
LionelHamptonBennyGoodmanTeddyWilsonGeneKrupaVpatOMally-CamelHop1937
LionelHamptonBennyGoodmanTeddyWilsonGeneKrupaVpatOMally-CrazyAboutTheAmericanJazz1937
LionelHamptonBennyGoodmanTeddyWilsonGeneKrupaVpatOMally-SwingIsExtraOrdinary1937
LionelHamptonBennyGoodmanTeddyWilsonGeneKrupa-Waltz1937
LionelHamptonBennyGoodmanTeddyWilsonGeneKrupa-WhereOrWhen1937
LionelHamptonBennyGoodmanTeddyWilsonGeneKrupa-WhereYouAre1937
LionelHamptonBennyGoodmanTeddyWilsonGeneKrupa-WhisperingInTheDark1937
LionelHamptonBennyGoodmanTeddyWilsonGeneKrupa-YoursAndMine1937
LionelHamptonTeddyWilsonGeneKrupa-Moonglow
RoyEldridgeGeneKrupaAnitaOday-SwissLullaby
TeddyWilsonOrchGeneKrupa-TigerRag
TeddyWilsonOrchLionelHamptonGeneKrupa-Moonglow
 
Item number
OTR-1CD-GeneKrupa
Currently there are no reviews available for this product. Be the first to write a review.