FREE SHIPPING USA ONLY. International Customers: Please add international shipping: http://m.onesmedia.com/category/313432
THE BIG SHOW
OLD TIME RADIO - CD-ROM - 29 mp3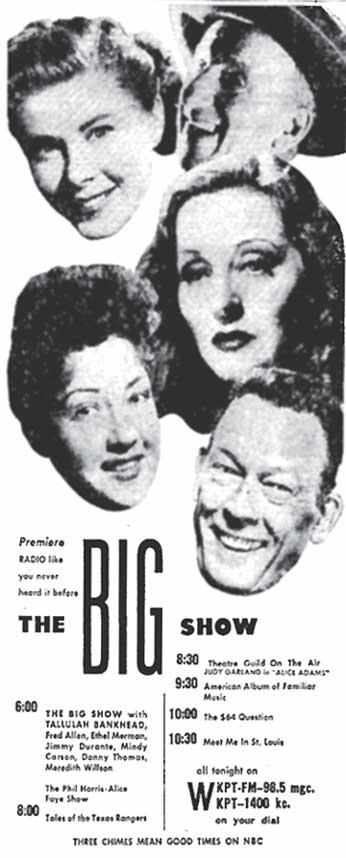 The Big Show, an American radio variety program featuring 90 minutes of top-name comic, stage, screen and music talent, was aimed at keeping American radio in its classic era alive and well against the rapidly-growing television tide. For a good portion of its two-year run (1950-51), the show's quality made its ambition seem plausible.
Hosted by legendary stage actress and personality Tallulah Bankhead, The Big Show began November 5, 1950 on NBC with a stellar line-up of guests: Fred Allen, Mindy Carson, Jimmy Durante, José Ferrer, Portland Hoffa, Frankie Laine, Russell Knight, Paul Lukas, Ethel Merman, Danny Thomas and Meredith Willson. To make sure no one missed the launch, NBC ran in Sunday newspapers across the country an illustrated advertisement displaying headshots of Allen, Bankhead, Carson, Durante and Merman. The premiere opened with this introduction:

Tallulah Bankhead: This is radio, 1950. The greatest stars of our time on one big program. And the most fabulous part about this, darlings, is that every Sunday we will present other stars of the same magnitude. Uh, pardon me if I sound like a name dropper, but, uh, let's look into three or four of the names we've lined up for next week's show: Groucho Marx, Fanny Brice, Jane Powell and Ezio Pinnnn-za! (Laughter) Well, now, don't just sit there with your mouths open, darlings. I know what you're thinking: you think such a radio show every week is impossible. And I'm sure that, after you hear our first broadcast, you're going to say that show was impossible. (Laughter) Oh, no, that doesn't sound quite right, does it? (Laughter) But NBC says nothing is impossible. All it takes is courage, vision, and a king-sized bundle of dough. Each week, there will be comedy, drama, music, all performed by the biggest stars of the time. Of course, darlings, now and then a clinker may sneak in, but we're going to try--

Jimmy Durante: Just a minute, just a minute. I heard that last remark and I resemble it!

As she promised, on the second week's program, the guests were Groucho Marx, Jane Powell, Ezio Pinza and Fanny Brice, along with Hanley Stafford, Frank Lovejoy, David Brian and John Agar [1] (the latter three recreating their screen roles in highlights from their current Warner Bros. picture, Breakthrough). The early shows were successful, and the program stayed on Sunday nights from 6:00-7:30pm ET for its first season, shifting to 6:30-8:00pm ET in its second. NBC went full-throttle in an attempt to keep radio from its predicted death, and The Big Show was thought to be a key to that effort. Newsweek stated it was "the biggest bang to hit radio since TV started." As if to prove big bang and big bucks were mutual partners, some $100,000 could be budgeted for a single installment.

The show's success was credited to Bankhead's notorious wit and ad-libbing ability in addition to the show's superior scripting. She had one of the funniest writers in the business on her staff: Goodman Ace, the mastermind of radio's legendary Easy Aces. She included renowned ad-libbers in the show---particularly Fred Allen (he and his longtime sidekick and wife, Portland Hoffa, appeared so often they could have been the show's regular co-hosts) and Groucho Marx, both of whom appeared on the first season's finale and appeared jointly on three other installments.

As Bankhead recorded in her memoirs, she took the show because she needed the money but nearly changed her mind when she feared she'd be little more than a glorified mistress of ceremonies with nothing to do but introduce the feature performers. "Guess what happened?" she continued. "Your heroine emerged from the fracas as the Queen of the Kilocycles. Authorities cried out that Tallulah had redeemed radio. In shepherding my charges through The Big Show, said the critics, I had snatched radio out of the grave. The autopsy was delayed."
 
PLEASE READ HOW TO LISTEN TO THIS CD
THESE ARE MP3 CD RECORDINGS
IT WILL NOT PLAY IN REGULAR CD PLAYERS
You will need CD players that read mp3 files.
Here some of the more popular mp3 players:
Coby, Memorex, Panasonic, Philips, Sony and many more. Be sure you buy a model that support mp3 files.
You can upload the files in ipods like Apple Ipod, Sansa and 100's more.
Many new car CD players reads mp3, again check your player first.
Many new home DVD players and virtually every Blu Ray reads mp3 files, please check your manual. Finally you can use your compurer. If you're reading this web page, you already have everything you need to listen this mp3 CD
THIS CD WILL BE DELIVERED IN WHITE PAPER SLEEVE
We guarantee delivery of your item. If your item doesn't get there or is damaged, please notify us and we'll reship for you.
FULL REFUND IF NOT SATISFIED
EPISODES LIST
50/11/05 1 Fred Allen, Jimmy Durante
50/11/12 2 Groucho Marx, Fanny Brice
50/11/19 3 Eddie Cantor, Mindy Carson
50/11/26 4 Fred Allen, Ed Wynn, Jack Carson
50/12/03 5 Fred Allen, Phil Silvers
50/12/10 6 Clifton Webb, Jimmy Durante
50/12/17 7 Bob Hope, Phil Harris
50/12/24 8 Jimmy Durante, Robert Merrill
50/12/31 9 Vivian Blaine, Jose Ferrer
51/01/07 10 Fred Allen, Danny Thomas
51/01/14 11 Louis Calhern, Jack Carter
51/01/21 12 Fred Allen, Eddie Cantor
51/01/28 13 Ray Bolger, Gary Cooper
51/02/04 14 Fred Allen, Robert Cummings
51/02/11 15 Groucho Marx, Judy Garland
51/02/18 16 Fred Allen, Jack Carson
51/02/25 17 Jack Haley, Paul Kelly
51/03/04 18 Fred Allen, Clive Brook
51/03/11 19 Bob Burns, Jimmy Durante
51/03/18 20 Fred Allen, Phil Baker
51/03/25 21 Judy Holliday, Carmen Miranda
51/04/01 22 Groucho Marx, Bob Hope
51/04/08 23 Fred Allen, Vivian Blaine
51/04/15 24 Eddie Cantor, Jack Carson
51/04/22 25 Fred Allen, Portland Hoffa
51/04/29 26 Jimmy Durante, Milton Berle
51/05/06 27 Fred Allen, Georgie Jessel
51/09/30 28 George Sanders, Bea Lillie
52/03/09 51 Richard Eatham, Joe Frisco
Item number
OTR-1CD-BigShow
Currently there are no reviews available for this product. Be the first to write a review.