FREE SHIPPING USA ONLY. International Customers: Please add international shipping: http://m.onesmedia.com/category/313432
LOVE STORY MAGAZINE
OLD TIME RADIO - CD-ROM - 26 mp3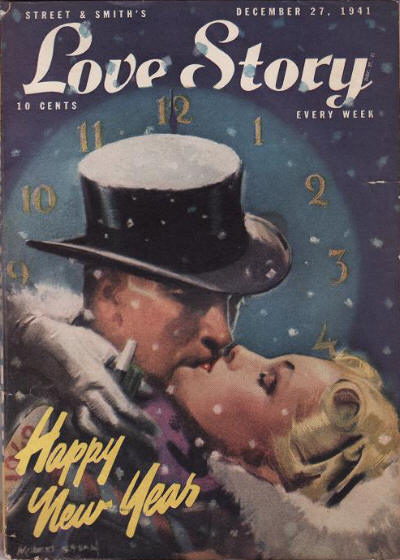 Dramatic dames and daring rogues... Such characters filled the pages of Love Story Magazine. This popular program for women told tales of loves lost and found, terrifying treacheries, broken hearts, tearful reunions, Prince Charmings and ladies spurned. This was probably what contributed it being a short lived series. If you like smarmy, then this is the series for you.
The 1936 Love Story Magazine adaptations that briefly aired in the Midwest over NBC affiliate stations were transcribed and syndicated by MacGregor and Sollie, and pressed by RCA. MacGregor and Sollie was then a San Francisco-based electrical transcription house that often worked with the major networks of the era, as well as recording, pressing and marketing their own syndicated Radio programming features.

In the case of the 1936 MacGregor and Sollie syndicated run, Street & Smith's Love Story Girl was featured in every 15-minute episode of the twenty-six episode series. Love Story Dramas was probably recorded and pressed during the Summer to Fall of 1935.
PLEASE READ HOW TO LISTEN TO THIS CD
THESE ARE MP3 CD RECORDINGS
IT WILL NOT PLAY IN REGULAR CD PLAYERS
You will need CD players that read mp3 files.
Here some of the more popular mp3 players:
Coby, Memorex, Panasonic, Philips, Sony and many more. Be sure you buy a model that support mp3 files.
You can upload the files in ipods like Apple Ipod, Sansa and 100's more.
Many new car CD players reads mp3, again check your player first.
Many new home DVD players and virtually every Blu Ray reads mp3 files, please check your manual. Finally you can use your compurer. If you're reading this web page, you already have everything you need to listen this mp3 CD
THIS CD WILL BE DELIVERED IN WHITE PAPER SLEEVE
We guarantee delivery of your item. If your item doesn't get there or is damaged, please notify us and we'll reship for you.
FULL REFUND IF NOT SATISFIED
SHOWS LIST
Love Story Magazine Audio Brief
Love Story 37-03-26 (01) Love on the Sun Deck
Love Story 37-04-02 (02) Two Diamond Bracelets
Love Story 37-04-09 (03) Love at Midnight
Love Story 37-04-16 (04) Gay Red Cape
Love Story 37-04-23 (05) Bitter Triumph
Love Story 37-04-30 (06) Tiny Pink Elephant
Love Story 37-05-07 (07) Such a Charming Young Man
Love Story 37-05-14 (08) Streak of Moonlight
Love Story 37-05-21 (09) Hostage of Love
Love Story 37-05-28 (10) Unexciting
Love Story 37-06-04 (11) Trapeze Girl
Love Story 37-06-11 (12) Just Another Blond
Love Story 37-06-18 (13) Flash Girl
Love Story 37-06-25 (14) The Last Dance
Love Story 37-07-02 (15) Army Kisses
Love Story 37-07-09 (16) Untamed
Love Story 37-07-16 (17) A Prince Arrives
Love Story 37-07-23 (18) A Toast to Cinderella
Love Story 37-07-30 (19) The Difference Between
Love Story 37-08-06 (20) The June House Party
Love Story 37-08-13 (21) Devil Wind
Love Story 37-08-20 (22) Forgotten Girl
Love Story 37-08-27 (23) Weekend Party
Love Story 37-09-03 (24) Accent on Youth
Love Story 37-09-10 (25) Nola Says
Love Story 37-09-17 (26) Some Men Are Different
 
Item number
OTR-1CD-LoveStoryMagazine
Currently there are no reviews available for this product. Be the first to write a review.