FREE SHIPPING USA ONLY. International Customers: Please add international shipping: http://m.onesmedia.com/category/313432
THE FORD THEATER & SHOW
OLD TIME RADIO - 1 CD-ROM - 41 mp3 - Total Playtime: 34:19:20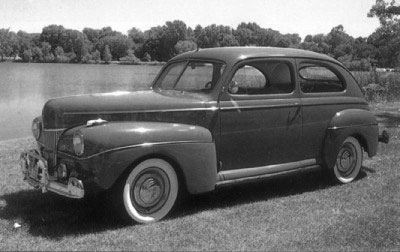 FORD THEATER (spelled Ford Theater for the radio version) is a radio and television anthology series broadcast in the United States in the 1940s and 1950s.
 
Ford Theater as a radio series lasted only for two seasons. It broadcast its first season from New York City on NBC with such actors as Ed Begley, Shirley Booth, Gary Merrill, Everett Sloane, and Vicki Vola. This season ran from October 5, 1947 to June 27, 1948. Due to poor ratings, Ford moved the show to Hollywood and CBS for the second season, where top Hollywood actors headed the casts. This season lasted from October 8, 1948 to July 1, 1949, where it received much higher ratings. However, with television arising as a popular season, Ford decided to end its radio show and focus solely on television.
FORD SHOW Presented by the Ford Dealers of America and staring Dinah Shore, the sincere and loveable 'Ford Girl.' The show features singing sensations like Shore and guest stars Gene Kelly, Johnny Mercer, Dennis Day, the Brazilian Pepper, Carmen Miranda and many others.
EPISODES LIST:

61016 Guest Lilly Ponds
461106 Guest William Bendix
461127 Guest Dennis Day
461204 Guest Gene Kelly
461211 Guest Eddie Cantor
461218 Guest Phil Harris
470101 Guest Garry Moore
470212 Guest Johnny Mercer
470319 Guest Ralph Edwards
470326 Guests Norris Goff
470326 Guests Norris Goffand Chet Lauck
470402 Guest Carmen Miranda
471005 01 Connecticut Yankee in King Arthurs Ct
471102 05 Ah Wilderness
471116 07 Carmen Jones
471221 12 The Man Who Played God
471228 13 Father Dear Father
480104 14 Adventures of the Bad Boy
480111 15 Storm in a Teacup
480113 16 Girl Crazy (rehearsal)
480118 16 Girl Crazy
480201 18 Green Pastures
480208 19 Abe Lincoln in Illinois
480321 25 Its a Gift
480418 29 The Silver Cord
480509 32 Front Page
480516 33 Counselor at Law
480523 34 A Star Is Born
480530 35 Laura
480606 36 Michael and Mary
480613 37 My Sister Eileen
480620 38 The Late Christopher Bean
480627 39 Arrowsmith
481008 40 Madam Bovary
481015 41 Double Indemnity
481029 43 Of Human Bondage
490121 55 Anna Christie
490304 61 The Horn Blows at Midnight
490401 65 Wuthering Heights
490624 77 A Farewell to Arms
491221 xx Littlest Angel
THESE ARE MP3 RECORDINGS
THEY WILL NOT PLAY IN REGULAR CD PLAYERS
CLICK HERE TO KNOW MORE ABOUT mp3
CLICK HERE TO LEARN MORE ABOUT OUR PRODUCTS
We guarantee delivery of your item. If your item doesn't get there or is damaged, please notify us and we'll reship for you.
FULL REFUND IF NOT SATISFIED
 
Item number
OTR-1CD-FordTheater
Currently there are no reviews available for this product. Be the first to write a review.