FREE SHIPPING USA ONLY. International Customers: Please add international shipping: http://m.onesmedia.com/category/313432
THE QUEEN'S MEN
OLD TIME RADIO - CD-ROM - 10 mp3
Total Playtime: 4:39:37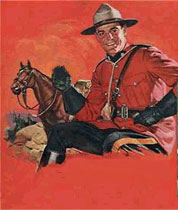 The series premiered over CKRC on January 3rd 1954 and ran until June 27th 1954. Reportedly performed, recorded and transcribed at the London studios of Towers of London, the series advertised a cast comprised of mostly Canadian ex-patriates to add a more authentic Canadian flavor to the series. In practice we can hear both Lou Jacobi and Arthur Hill in supporting roles during the series, so it would seem apparent that at least two of the episodes of The Queen's Men were recorded in Canada. Both Canadian-born, Lou Jacobi and Arthur Hill went on to distinguished careers on the Stage, in Film and on Television. The Queen's Men is undoubtedly one of only a handful of Radio programmes of the era in which both famous actors appeared at the same time.

And authentic it is, as one can tell from the moment the first 'aboot' is uttered in lieu of 'about.' The Queen's Men was written in Canada by John Adaskin and was produced, directed and transcribed in London by Harry Alan Towers. Towers of London's Music Director Sydney Torch provided the supporting musical accompaniment.

Billed as "for the first time, authentic stories of the Royal Canadian Mounted Police" we could find no support for the veracity of that statement. But it's clear that several of the programmes throughout the series were indeed adapted from many of the RCMP's most famous or notorious cases, the 1906 CPR Gold Robbery for one. Set in post-World War II Canada, the series chronicled stories ranging between the late 19th Century and the late 1940s. Each episode opened with the RCMP Oath of Office:

I solemnly swear that I will faithfully, diligently and impartially execute and perform the duties required of me as a member of the Royal Canadian Mounted Police, and will well and truly obey and perform all lawful orders and instructions which I shall receive as such, without fear, favour or affection of or towards any person. So help me God.

The mix of cases adapted for The Queen's Men dramatized an interesting cross-section of RCMP casework. Though mostly comprised of crime dramatizations, The Queen's Men also provided several more light-hearted and uplifting adventures during the course of its twenty-six episodes.

Harry Alan Towers, for all the controversy and scandal forever associated with his life and career clearly knew what constituted good Radio. The selection of John Adaskin to write, adapt and supervise The Queen's Men was not only the perfect political stroke for the era, but a brilliant decision based only on Adaskin's incredibly diverse experience and talent. A member of one of Canada's most talented and ambitious families, John Adaskin could literally do it all in Radio. He'd been a busy and successful Radio Producer himself, he was a brilliant musical artist (cellist and conductor), as were most of the members of his celebrated family, and he was a brilliant organizer with experience dating back to the formation of Canada's CRBC. He could certainly have handled the production, music direction and writing if it had been left to him to do so. As it was, his adaptations of some of the RCMP's most famous cases provided not only literal dramatizations of those cases, but added a very human quality to the dialogue and interactions between the characters in the scripts.
 
THESE ARE MP3 CD RECORDINGS
IT WILL NOT PLAY IN REGULAR CD PLAYERS
You will need CD players that read mp3 files.
Here some of the more popular mp3 players:
Coby, Memorex, Panasonic, Philips, Sony and many more. Be sure you buy a model that support mp3 files.
You can upload the files in ipods like Apple Ipod, Sansa and 100's more.
Many new car CD players reads mp3, again check your player first.
Many new home DVD players and virtually every Blu Ray reads mp3 files, please check your manual. Finally you can use your compurer. If you're reading this web page, you already have everything you need to listen this mp3 CD
THIS CD WILL BE DELIVERED IN WHITE PAPER SLEEVE
We guarantee delivery of your item. If your item doesn't get there or is damaged, please notify us and we'll reship for you.
FULL REFUND IF NOT SATISFIED
SHOWS LIST
54xxxx Anderson Disappearance.mp3
54xxxx 1 Catching A Train Robber aka The Anderson Gang.mp3
54xxxx 2 Murder Without Any Clues aka Duncan Underhill.mp3
54xxxx 5 Missing Persons Case aka Andrew Weeks.mp3
54xxxx 6 Manslaughter aka Hit and Run.mp3
54xxxx 7 McKee Case.mp3
54xxxx 8 Phillips Case.mp3
54xxxx 11 New J.P..mp3
54xxxx 12 Julien Bordeaux.mp3
54xxxx 15 Modus Operandi.mp3
Item number
OTR-1CD-QueensMen
Currently there are no reviews available for this product. Be the first to write a review.