FREE SHIPPING USA ONLY. International Customers: Please add international shipping: http://m.onesmedia.com/category/313432
CAMPBELL PLAYHOUSE
OLD TIME RADIO - CD-ROM - 48 mp3
The Campbell Playhouse (1938–40) was a CBS radio drama series directed by and starring Orson Welles. Produced by John Houseman, it was a sponsored continuation of the Mercury Theatre on the Air. The series offered 60-minute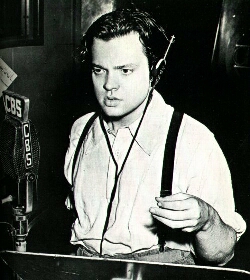 adaptations of classic plays and novels, plus some adaptations of popular motion pictures.
As a direct result of the front-page headlines Orson Welles generated with his 1938 Halloween production War of the Worlds, Campbell's Soup signed on as his sponsor. The Mercury Theatre of the Air made its last broadcast December 4, 1938, and The Campbell Playhouse began December 9, 1938. The series made its debut with Welles' adaptation of Rebecca, with guest stars Margaret Sullavan and Mildred Natwick. Bernard Herrmann composed and conducted the imaginative score, and later used much of it for the film Jane Eyre. The radio drama was the first adaptation of the 1938 novel by Daphne Du Maurier; the author was interviewed live from London at the conclusion of the broadcast.

The same creative staff stayed on, but the show had a different flavor under sponsorship. This was partially due to a guest star policy which relegated the Mercury Players to supporting roles. There was a growing schism between Welles, still reaping the rewards of his Halloween night notoriety, and Houseman, who became more like an employee than a partner. The primary writer, as during the end of the unsponsored run, was Howard Koch.

Productions included The Citadel (with Geraldine Fitzgerald), A Christmas Carol (broadcast once with Lionel Barrymore as Scrooge, and once with Orson Welles himself in the role), a non-musical version of Show Boat (with Margaret Sullavan as Magnolia, Orson Welles as Cap'n Andy, Helen Morgan as Julie, and author Edna Ferber herself as Parthy), A Farewell to Arms (with Katharine Hepburn), Mutiny on the Bounty, Arrowsmith (with Helen Hayes), Les Misérables (with Walter Huston), Our Town, Ah, Wilderness, Dodsworth, Lost Horizon (with Ronald Colman), Dinner at Eight (with Hedda Hopper and Lucille Ball), Liliom (with Orson Welles in the title role and Helen Hayes as Julie), and Huckleberry Finn[disambiguation needed] (with Jackie Cooper).[citation needed]

When Welles left the series in 1940, Houseman stayed to write scripts for the final season, which was initially produced by Diana Bourbon, one of the few women directors in network radio. Houseman wrote a script every other week, alternating with veteran radio writer Wyllis Cooper (he and Campbell announcer Ernest Chappell would go on to create Quiet, Please) . Later in the season, scripts by others were used, including one each by Norman Corwin and Ellery Queen. Reduced to a half hour, the series' focus shifted away from heavy play and novel adaptations to lighter, more popular fare, still with casts drawn from the ranks of film actors. Listenership increased—ratings were actually higher than the Welles-hosted seasons—but the series was expensive and the sponsor canceled it in June 1941.
PLEASE READ HOW TO LISTEN TO THIS CD
THESE ARE MP3 CD RECORDINGS
IT WILL NOT PLAY IN REGULAR CD PLAYERS
You will need CD players that read mp3 files.
Here some of the more popular mp3 players:
Coby, Memorex, Panasonic, Philips, Sony and many more. Be sure you buy a model that support mp3 files.
You can upload the files in ipods like Apple Ipod, Sansa and 100's more.
Many new car CD players reads mp3, again check your player first.
Many new home DVD players and virtually every Blu Ray reads mp3 files, please check your manual. Finally you can use your compurer. If you're reading this web page, you already have everything you need to listen this mp3 CD
THIS CD WILL BE DELIVERED IN WHITE PAPER SLEEVE
We guarantee delivery of your item. If your item doesn't get there or is damaged, please notify us and we'll reship for you.
FULL REFUND IF NOT SATISFIED
SHOWS LIST
381209 1 Rebecca
381223 3 A Christmas Carol
390106 5 Counsellor at Law
390113 6 Mutiny on the Bounty
390127 8 I Lost My Girlish Laughter
390203 9 Arrowsmith
390210 10 The Green Goddess
390310 14 The Glass Key
390317 15 Beau Geste
390324 16 20th Century
390331 17 Show Boat
390414 19 The Patriot
390421 20 Private Lives
390503 21 Cambells Short Success Story
390505 22 Ordeal at Wickford Point
390512 23 Our Town
390519 24 Bad Man
390526 25 American Cavalcade - Things We Have
390602 26 Victoria Regina
390910 27 Peter Ibbotson
390917 28 Ah, Wilderness
390924 29 What Every Woman Knows
391001 30 The Count of Monte Cristo
391008 31 Algiers
391015 32 Escape
391022 33 Liliom
391029 34 Magnificent Ambersons
391105 35 Hurricane
391112 36 The Murder of Roger Ackroyd
391119 37 Garden of Allah
391126 38 Dodsworth
391203 39 Lost Horizon
391210 40 Vanessa
391217 41 There's Always a Woman
391224 42 A Christmas Carol
400107 44 Vanity Fair
400114 45 Thedora Goes Wild
400121 46 The Citadel
400128 47 It Happened One Night
400204 48 Broome Stages
400211 49 Mr Deeds Goes to Town
400218 50 Dinner at Eight
400225 51 Only Angels Have Wings
400303 52 Rabble in Arms
400310 53 Craig's Wife
400317 54 Huckleberry Finn
400324 55 June Moon
400331 56 Jane Eyre
 
Item number
OTR-1CD-CampbellPlayhouse
Currently there are no reviews available for this product. Be the first to write a review.