FREE SHIPPING USA ONLY. International Customers: Please add international shipping: http://m.onesmedia.com/category/313432
WEIRD CIRCLE
OLD TIME RADIO - CD-ROM - 78 mp3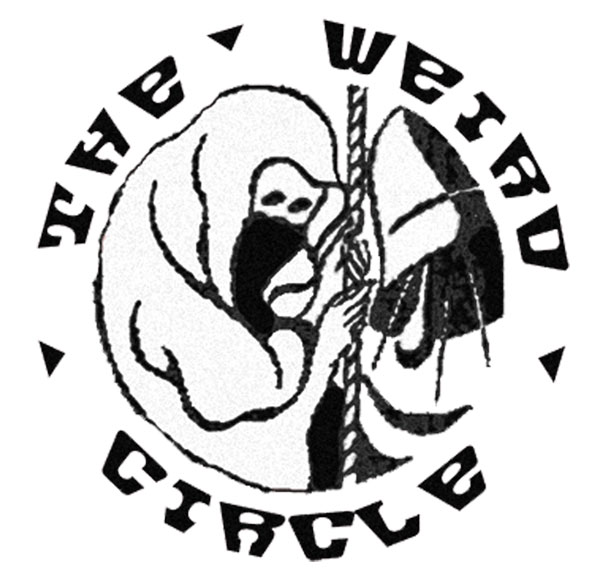 The Weird Circle was a syndicated series produced in New York and licensed by Mutual, and later, NBC's Red network (Digital Deli Too). For two seasons, it cranked out 39 shows (78 total) consisting mostly of radio adaptations of classic horror stories. The production values were adequate, but nothing to get excited about. Noticeably absent was any music. Not using any organ accompaniment helps the show seem less dated now, but it also diminishes the atmosphere that effective music provides a good story, especially if its timeless music of an orchestra or even a piano (as sometimes used in Quiet Please). About the closest Weird Circle got to anything musical was the occasional strumming of piano chords used to signal the transition into another scene.
The Weird Circle was syndicated again decades later to independent stations on reel to reel tape. I know this because I found dozens of boxes of the tapes stored at KZSU Stanford in the early 1990s. They were hidden deep within a forgotten basement tunnel that ran under Memorial Auditorium (where the station was located). I ran the series on that station soon thereafter. They were probably originally sent in the 1970s when there was a resurgence of interest in OTR created by The CBS Radio Mystery Theater and Zero Hour. The actual stories sounded like they were the same 1940s recordings, but the introduction and closing segments had a different voice of an older man, and were probably re-recorded to allow a standardized point for commercials to be inserted. The same intro and exit script used in the 1940s was still used in the tapes, where the voice says, "In this cave, by the restless sea, we are met to call from out of past, stories strange and weird. Bell keeper, toll the bell..." What's weird about it is that I found the tapes in a tunnel (cave) located close to the restless sea (Pacific), and they certainly were stories from out of the past, strange and weird. As I shined my flashlight on the yellowed tape labels for the fist time, the campus clock tower could be heard tolling the bell in the distance. It raises the hair on the back of my neck thinking about it. After all, considering those immortal words were first recorded in 1943, that completes a very weird circle.
PLEASE READ HOW TO LISTEN TO THIS CD
THESE ARE MP3 CD RECORDINGS
IT WILL NOT PLAY IN REGULAR CD PLAYERS
You will need CD players that read mp3 files.
Here some of the more popular mp3 players:
Coby, Memorex, Panasonic, Philips, Sony and many more. Be sure you buy a model that support mp3 files.
You can upload the files in ipods like Apple Ipod, Sansa and 100's more.
Many new car CD players reads mp3, again check your player first.
Many new home DVD players and virtually every Blu Ray reads mp3 files, please check your manual. Finally you can use your compurer. If you're reading this web page, you already have everything you need to listen this mp3 CD
THIS CD WILL BE DELIVERED IN WHITE PAPER SLEEVE
We guarantee delivery of your item. If your item doesn't get there or is damaged, please notify us and we'll reship for you.
FULL REFUND IF NOT SATISFIED
SHOWS LIST
Weird Circle 43-08-29 01 Fall of the House of Usher
Weird Circle 43-09-05 02 The House and the Brain
Weird Circle 43-09-12 03 The Vendetta
Weird Circle 43-09-19 04 Narrative of a Gordon Pym
Weird Circle 43-09-26 05 Declared Insane
Weird Circle 43-10-03 06 A Terribly Strange Bed
Weird Circle 43-10-10 07 What Was It
Weird Circle 43-10-17 08 Knights Bridge Mystery
Weird Circle 43-10-24 09 The Horla
Weird Circle 43-10-31 10 William Wilson
Weird Circle 43-11-07 11 Passion In The Desert
Weird Circle 43-11-14 12 Mated Falcone
Weird Circle 43-11-21 13 The Man Without a Country
Weird Circle 43-11-28 14 Dr. Manette's Manuscript
Weird Circle 43-12-05 15 The Great Plague
Weird Circle 43-12-12 16 Expections of an Heir
Weird Circle 43-12-19 17 The Hand
Weird Circle 43-12-26 18 Jane Eyre
Weird Circle 44-01-02 19 Murders in the Rue Morgue
Weird Circle 44-01-09 20 The Lifted Veil
Weird Circle 44-01-16 21 The 4-15 Express
Weird Circle 44-01-23 22 A Terrible Night
Weird Circle 44-01-30 23 The Tell-Tale Heart
Weird Circle 44-02-06 24 Niche of Doom
Weird Circle 44-02-13 25 The Heart of Ethan Brand
Weird Circle 44-02-20 26 Frankenstein
Weird Circle 44-02-27 27 Feast of the Red Gauntlet
Weird Circle 44-03-05 28 Murder of the Little Pig
Weird Circle 44-03-12 29 Spectre of Tappington
Weird Circle 44-03-19 30 Strange Judgement
Weird Circle 44-03-26 31 Wuthering Heights
Weird Circle 44-04-02 32 Curse of the Mantle
Weird Circle 44-04-09 33 The Cask of Amontillado
Weird Circle 44-04-16 34 A Rope of Hair
Weird Circle 44-04-23 35 Falkland
Weird Circle 44-04-30 36 The Trial For Murder
Weird Circle 44-05-07 37 The Werewolf
Weird Circle 44-05-14 38 The Old Nurse's Story
Weird Circle 44-05-28 39 The Middle Toe of the Right Foot.mp
Weird Circle 44-09-03 40 The Dream Woman
Weird Circle 44-09-10 41 The Phantom Picture
Weird Circle 44-09-17 42 The Ghost's Touch
Weird Circle 44-09-24 43 The Bell Tower
Weird Circle 44-10-01 44 Evil Eye
Weird Circle 44-10-08 45 The Mark of the Plague
Weird Circle 44-10-15 46 The Queer Client
Weird Circle 44-10-22 47 The Burial of Roger Melvin
Weird Circle 44-10-29 48 The Fatal Love Potion
Weird Circle 44-11-05 49 Mad Monkton
Weird Circle 44-11-12 50 The Returned
Weird Circle 44-11-19 51 The Executioner
Weird Circle 44-11-26 52 Rapacini's Daughter
Weird Circle 44-12-03 53 The Wooden Ghost
Weird Circle 44-12-10 54 Last Days of a Condemned Man
Weird Circle 44-12-17 55 The Warning
Weird Circle 44-12-24 56 The Doll
Weird Circle 44-12-31 57 The Diamond Lens
Weird Circle 45-01-07 58 History of Dr. John Faust
Weird Circle 45-01-14 59 Duel Without Honor
Weird Circle 45-01-21 60 Spectre Bride
Weird Circle 45-01-28 61 The Tapestry Horse
Weird Circle 45-02-04 62 The River Man
Weird Circle 45-02-11 63 Ancient Mariner
Weird Circle 45-02-18 64 The Oblong Box
Weird Circle 45-02-25 65 The Mysterious Bride
Weird Circle 45-03-04 66 The Thing in the Tunnel
Weird Circle 45-03-11 67 The Moonstone
Weird Circle 45-03-18 68 The Pistol Shot
Weird Circle 45-03-25 69 The Possessive Dead
Weird Circle 45-04-01 70 The Goblet
Weird Circle 45-04-08 71 The Case of Monsieur Valdermar
Weird Circle 45-04-15 72 The Shadow
Weird Circle 45-04-22 73 Bride Of Death
Weird Circle 45-04-29 74 Dr Jeckyl and Mr Hyde
Weird Circle 45-05-06 75 The Red Hand
Weird Circle 45-05-13 76 The Haunted Hotel
Weird Circle 45-05-20 77 Markheim
Weird Circle 45-05-27 78 The Black Parchment
Item number
OTR-1CD-WeirdCircle
Currently there are no reviews available for this product. Be the first to write a review.