FREE SHIPPING USA ONLY. International Customers: Please add international shipping: http://m.onesmedia.com/category/313432
THE HAROLD PEARY SHOW - HONEST HAROLD
OLD TIME RADIO - CD-ROM - 38 mp3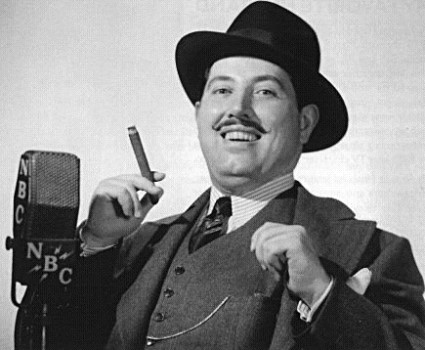 Harold (Hal) Peary was an American actor, comedian and singer in radio, film, television and animation remembered best as Throckmorton P. Gildersleeve, a supporting character on radio's Fibber McGee & Molly that moved to its own radio hit, The Great Gildersleeve, the first known spinoff hit in American broadcasting history.
At CBS, Peary began a new situation comedy, The Harold Peary Show, sometimes known as Honest Harold, a title that was actually the name of the fictitious radio show the new character hosted. Radio veteran Joseph Kearns (later familiar as Mr. Wilson on television's Dennis the Menace, played veterinarian Dr. Yancey, known better as Doc Yak-Yak and resembling former foil Judge Hooker. The new show also borrowed a few Gildersleeve plot devices, such as running for mayor and engagements to two women. The Harold Peary Show lasted only one season of 38 episodes.
PLEASE READ HOW TO LISTEN TO THIS CD
THESE ARE MP3 CD RECORDINGS
IT WILL NOT PLAY IN REGULAR CD PLAYERS
You will need CD players that read mp3 files.
Here some of the more popular mp3 players:
Coby, Memorex, Panasonic, Philips, Sony and many more. Be sure you buy a model that support mp3 files.
You can upload the files in ipods like Apple Ipod, Sansa and 100's more.
Many new car CD players reads mp3, again check your player first.
Many new home DVD players and virtually every Blu Ray reads mp3 files, please check your manual. Finally you can use your compurer. If you're reading this web page, you already have everything you need to listen this mp3 CD
THIS CD WILL BE DELIVERED IN WHITE PAPER SLEEVE
We guarantee delivery of your item. If your item doesn't get there or is damaged, please notify us and we'll reship for you.
FULL REFUND IF NOT SATISFIED
SHOWS LIST
Honest Harold 1950 08 23 Audition
Honest Harold 1950 09 17 Harold Loses His Job
Honest Harold 1950 09 24 Renaming Boomer Park
Honest Harold 1950 10 04 Shark Repellent
Honest Harold 1950 10 11 The Chanteuse
Honest Harold 1950 10 18 The Runaway Boy
Honest Harold 1950 10 25 Campaign Speech
Honest Harold 1950 11 01 Election Plans
Honest Harold 1950 11 08 Cousin Raymond Visits
Honest Harold 1950 11 15 Getting a Job
Honest Harold 1950 11 22 Thanksgiving Play
Honest Harold 1950 12 06 The Hummer
Honest Harold 1950 12 13 Raymond And Gloria
Honest Harold 1950 12 20 Childrens Christmas Party
Honest Harold 1950 12 27 New Years Dance
Honest Harold 1951 01 03 Warbleware Party
Honest Harold 1951 01 10 Lost Sponsor
Honest Harold 1951 01 17 Going to New York
Honest Harold 1951 01 24 Engaged Twice
Honest Harold 1951 01 31 Civic Achievement Award
Honest Harold 1951 02 07 Mothers Suitor
Honest Harold 1951 02 14 Mistaken Valentines
Honest Harold 1951 02 21 Florabelle Returns
Honest Harold 1951 02 28 Willis Cant Pass the Physical
Honest Harold 1951 03 07 Red Cross Drive
Honest Harold 1951 03 14 Income Tax
Honest Harold 1951 03 21 Cousin Marvin
Honest Harold 1951 03 28 First Day of School
Honest Harold 1951 04 04 Modernizing Docs Office
Honest Harold 1951 04 18 Cleaning the Cellar
Honest Harold 1951 04 25 Circus Day
Honest Harold 1951 05 02 Marvins Gang
Honest Harold 1951 05 09 Vying for Class
Honest Harold 1951 05 16 Florabelles New Lover
Honest Harold 1951 05 23 Party Invitation
Honest Harold 1951 05 30 Marshall for a Day
Honest Harold 1951 06 06 Peabodys Sister Takes Over
Honest Harold 1951 06 13 Marvin Decides to Stay
Item number
OTR-1CD-HonestHarold
Currently there are no reviews available for this product. Be the first to write a review.