FREE SHIPPING USA ONLY. International Customers: Please add international shipping: http://m.onesmedia.com/category/313432
MYSTERY IN THE AIR
OLD TIME RADIO - CD - 8 mp3 - Total Playtime: 3:45:16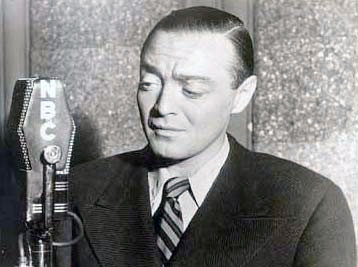 After World War II, Lorre's acting career in Hollywood experienced a downturn, whereupon he concentrated on radio and stage work. In Germany he co-wrote, directed and starred in Der Verlorene (The Lost One) (1951), a critically acclaimed art film in the film noir style. He then returned to the United States where he appeared as a character actor in television and feature films, often spoofing his former "creepy" image. In 1954, he had the distinction of becoming the first actor to play a James Bond villain when he portrayed Le Chiffre in a television adaptation of Casino Royale, opposite Barry Nelson as an American James Bond. (In the spoof-film version of Casino Royale, Ronnie Corbett comments that SMERSH includes among its agents not only Le Chiffre, but also "Peter Lorre and Bela Lugosi.") Also in 1954, Lorre starred alongside Kirk Douglas and James Mason in the hit-classic 20,000 Leagues under the Sea. In the early 1960s he worked with Roger Corman on several low-budgeted, tongue-in-cheek, and very popular films.

In 1956, both Lorre and Vincent Price attended Bela Lugosi's funeral. According to Price, Lorre asked him "Do you think we should drive a stake through his heart just in case?"
SHOWS LIST
Mystery in the Air 47-08-07 01 The Marvelous Barrastro
Mystery in the Air 47-08-14 02 The Lodger
Mystery in the Air 47-08-21 03 The Horla
Mystery in the Air 47-08-28 04 Beyond Good and Evil
Mystery in the Air 47-09-04 05 The Mask Of Medusa
Mystery in the Air 47-09-11 06 The Queen of Spades
Mystery in the Air 47-09-18 07 The Black Cat
Mystery in the Air 47-09-25 08 Crime and Punishment
THESE ARE MP3 RECORDINGS
THEY WILL NOT PLAY IN REGULAR CD PLAYERS
CLICK HERE TO KNOW MORE ABOUT mp3
CLICK HERE TO LEARN MORE ABOUT OUR PRODUCTS
We guarantee delivery of your item. If your item doesn't get there or is damaged, please notify us and we'll reship for you.
FULL REFUND IF NOT SATISFIED
Item number
OTR-1CD-MysteryInTheAir
Currently there are no reviews available for this product. Be the first to write a review.