FREE SHIPPING USA ONLY. International Customers: Please add international shipping: http://m.onesmedia.com/category/313432
THE SHADOW
Old Time Radio 3 CD-ROM - 251 mp3
The Shadow was long believed to have debuted on radio as a program in its own right September 26, 1937, on the Mutual Broadcasting System. But the character actually premiered in September 1931, on CBS, as part of the hour-long The Blue Coal Radio Revue (named for the show's sponsor), featuring Frank Readick -- the "Shadow" announcer of Detective Stories -- as The Shadow, and playing Sundays at 5:30 p.m. Eastern Standard Time. The stories also appeared on Thursday nights for a month, when Love Story Drama (another Street and Smith creation) took the Thursday night slot -- but also featured occasional portrayals of The Shadow.
Blue Coal had a long relationship with the Shadow, moving the radio series to NBC in October 1932 with Readick playing the character on Wednesday nights now. Two years later, NBC ran the stories on Mondays and Wednesdays, both at 6:30 p.m., with LaCurto taking occasional turns as the title character. Three years later came the beginning of the half-hour drama radio buffs have remembered so well, with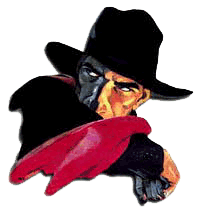 the then-unknown Orson Welles as The Shadow, the show moving to Mutual, and the famous catch phrase now in full play accompanied by the strains of an excerpt from Opus 31 of the Camille Saint-Saëns classical composition, "Le Rouet d'Omphale".
Welles did not speak that signature line -- Readick did, using a water glass next to his mouth for the echo effect. But Welles did make a credible Shadow, two years before his notoriety as the mastermind of Mercury Theatre on the Air's production of War of the Worlds.
After Welles left the role for a career in the cinema, The Shadow was portrayed by such actors as Bill Johnstone, Bret Morrison (the longest tenure, with ten years in two separate runs), John Archer, and Steve Courtleigh as Lamont Cranston/The Shadow. The radio show also introduced female characters into the Shadow's realm, most notably Margot Lane (played by Agnes Moorehead among others) as Cranston's love interest and crime-solving partner (the character was eventually integrated into Gibson's pulp novels). Lane was described as Cranston's "friend and companion" in later episodes, although the exact nature of their relationshp was left unclear. In the 1994 movie, Margot's name was spelled "Margo." However, early scripts of the radio show clearly show that the character's name was spelled "Margot".
Once The Shadow joined Mutual as a half-hour series, it did not leave Sunday evenings radio until December 26, 1954, outlasting the magazine that gave birth to it: The Shadow Magazine ended with the summer 1949 issue, although Gibson wrote three new "official" stories between 1963 and 1980. Gibson started off a short series of updated Shadow novels for Belmont with Return of the Shadow under his own name, followed by The Shadow Strikes, Beware Shadow, Cry Shadow, The Shadow's Revenge, Mark of The Shadow, Shadow Go Mad, Night of The Shadow, and Destination: Moon. The Shadow had mental powers in these books, to cloud men's minds so he effectively became invisible, to conquer pain, etc.
PLEASE READ HOW TO LISTEN AT THESE CD
THESE ARE MP3 CD RECORDING
THEY WILL NOT PLAY IN REGULAR CD PLAYERS
You will need CD players that read mp3 files.
Here some of the more popular mp3 players:
Coby, Memorex, Panasonic, Philips, Sony and many more. Be sure you buy a model that support mp3 files.
You can upload the files in ipods like Apple Ipod, Sansa and 100's more.
Many new car CD players reads mp3, again check your player first.
Many new home DVD players and virtually every Blu Ray reads mp3 files, please check your manual. Finally you can use your compurer. If you're reading this web page, you already have everything you need to listen this mp3 CD
Most of these shows are 32kbps, if space is available we will use higher bit rate.
THESE CD WILL BE DELIVERED IN WHITE PAPER SLEEVES
I guarantee delivery of your item. If your item doesn't get there or is damaged, please notify us and we'll reship for you.
FULL REFUND IF NOT SATISFIED 
Item number
OTR-3CD-TheShadow
Currently there are no reviews available for this product. Be the first to write a review.