FREE SHIPPING USA ONLY. International Customers: Please add international shipping: http://m.onesmedia.com/category/313432
1944 SAMPLER
PLEASE, ONLY ONE FREE SAMPLER FOR THE ENTIRE ORDER
(Please, not a sampler for each item purchased)
OLD TIME RADIO - 1 CD - 100 mp3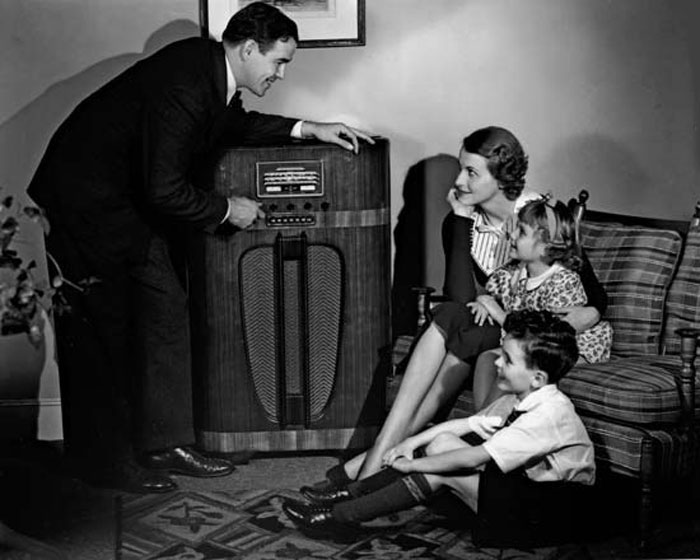 A great selection of the more popular shows of 1944. Old-Time Radio (OTR) and the Golden Age of Radio refer to a period of radio programming in the United States lasting from the proliferation of radio broadcasting in the early 1920s until television's replacement of radio as the dominant home entertainment medium in the 1950s. During this period, when radio was dominant and the airwaves were filled with a variety of radio formats and genres, people regularly tuned in to their favorite radio programs. In fact, according to a 1947 C. E. Hooper survey, 82 out of 100 Americans were found to be radio listeners.
EPISODES LIST
Action Theater 44-01-15 High Explosive - Audition
Adventures by Morse 44-06-10 Cobra King Strikes Back
Adventures of Dick Tracy 440000 Case Of The Firebug Murders
Adventures of Dick Tracy 440110 The Case of the Hooting Owl
Adventures of the Sea Hound-440816 The Traitors Trouble with Indians
Adventures of the Sea Hound-441005 Phantom Raider Captured
Al Trace Orchestra 44-04-06 First Song - American Polka
Amos and Andy 441222 Christmas Show
Andrews Sisters 441231 1st Show w Bing Crosby Gabby Hayes
Baby Snooks 44-10-08 Baby Snooks Visits the Bumsteads
Baby Snooks 44-12-03 Fanny Brice Show
Bing Crosby Show 44-06-08 Kraft-Cecil B Demille
Bing Crosby Show 44-07-06 Kraft-Tom And Jimmy Dorsey
Bob Hope Long Beach Coast Guard 44-03-07
Bob Hope Santa Ana Seperation Center 44-09-26
Bob Hope Wheeler Infantry Base 44-10-17
Boston Blakie - First Show - 44-06-23 - The Rockwell Diamond
Burns and Allen Show 44-01-18 Guest - William Bendix
Burns and Allen Show 44-02-01 Guest - William Powell
Ceiling Unlimited 441225 Sabotage
Columbia Presents Bill Snyder-Chicago Drake Hotel 44-06-07
Columbia Presents Harry James-New York Astor Hotel-44-06-07
Comedy Theater 441217 008 Lucky Partners
Comedy Theater 441224 009 Bachelor Mother
Dale Jones on CBS Presents-Hollywood Palladium-44-06-07
Eddie Cantor 44-12-20 Christmas Show
Edgar Bergen & Charlie McCarthy - 440917 Guest Leo Carillo
Edgar Bergen & Charlie McCarthy - 441015 Charlie Wants More Allowance with Gertrude Niesen
Ellery Queen 44-01-20 Scarecrow and the snowman
Ellery Queen 44-04-13 Dead Mans Cavern
Fibber and Molly 441219 Fibber Snoops For Presents In Closet
Fibber and Molly 441226 Fibber Controls His Temper
Fred Allen 44-06-11 Deems Taylor - South Dakota
Gang Busters 440714 The Case of the Costumed Killer
Gang Busters 440915 The Case Of Bielanski and Tillotson
GI Journal 44-12-15-074-Guest Orson Welles
Glenn Miller BBC Allied Expenditionary Show 44-07-27
Great Gildersleeve - Christmas Eve Program 12-24-44
Holiday Inn Christmas 441214
Incredible, but True - 1944 The Skull of Bettiscomb
Information Please 440228 - Franchot Tone
Information Please 44122 - Fred Allen James Wallace
Inner Sanctum 44-11-29 204 The Voice on the Wire
Inner Sanctum 440610 Death is a Joker
Inner Sanctum 441206 The Color Blind Formula
Jack Benny 440213 From March Field
Jack Benny Show 441008 Jack Offers Frank Sinatra Dennis Job
Jack Benny Show 441217 Jack Meets Frank Sinatra In A Drug Store
Jimmy Durante Show - Christmas Show 44-12-22
Life Of Riley 441217 Christmas Present
Life Of Riley 441224 Roswells A Guest For Christmas
Lone Ranger 44-03-29 Aaron Burrs
Lone Ranger 44-06-21 Chuck Wagon C
Lux Radio Theater 440124 Casablanca
Lux Radio Theater 440522 Springtime In the Rockies No Open or Close
Lux Radio Theater 440605 Jane Eyre
Lux Radio Theater 440612 Naughty Marietta-No Open No Close
Lux Radio Theater 440911 Break of Hearts
Mail Call - 440809 Frank Sinatra Fred Allen
Mail Call - 441005 Kay Kyser Georgia Gibbs
Mildred Bailey Show - Guest Teddy Wilson - 44-10-20
Mr North and Mrs North 440809 Pam Solves It Mystery Playhouse
MrKeen 44-02-10 The Case of The Boy Who Used Big Words
MrKeen 44-02-24 The Case of Murder In The Air
MrKeen 44-04-13 The Case of the leaping dog
MrKeen 44-06-15 The Case of the woman in blue
Nick Carter 440122 Records Of Death
Nick Carter 440325 Drums Of Death
Nick Carter 440415 A Cat Brings Death
Old Gold Show - Jackie Gleason First Show - 44-10-22
Orson Welles Radio Almanac 44-06-07 20 D Day Program
Orson Welles Radio Almanac 44-06-14 21 Tex-Arkana Program
Orson Welles Radio Almanac 44-06-21 22 Guest Martha ODriscoll
Paul Winchell And Jerry Mahone - 44-07-10
Perry Mason - 44-06-07 Perry Mason Case Of The Puzzled Suitor
Red Skelton 440411 Candy
Red Skelton 440523 Dog Catcher Skits
Riley Roswells - 441224 A Guest For Christmas
Romance - 440704 Goodbye Mr-Chips
Screen Guild 440327 - Jack Benny
Screen Guild Theater - 44-04-03 Hello Frisco Hello
Screen Guild Theater - 44-12-04 China Sea
Sea Hound 441005 - The Capture
Sea Hound 441012 - The Escape
Shakespeare Collection-440315 Scene from Julius Caesar
Shakespeare Collection-440517 Scene from Romeo and Juliet
Suspense 440531 Donovans Brain parody from Orson Welles Radio Almanac
Suspense 441221 The Brighton Strangler
Suspense 441228 A Thing Of Beauty
The Shadow 44-04-13 The Marvelous Barastro-Orson Welles
The Shadow 44-05-04 The Dark Tower-Orson Welles
The Shadow 44-05-18 Donovans Brain Part 1-Orson Welles
This Changing World 44-08-22
Vic and Sade - 44-04-05 Hyena Grease
Vic and Sade - 44-05-01 Lodge Holiday Visits
Weird Circle 44-09-17 42 The Ghosts Touch
Words at War-440509-Gunners Get Glory
Words at War-441024-Still Time to Die
Words at War-441128-Camp Follower
You Can't Take It With You - 44-09-03
THESE ARE MP3 RECORDINGS
THEY WILL NOT PLAY IN REGULAR CD PLAYERS
CLICK HERE TO KNOW MORE ABOUT mp3
CLICK HERE TO LEARN MORE ABOUT OUR PRODUCTS
We guarantee delivery of your item. If your item doesn't get there or is damaged, please notify us and we'll reship for you.
FULL REFUND IF NOT SATISFIED
Currently there are no reviews available for this product. Be the first to write a review.