FREE SHIPPING USA ONLY. International Customers: Please add international shipping: http://m.onesmedia.com/category/313432
THE BICKERSONS
OLD TIME RADIO - CD-ROM - 49 mp3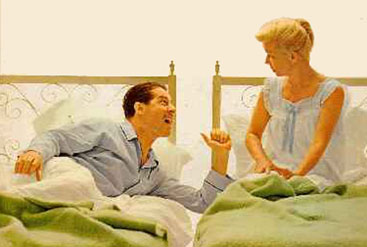 The Bickersons was a radio comedy sketch series that began in 1946 on NBC, moving the following year to CBS where it continued until 1951. The show's married protagonists, portrayed by Don Ameche and Frances Langford, spent nearly all their time together in relentless verbal war. The Bickersons was created by Philip Rapp, the one-time Eddie Cantor writer who had also created the Fanny Brice skits (for The Ziegfeld Follies of the Air and Maxwell House Coffee Time) that grew into radio's Baby Snooks. Several years after the latter established itself a long-running favorite, Rapp developed and presented John and Blanche Bickerson, first as a short sketch on The Old Gold Show and The Chase and Sanborn Hour (the show that made stars of Edgar Bergen and his dummy, Charlie McCarthy), and then as a 15-minute situational sketch as part of Drene Time. This was a variety show starring Don Ameche and singer-actress Frances Langford as co-hosts, airing on NBC and sponsored by Drene Shampoo. Announcing the show—and later familiar to television viewers as The Millionaire's presenter and executive secretary, Michael Anthony—was Marvin Miller.

Drene Time typically opened with Langford singing a big band-style arrangement before Ameche and Langford would slip into routine comedy, often aided by co-star Danny Thomas, in routines that often expressed Ameche's frustration that Thomas was more interested in modern technology and discoveries than in women. After another musical number and a commercial spot for Drene Shampoo, Miller would announce Ameche and Langford as the Bickersons, "in 'The Honeymoon's Over'," for the final 15 minutes of the show.
PLEASE READ HOW TO LISTEN TO THIS CD
THESE ARE MP3 CD RECORDINGS
IT WILL NOT PLAY IN REGULAR CD PLAYERS
You will need CD players that read mp3 files.
Here some of the more popular mp3 players:
Coby, Memorex, Panasonic, Philips, Sony and many more. Be sure you buy a model that support mp3 files.
You can upload the files in ipods like Apple Ipod, Sansa and 100's more.
Many new car CD players reads mp3, again check your player first.
Many new home DVD players and virtually every Blu Ray reads mp3 files, please check your manual. Finally you can use your compurer. If you're reading this web page, you already have everything you need to listen this mp3 CD
THIS CD WILL BE DELIVERED IN WHITE PAPER SLEEVE
We guarantee delivery of your item. If your item doesn't get there or is damaged, please notify us and we'll reship for you.
FULL REFUND IF NOT SATISFIED
EPISODES LIST
460908 xx Drene Time Premiere Show
461213 xx The In-Laws Visit
461215 01 The Snore Ball
461229 03 Skit - Deep Sea Treasure Enterprise
470105 04 Skit - Everybody Has A Baby
470112 05 Allergic To Dogs aka The New Puppy
470209 09 The New Tuxedo
470223 11 Amos The Driving Instructor
470302 12 Blanche Has A Stomach Ache
470316 14 Blanche Bets On The Horses
470330 16 Johns New Fishing Pole
470413 18 The Batchlor Party
470518 23 Clams Are Healthy
470601 xx Last skit on Drene time
471112 08 Blanches Birthday Present
471126 10 John Is In The Hospital
471203 11 John and Blanche on a Fishing Boat aka The Cruise
480000 xx Reading the Will
480213 21 Valentines Day, The accident insurance policy
480227 23 The Movie
480306 24 Second Honeymoon
480326 27 Easter Parade - rabbit coat for Easter
480423 31 Blanche's sprained ankle aka The Operation
480423 31 Blanches sprained ankle aka The Operation
480430 32 Street Car Conductor
480507 33 The Bickersons cat is about to have kittens
480514 34 Two Weeks with Pay, John plans to spend his vacation sleeping (2)
480514 34 Two Weeks with Pay, John plans to spend his vacation sleeping (3)
480514 34 Two Weeks with Pay, John plans to spend his vacation sleeping
480521 35 Blanche has lost bets on eight races at the track
480528 36 The Presidential Suite
480528 36 The Presidential Suite
480604 37 8th Wedding Anniversary
480611 38 Income Tax Refund
480618 39 Last skit on The Old Gold Time, The new apartment
481213 xx Pink Slip aka The In-Laws Visit
481219 xx Christmas Eve at the Bickersons
481226 xx Last skit on the Charlie McCarthy Show, The Vacation Trailer
510605 01 First Show Of The Bickersons, The Fatal Anniversary Present
510612 02 The Mink Coat
510710 06 The Gooseby Vacation
510717 07 Blanches Expensive Injury
510821 12 Johns Snoring Dilemma
510828 13 Last Episode, John The Shoplifter
620000 xx Breakfast, Blanche wants a maid
671014 xx Advertisement by The Bickersons
xxxxxx xx Car Repairs & John Is Teaching Blanche to Drive
xxxxxx xx Eunices Wedding
xxxxxx xx John Goes to Las Vegas
 
Item number
OTR-1CD-Bickersons
Currently there are no reviews available for this product. Be the first to write a review.