FREE SHIPPING USA ONLY. International Customers: Please add international shipping: http://m.onesmedia.com/category/313432
STRAIGHT ARROW
1CD-ROM - 14 mp3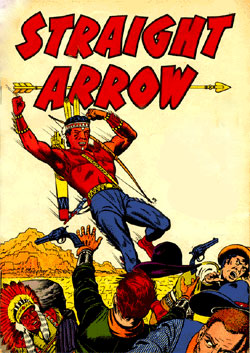 "STRAIGHT ARROW" was broadcast nationally as a 30-minute episode three times a week until February 1950 and then it went to twice a week until the show ended in June 1951. All 292 scripts were written by Sheldon Stark.

While his script on the childhood of Straight Arrow was never aired, the story was used on the inside cover of an Injun-Uity Manual premium.

Although this entertaining series had a relatively short run (starting after the advent of television, it could not last long) it was popular enough to spawn both a comic book series and also a newspaper strip.

The first comic book came out in the spring of 1950 with Gardner Fox doing most of the writing and Fred L. Meagher as the illustrator. The comic books actually out-lasted the radio version by a full five years; they ended in March 1956.

The newspaper strip, distributed by Bell Syndicate, was well done, but did not equal the duration of the comic books. This news strip, again with story by Fox, was illustrated by the talented duo of John Belfi and Joe Certa. It was syndicated to about 200 U.S. newspapers from July 1950 to August 1951.

Today, some 45 years after the demise of STRAIGHT ARROW, virtually all of the talented people who were in its cast and crew are deceased. Culver went on to play the boy friend of Mercedes McCambridge in her radio series, DEFENSE ATTORNEY, and he had a reoccurring television role as Howie the desk clerk on GUNSMOKE.

Culver died in 1984, but his widow, Lois, is currently active in our OTR hobby and is involved in a vintage radio "chat-room" on the Internet. (See Lou Genco's web site.)

Frank Bingman became a anchor man for ABC-TV and did voice-overs for movie previews of 20th Century-Fox. He died in August 1988 in Northern Virginia, and one month before his death, he addressed the membership of the Metro Washington OTR Club. Bingman revealed that in his 40+ years of broadcasting, "STRAIGHT ARROW" was his favorite series and that Howard Culver had been his best and closest friend.
 
PLEASE READ HOW TO LISTEN AT THIS CD
THIS IS AN MP3 CD RECORDING
WILL NOT PLAY IN REGULAR CD PLAYERS
You will need CD players that read mp3 files.
Here some of the more popular mp3 players:
Coby, Memorex, Panasonic, Philips, Sony and many more. Be sure you buy a model that support mp3 files.
You can upload the files in ipods like Apple Ipod, Sansa and 100's more.
Many new car CD players reads mp3, again check your player first.
Many new home DVD players and virtually every Blu Ray reads mp3 files, please check your manual. Finally you can use your compurer. If you're reading this web page, you already have everything you need to listen this mp3 CD
Most of these shows are 32kbps, if space is available we will use higher bit rate.
THESE CD WILL BE DELIVERED IN WHITE PAPER SLEEVES
I guarantee delivery of your item. If your item doesn't get there or is damaged, please notify us and we'll reship for you.
FULL REFUND IF NOT SATISFIED
EPISODES LIST
480506 - 001 Stage from Calvaydos aka Framed
481216 - 033 The Doctor and the Quack
490206 - Innaugural Pow Wow
490324 - 060 Land of Our Fathers aka Uprising
490718 - 101 Crooked Trail
491208 - 146 Big Talk aka Big Pow Wow
500102 - 156 The Leader aka Wagon Train Of Doom
500207 - 171 Sands of Gold
500309 - 180 Scourge
500621 - The Big Pow-Wow
510104 244 The Wasteland aka Tenderfoot Land Swindle
510621 292 Long Summer
510621 - Satire Based on SA Cancellation - Never Broadcast
xxxxxx - Dave Carter and his Wife
Item number
OTR-1CD-StraightArrow
Currently there are no reviews available for this product. Be the first to write a review.