FREE SHIPPING USA ONLY. International Customers: Please add international shipping: http://m.onesmedia.com/category/313432
DARK FANTASY
OLD TIME RADIO - 1 CD - 28 mp3 - Total Playtime: 11:23:23
Dark Fantasy was a short series with tales of the weird, adventures of the supernatural, created for you by Scott Bishop. The series aired as a horror drama on NBC between 1941 and 1942.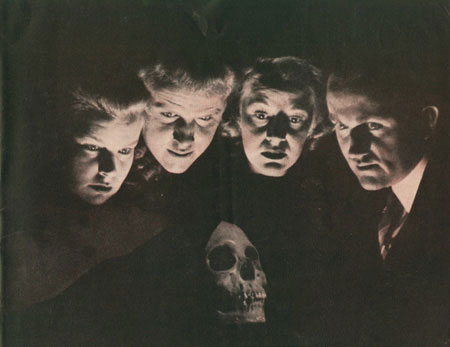 Dark Fantasy was a series dedicated to dealings with the unknown. Originating from radio station WKY, Oklahoma City, it was written by Scott Bishop (of Mysterious Traveler and The Sealed Book fame) and was heard Fridays over stations. Tom Paxton served as announcer. The shows covered horror, science fiction and murder mysteries. Although a short series, the shows are excellent with some stories way ahead of their time. The following is a news promo promoting the show:

Every since Lights Out went out several years ago, fans of the fiendish have been clamoring for more good old goose-pimple horror drama on the air. Now they have it. One of the programs that currently freezes the airwaves with its chilling stories is Dark Fantasy comparatively new to the networks. In the late hours of Friday nights these shivery, shocking stories go out over NBC - right straight from Oklahoma City, which you might not have thought of as headquarters for haunts. Station WKY is the home of the Dark Fantasy plays, and the writer is Scott Bishop, who lives in the midst of mystery and the supernatural, represented by the innurnerable volumes of thriller fiction, fantasy lore and all kinds of horror literature that fill his home andhis office. Bishop has long contributed to network broadcasting and to magazines. He says, "Give the listener enough material to let his imagination go to work, and he'll supply his own goose-pimples." Dark Fantasy has been furnishing plenty of such material since last November. And judging from enthusiastic comment, the horror fans are responding with goose-pimples galore! Tune in every Friday on Station WKY Oklahoma City.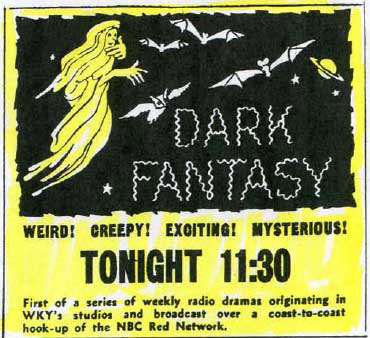 EPISODES LIST
Dark Fantasy 41-11-14 (01) The Man Who Came Back
Dark Fantasy 41-11-28 (03) The Thing from the Sea
Dark Fantasy 41-12-05 (04) Demon Tree
Dark Fantasy 41-12-19 (05) Men Call Me Mad
Dark Fantasy 41-12-26 (06) The House of Bread
Dark Fantasy 42-01-02 (07) Resolution
Dark Fantasy 42-01-09 (08) The Curse of the Neanderthal
Dark Fantasy 42-01-16 (09) Debt from the Past
Dark Fantasy 42-01-23 (10) The Headless Dead
Dark Fantasy 42-01-30 (11) Death Is a Savage Deity
Dark Fantasy 42-02-06 (12) The Sea Phantom
Dark Fantasy 42-02-13 (13) W Is for Werewolf
Dark Fantasy 42-02-20 (14) A Delicate Case of Murder
Dark Fantasy 42-02-27 (15) Spawn Of The Subhuman
Dark Fantasy 42-03-06 (16) The Man with the Scarlet Satchel
Dark Fantasy 42-03-13 (17) Superstition Be Hanged
Dark Fantasy 42-03-20 (18) Pennsylvania Turnpike
Dark Fantasy 42-03-27 (19) Convoy for Atlantis
Dark Fantasy 42-04-03 (20) The Thing from the Darkness
Dark Fantasy 42-04-10 (21) The Edge of the Shadow
Dark Fantasy 42-05-01 (24) The Letter from Yesterday
Dark Fantasy 42-05-08 (25) The Cup of Gold
Dark Fantasy 42-05-15 (26) Funeral Arrangements Completed
Dark Fantasy 42-05-22 (27) Dead Hands Reaching
Dark Fantasy 42-05-29 (28) Rendezvous with Satan
Dark Fantasy 42-06-05 (29) I Am Your Brother
Dark Fantasy 42-06-12 (30) The Sleeping Death
Dark Fantasy 42-06-19 (31) Seance
THESE ARE MP3 RECORDINGS
THEY WILL NOT PLAY IN REGULAR CD PLAYERS
CLICK HERE TO KNOW MORE ABOUT mp3
CLICK HERE TO LEARN MORE ABOUT OUR PRODUCTS
We guarantee delivery of your item. If your item doesn't get there or is damaged, please notify us and we'll reship for you.
FULL REFUND IF NOT SATISFIED
Item number
OTR-1CD-DarkFantasy
Currently there are no reviews available for this product. Be the first to write a review.