FREE SHIPPING USA ONLY. International Customers: Please add international shipping: http://m.onesmedia.com/category/313432
CAROLE LOMBARD COLLECTION
OLD TIME RADIO - 1 CD - 13 mp3 - Total Playtime: 9:36:55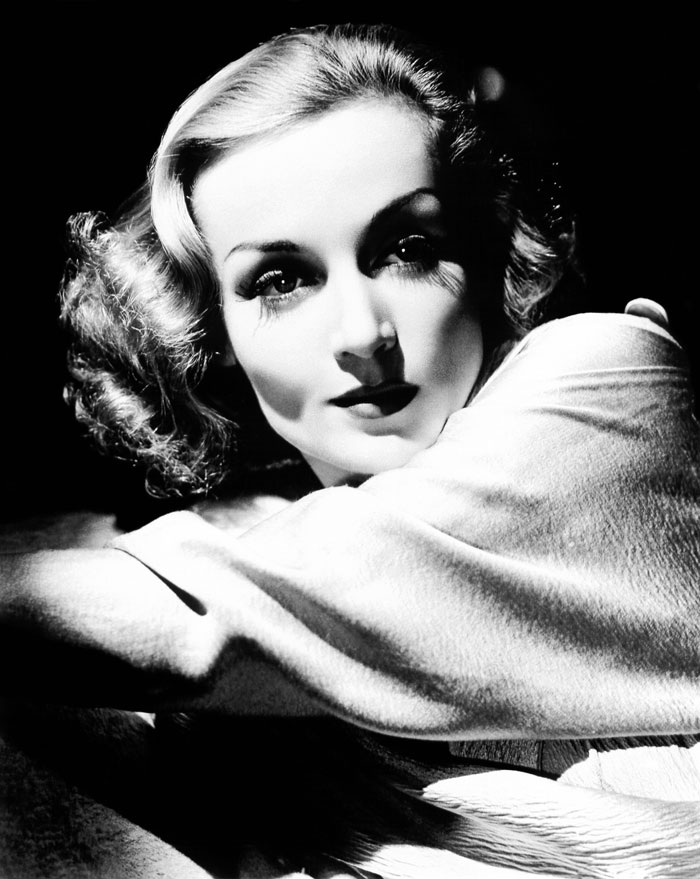 Carole Lombard (October 6, 1908 – January 16, 1942) was an American actress. She is particularly noted for her roles in the screwball comedies of the 1930s. She is listed as one of the American Film Institute's greatest stars of all time and was the highest-paid star in Hollywood in the late 1930s, earning around US$500,000 per year (more than five times the salary of the US President). Lombard's career was cut short when she died at the age of 33 in a plane crash while returning from a World War II Bond tour.

Graham Greene praised the "heartbreaking and nostalgic melodies" of her faster-than-thought delivery. "Platinum blonde, with a heart-shaped face, delicate, impish features and a figure made to be swathed in silver lamé, she wriggled expressively through such classics of hysteria as Twentieth Century and My Man Godfrey."
Lombard was born Jane Alice Peters in Fort Wayne, Indiana. Her parents were Frederick C. Peters (1875–1935) and Elizabeth Knight (1877–1942). Her paternal grandfather, John Claus Peters, was the son of German immigrants, Claus Peters and Caroline Catherine Eberlin. On her mother's side, she was a descendant of Thomas Hastings who came from the East Anglia region of England to the Massachusetts Bay Colony in 1634. Lombard was the youngest of three children, having two older brothers, Fred C. Peters Jr. and Stuart Peters. She spent her early childhood in Fort Wayne, near the St. Mary's River. Her father had been injured during a work-related accident and was left with constant headaches which caused him to burst out in paroxysms of anger which disturbed the family. Lombard's parents divorced and her mother took the three children to Los Angeles in 1914, where Lombard attended Virgil Jr. High School and then Fairfax High School. She was elected May Queen in 1924. She quit school to pursue acting full-time but eventually graduated from Fairfax in 1927. Lombard was a second generation Bahá'í who formally enrolled in 1938.
Lombard made her film debut at the age of twelve after she was seen playing baseball in the street by director Allan Dwan; he cast her as a tomboy in A Perfect Crime (1921). In the 1920s, she worked in several low-budget productions credited as Jane Peters, and later as Carol Lombard. Her friend Miriam Cooper helped Lombard land small roles in her husband Raoul Walsh's films. In 1925, she was signed as a contract player with Fox Film Corporation (which merged with Daryl Zanuck's Twentieth Century Productions in 1935). She also worked for Pathé Exchange and appeared as one of Mack Sennett's Bathing Beauties in 1928. She appears in the title role in Sennet's comedy The Campus Vamp that year. She made a smooth transition to sound films, starting with High Voltage (1929). In 1930, she won a contract with Paramount Pictures after having been dropped by both 20th Century and Pathé Exchange.

In the early 1930s Lombard achieved a few minor successes via 1930's Safety in Numbers with Charles "Buddy" Rogers and 1932's No Man of Her Own with Clark Gable. It was not until 1934 that her career began to take off. That year, director Howard Hawks encountered Lombard at a party and became enamored with her, thinking her right for his latest project. He hired her for Twentieth Century, alongside stage legend John Barrymore. Lombard was at first intimidated by Barrymore, but the two quickly developed a good working rapport.
Also in 1934, she starred in Bolero with George Raft and it was for this film that she turned down the role of Ellie Andrews in It Happened One Night. In 1935 she starred in Mitchell Leisen's Hands Across the Table which helped to establish her reputation as a comedy actress. 1936 proved to be a big year for Lombard with her casting in the screwball comedy My Man Godfrey alongside ex-husband William Powell who refused to do the film unless Lombard was cast opposite him. Although divorced, Lombard and Powell remained friends until her death. Her performance earned Lombard an Academy Award nomination for Best Actress. Her next film was Nothing Sacred in 1937, casting her opposite Fredric March and under the direction of William A. Wellman. It was Lombard's only film in Technicolor and a critical and commercial success. Nothing Sacred established her as one of the highest paid actresses in the business.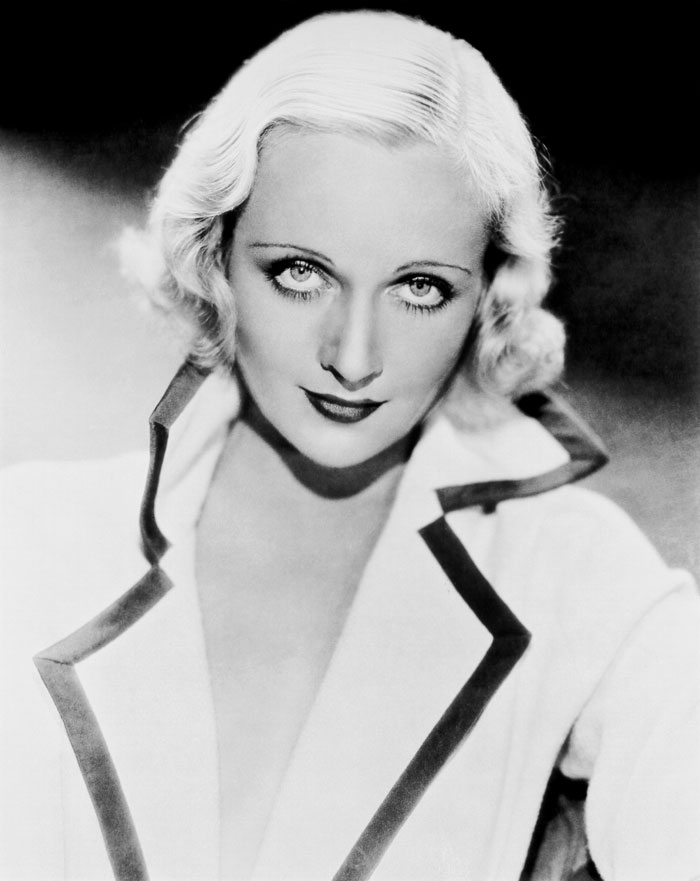 Following the failure of Fools for Scandal Lombard moved on to dramatic films for the next few years. In 1939, Lombard took roles opposite James Stewart in producer David O. Selznick's Made for Each Other (1939) and Cary Grant in In Name Only (1939). She also starred in Vigil in the Night in 1940. Audiences did not respond as well to Lombard in dramatic roles; she made a return to comedy, teaming with director Alfred Hitchcock in Mr. & Mrs. Smith (1941). The film gave Lombard's career a boost and she followed its success with what proved to be her last film, and one of her most successful, To Be or Not to Be (1942).
n October 1930, Lombard met William Powell. They had worked together in the films Man of the World and Ladies' Man. Unlike many of Lombard's other suitors at the time, Powell was urbane and sophisticated. He also appreciated her blunt personality and bawdy sense of humor. They married on June 26, 1931. Lombard commented to fan magazines that she did not believe their sixteen-year age difference would present a problem, but friends felt they were ill-suited. They divorced in 1933, but remained good friends and worked together without acrimony, notably in My Man Godfrey.
In 1934, following her divorce from Powell, Lombard moved into a house on Hollywood Boulevard. She lived with a friend from the days of Mack Sennett, Madalynne Fields, who became Lombard's personal secretary. Lombard became known for her parties with unconventional themes.

During this time she carried on relationships with actors Gary Cooper and George Raft, as well as the screenwriter Robert Riskin. Lombard met and began a serious affair with crooner Russ Columbo. Columbo reportedly proposed marriage, but was killed in a shooting accident at the age of 26.

Lombard's most famous relationship came in 1936 when she became involved with Clark Gable. They had worked together previously in 1932's No Man of Her Own, but at the time, Lombard was still married to Powell. Unbeknownst to each other they had worked as extras on a silent film, Fox's 1926 epic The Johnstown Flood. When Gable and Lombard reunited at the Mayfair Ball, of which Lombard was hostess, their romance began to take off. Gable was married at the time to oil heiress Ria Langham, and the affair was kept quiet.

The situation proved a major motivator in Gable accepting the role of Rhett Butler in Gone with the Wind, as MGM head Louis B. Mayer sweetened the deal for a reluctant Gable by giving him money to settle a divorce agreement with Langham and marry Lombard. Gable divorced Langham on March 7, 1939 and proposed to Lombard at the Brown Derby.

On March 29, 1939, during a break in production on Gone with the Wind, Gable and Lombard drove out to Kingman, Arizona and were married in a ceremony with only Gable's press agent, Otto Winkler, in attendance. They bought a ranch in Encino, California previously owned by director Raoul Walsh.
When the US entered World War II at the end of 1941, Lombard traveled to her home state of Indiana for a war bond rally with her mother, Bess Peters, and Clark Gable's press agent, Otto Winkler. Lombard was able to raise over $2 million in defense bonds in a single evening. Her party had initially been scheduled to return to Los Angeles by train, but Lombard was anxious to reach home more quickly and wanted to take a plane. Her mother and Winkler were both afraid of flying and insisted they follow their original travel plans. Lombard suggested they flip a coin; they agreed and Lombard won the toss.

In the early morning hours of January 16, 1942, Lombard, her mother, and Winkler boarded a Transcontinental and Western Air DC-3 airplane to return to California. After refueling in Las Vegas, TWA Flight 3 took off at 7:07 p.m. and approximately 23 minutes later, crashed into "Double Up Peak" near the 8,300 ft (2,500 m) level of Potosi Mountain, 32 statute miles (51 km) southwest of Las Vegas. All 22 aboard, including 15 army servicemen, were killed instantly.

Gable was flown to Las Vegas after learning of the tragedy to claim the bodies of his wife, mother-in-law, and Winkler, who aside from being his press agent had been a close friend. Lombard's funeral was held on January 21 at Forest Lawn Memorial Park Cemetery in Glendale, California. She was interred beside her mother under the name of Carole Lombard Gable.

Lombard's final film, To Be or Not to Be (1942), directed by Ernst Lubitsch and co-starring Jack Benny, a satire about Nazism and World War II, was in post-production at the time of her death. The film's producers decided to cut part of the film in which Lombard's character asks, "What can happen on a plane?" out of respect for the circumstances surrounding her death. When the film was released, it received mixed reviews, particularly about its controversial content, but Lombard's performance was hailed as the perfect send-off to one of 1930s Hollywood's most important stars.

At the time of her death, Lombard had been scheduled to star in the film They All Kissed the Bride; when production started, her role was given to Joan Crawford. Crawford donated all of her salary for the film to the Red Cross, which had helped extensively in the recovery of bodies from the plane crash.

In 1983, Orson Welles claimed that he had been told the plane had not crashed accidentally but had been attacked by Nazi agents in America:

The bad guys knew the exact route that the plane had to take. They were standing on a ridge, which was the toughest thing for the plane to get over. One person can shoot a plane down, and if they had five or six people there, they couldn't miss. Now, I cannot swear it's true. I've been told this by people who swear it's true, who I happen to believe. But that's the closest you can get, without having some kind of security clearance. No one wanted to admit that we had people in the middle of America who could shoot down a plane for the Nazis.

Shortly after her death, Gable (who was inconsolable and devastated by his loss) joined the United States Army Air Forces, as Lombard had asked him to do numerous times after the United States had entered World War II. After officer training, Gable headed a six-man motion picture unit attached to a B-17 bomb group in England to film aerial gunners in combat, flying five missions himself. In December 1943, the United States Maritime Commission announced that a Liberty ship named after Carole Lombard would be launched. Gable attended the launch of the SS Carole Lombard on January 15, 1944, the two-year anniversary of Lombard's record breaking war bond drive. The ship was involved in rescuing hundreds of survivors from sunken ships in the Pacific and returning them to safety.

Despite being married twice more, Gable chose to be interred beside Lombard in Forest Lawn Memorial Park when he died in 1960.
In 1999, the American Film Institute ranked Lombard 23rd on its list of the 50 greatest American female screen legends. She received one Academy Award for Best Actress nomination, for My Man Godfrey. She has a star on the Hollywood Walk of Fame, at 6930 Hollywood Blvd.

Lombard's Fort Wayne childhood home has been designated a historic landmark. The city named the nearby bridge over the St. Mary's River the Carole Lombard Memorial Bridge.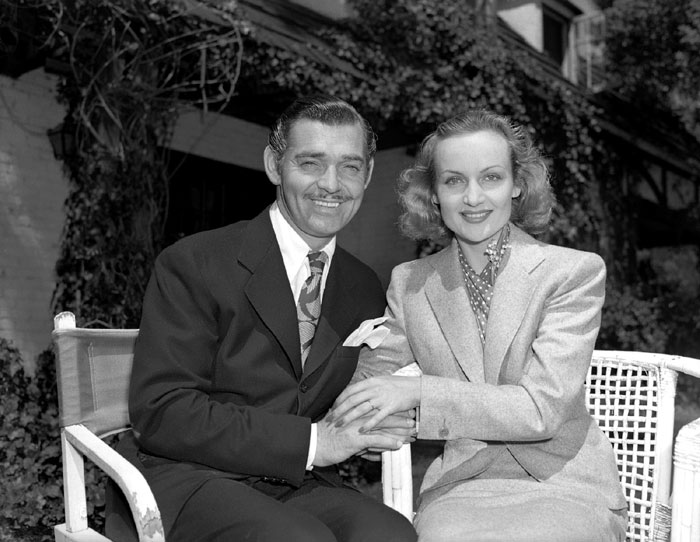 SHOWS LIST
Chase And Sanborn Hour 37-05-16 (02) Guest - Carole Lombard
Circle 390122 R Colman, C Lombard, G & C Marx
It's Maritime 45-02-20 (x) U S S Carole Lombard
Jack Benny Program 42-01-18 (430) Carole Lombard's Death - Show Is Without Jack
Lux Radio Theater 38-05-09 My Man Godfrey
Lux Radio Theater 38-10-31 That Certain Woman
Lux Radio Theater 39-12-11 In Name Only
Lux Radio Theater 41-02-10 The Moon's Our Home
Lux Radio Theater 41-06-09 Mr and Mrs Smith
Screen Guild Theater 39-03-12 Tailored by Toni
Screen Guild Theater 40-03-17 The Awful Truth
Screen Guild Theater 41-04-13 True Confessions
Silver Theater 41-03-09 Murder Unlimited
THESE ARE MP3 RECORDINGS
THEY WILL NOT PLAY IN REGULAR CD PLAYERS
CLICK HERE TO KNOW MORE ABOUT mp3
CLICK HERE TO LEARN MORE ABOUT OUR PRODUCTS
We guarantee delivery of your item. If your item doesn't get there or is damaged, please notify us and we'll reship for you.
FULL REFUND IF NOT SATISFIED
Item number
OTR-1CD-CaroleLombard
Currently there are no reviews available for this product. Be the first to write a review.