FREE SHIPPING USA ONLY. International Customers: Please add international shipping: http://m.onesmedia.com/category/313432
PAT NOVAK FOR HIRE
OLD TIME RADIO - 1 CD-ROM - 25 mp3
Total Playtime: 12:14:52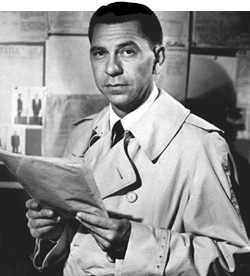 Pat Novak, for Hire was an old-time radio detective drama series which aired from 1946-1947 as a West Coast regional program and in 1949 as a nationwide program for ABC. The regional version originally starred Jack Webb in the title role, with scripts by his roommate Richard L. Breen. When Webb and Breen moved from San Francisco to Los Angeles to work on an extremely similar nationwide series, Johnny Modero, for the Mutual network, Webb was replaced by Ben Morris and Breen by other writers. In the later network version, Jack Webb resumed the Novak role, and Breen his duties as scriptwriter. The series is popular among fans for its fast-paced, hard-boiled dialogue and action and witty one-liners.
Pat Novak, for Hire is set on the San Francisco, California waterfront and depicts the city as a dark, rough place where the main goal is survival. Pat Novak is not a detective by trade. He owns a boat shop on Pier 19 where he rents out boats and does odd jobs to make money.

Each episode of the program, particularly the Jack Webb episodes, follows the same basic formula; a foghorn sounds and Novak's footsteps are heard walking down the pier. He then pauses and begins with the line "Sure, I'm Pat Novak . . . for hire". The foghorn repeats and leads to the intro theme, during which Pat gives a monologue about the waterfront and his job renting boats. Jack Webb narrates the story as well as acts in it, as the titular character. Playing the cynic, he throws off lines such as "...about as smart as teaching a cooking class to a group of cannibals". He then introduces the trouble in which he finds himself this week.

Typically, a person unknown to Pat asks him to do an unusual or risky job. Pat reluctantly accepts and finds himself in hot water in the form of an unexplained dead body. Police Inspector Hellman (played by Raymond Burr) arrives on the scene and pins the murder on Novak. With only circumstantial evidence to go on, Hellman promises to haul Novak in the next day for the crime. The rapid, staccato dialogue between Webb & Burr is typical of harboiled fiction and is often humorous. Pat uses the time to try to solve the case. He usually employs the help of his friend Jocko Madigan (played by Tudor Owen) - a drunken ex-doctor typically found at some disreputable tavern or bar - to help him solve the case. As Pat asks for his help, Jocko launches a long-winded philosophical diatribe, full of witty and funny remarks, until Novak cuts him off.

Jocko and Pat unravel the case and Hellman makes the arrest. Finally, we hear the foghorn and Novak's footsteps on the pier again before Novak spells out the details of the case for us. At the end, Novak informs us that "Hellman asked only one question", which Pat answers with a clever retort. The dialogue is rife with similes found in pulp fiction. Example: 'The neighborhood was run down - the kind of place where the For Rent signs look like ransom notes.'
PLEASE READ HOW TO LISTEN TO THIS CD
THIS IT'S AN MP3 CD
IT WILL NOT PLAY IN REGULAR CD PLAYERS
You will need CD players that read mp3 files.
Here some of the more popular mp3 players:
Coby, Memorex, Panasonic, Philips, Sony and many more. Be sure you buy a model that support mp3 files.
You can upload the files in ipods like Apple Ipod, Sansa and 100's more.
Many new car CD players reads mp3, again check your player first.
Many new home DVD players and virtually every Blu Ray reads mp3 files, please check your manual. Finally you can use your computer. If you're reading this web page, you already have everything you need to listen this mp3 CD
THIS CD WILL BE DELIVERED IN WHITE PAPER SLEEVE
We guarantee delivery of your item. If your item doesn't get there, or it's damaged, please notify us and we'll reship for you.
FULL REFUND IF NOT SATISFIED
EPISODES LIST
46-11-24 xxx Pat Novak For Hire Dixie Gilian
47-08-03 xxx Pat Novak For Hire Gambling Ring
47-08-10 xxx Pat Novak For Hire Bookie Outfit
47-11-23 xxx Pat Novak For Hire The Linda Reynolds Case
47-11-30 xxx Pat Novak For Hire Death In Harold Square
49-02-20 002 Pat Novak For Hire Jack Of Clubs
49-02-27 003 Pat Novak For Hire Marcia Halpern
49-03-06 004 Pat Novak For Hire Fleet Lady
49-03-13 005 Pat Novak For Hire Rubin Callaways Pictures
49-03-20 006 Pat Novak For Hire Rory Malone
49-03-27 007 Pat Novak For Hire Joe Candono
49-04-02 008 Pat Novak For Hire Father Lahey-Joe Feldman
49-04-09 009 Pat Novak For Hire Sam Tolliver
49-04-16 010 Pat Novak For Hire Go Away Dixie Gillian
49-04-23 011 Pat Novak For Hire Rita Malloy
49-04-30 012 Pat Novak For Hire WendyMorris
49-05-07 013 Pat Novak For Hire Up at the Laundry
49-05-14 014 Pat Novak For Hire Geranium Plant
49-05-21 015 Pat Novak For Hire Envelope To John St John
49-05-28 016 Pat Novak For Hire The green bag
49-06-04 017 Pat Novak For Hire The Agnes Bolton Case
49-06-11 018 Pat Novak For Hire George Lampson
49-06-18 019 Pat Novak For Hire JoeDenineStory
49-06-25 020 Pat Novak For Hire Little Jake Siege-Muffled Sound
49-08-03 xxx Pat Novak For Hire The Corpse in the closet
Item number
OTR-1CD-PatNovak
Currently there are no reviews available for this product. Be the first to write a review.