FREE SHIPPING USA ONLY. International Customers: Please add international shipping: http://m.onesmedia.com/category/313432
CARY GRANT COLLECTION
OLD TIME RADIO - 1 CD - 48 mp3 - Total Playtime: 32:53:27
Archibald Alec Leach (January 18, 1904 – November 29, 1986), better known by his stage name, Cary Grant, was a British-born American actor. With his distinctive Mid-Atlantic accent, he was noted as perhaps the foremost exemplar of the debonair leading man, handsome, virile, charismatic and charming. He was named the second Greatest Male Star of All Time of American cinema, after Humphrey Bogart, by the American Film Institute. He was well known for starring in classic films such as The Philadelphia Story, North by Northwest, Notorious, His Girl Friday, To Catch A Thief, Bringing Up Baby and The Bishop's Wife.
Early life and career
Archibald Alec Leach was born in Horfield, Bristol, England in 1904 to Elsie Maria Kingdom and Elias Leach. An only child, he had a confused and unhappy childhood, attending Bishop Road Primary School. His father placed his mother in a mental institution when he was nine and his mother never overcame her depression after the death of a previous child. His father had told him that she had gone away on a "long holiday" and it was not until he was in his thirties that Leach discovered her still alive, living in an institutionalized care facility.
He was expelled from the Fairfield Grammar School in Bristol in 1918. He subsequently joined the "Bob Pender stage troupe" and travelled with the group to the United States as a stilt walker in 1920, on a two-year tour of the country. When the troupe returned to England, he decided to stay in the US and continue his stage career.
Still under his birth name, he performed on the stage at The Muny in St. Louis, Missouri, in such shows as Irene (1931); Music in May (1931); Nina Rosa (1931); Rio Rita (1931); Street Singer (1931); The Three Musketeers (1931); and Wonderful Night (1931).
Hollywood stardom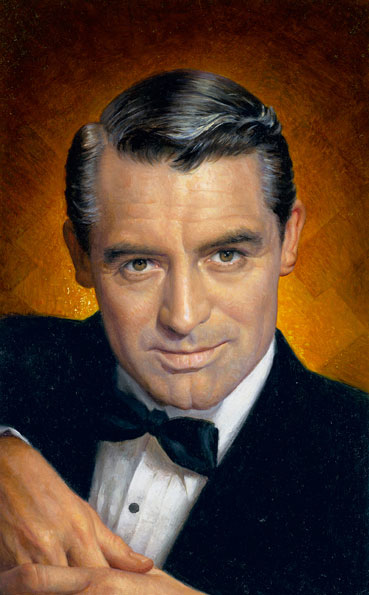 After some success in light Broadway comedies, he went to Hollywood in 1931, where he acquired the name Cary Lockwood. He chose the name Lockwood after the surname of his character in a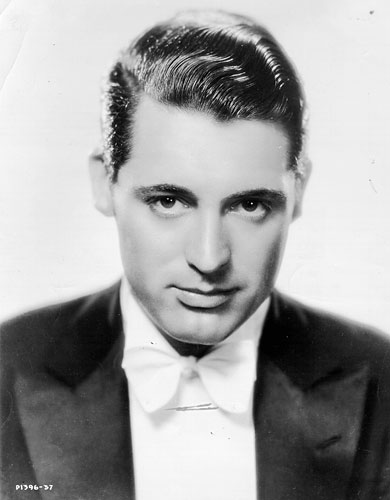 recent play called Nikki. He signed with Paramount Pictures, but while studio bosses were impressed with him, they were less than impressed with his adopted stage name. They decided that the name Cary was OK, but Lockwood had to go due to a similarity with another actor's name. It was after browsing through a list of the studio's preferred surnames, that Cary Grant was born. Grant chose the name because the initials C and G had already proved lucky for Clark Gable and Gary Cooper, two of Hollywood's then-biggest movie stars.
Having already appeared as leading man opposite Marlene Dietrich in Blonde Venus, his stardom was given a further boost by Mae West when she chose him for her leading man in two of her most successful films, She Done Him Wrong and I'm No Angel (both 1933). I'm No Angel was a tremendous financial success and, along with She Done Him Wrong, which was nominated for an Academy Award for Best Picture, saved Paramount from bankruptcy. Paramount put Grant in a series of indifferent films until 1936, when he signed with Columbia Pictures. His first major comedy hit was when he loaned to Hal Roach's studio for the 1937 Topper (which was distributed by MGM).
Grant starred in some of the classic screwball comedies, including Bringing Up Baby with Katharine Hepburn, His Girl Friday with Rosalind Russell, Arsenic and Old Lace with Priscilla Lane, and Monkey Business with Ginger Rogers. His role in The Awful Truth with Irene Dunne was the pivotal film in the establishment of Grant's screen persona. These performances solidified his appeal, and The Philadelphia Story, with Hepburn and James Stewart, showcased his best-known screen persona: the charming if sometimes unreliable man, formerly married to an intelligent and strong-willed woman who first divorced him, then realized that he was—with all his faults—irresistible.
Grant was one of Hollywood's top box-office attractions for several decades. He was a versatile actor, who did demanding physical comedy in movies like Gunga Din with the skills he had learned on the stage. Howard Hawks said that Grant was "so far the best that there isn't anybody to be compared to him".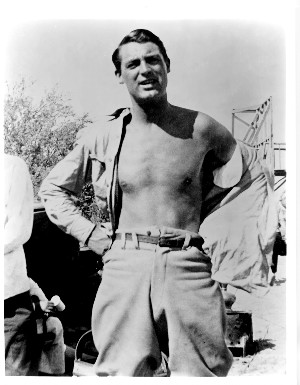 Grant was a favorite actor of Alfred Hitchcock, notorious for disliking actors, who said that Grant was "the only actor I ever loved in my whole life". Grant appeared in such Hitchcock classics as Suspicion, Notorious, To Catch a Thief and North by Northwest. Biographer Patrick McGilligan wrote that, in 1965, Hitchcock asked Grant to star in Torn Curtain (1966), only to learn that Grant had decided to retire after making one more film, Walk, Don't Run (1966); Paul Newman was cast instead in Torn Curtain, opposite Julie Andrews.
In the mid-1950s, Grant formed his own production company, Grantley Productions, and produced a number of movies distributed by Universal, such as Operation Petticoat, Indiscreet, That Touch of Mink (co-starring Doris Day), and Father Goose. In 1963, he appeared opposite Audrey Hepburn in Charade.
Grant was considered a maverick by virtue of the fact that he was the first actor to "go independent," effectively bucking the old studio system, which almost completely controlled what an actor could or could not do. In this way, Grant was able to control every aspect of his career. He decided which movies he was going to appear in, he had personal choice of the directors and his co-stars and at times, even negotiated a share of the gross, something unheard of at the time, but now common among A-list stars.
Grant was nominated for two Academy Awards in the 1940s. He was denied the Oscar throughout his active career because he was one of the first actors to be independent of the major studios. Grant received a special Academy Award for Lifetime Achievement in 1970. In 1981, he was accorded the Kennedy Center Honors.
Retirement
Although Grant had retired from the screen, he remained active in other areas. In the late 1960s, he accepted a position on the board of directors at Fabergé. By all accounts this position was not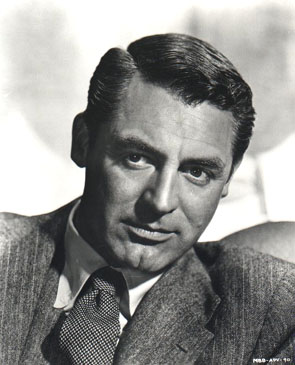 honorary as some had assumed, as Grant was regularly attending meetings and his mere appearance at a product launch would almost certainly guarantee its success.
In the last few years of his life, Grant undertook tours of the United States in a one man show. It was called "A Conversation with Cary Grant", in which he would show clips from his films and answer audience questions. Grant was preparing for a performance at the Adler Theater in Davenport, Iowa on the afternoon of November 29, 1986 when he suffered a massive cerebral hemorrhage. (He had also suffered a minor stroke in October 1984.) He died later that night at St. Luke's Hospital at age 82.
Marriages
Grant's personal life was complicated, involving five marriages. He wed his first wife, Virginia Cherrill on February 10, 1934. She divorced him on March 26, 1935, following charges that Grant had hit her.
Grant married the ultra-wealthy socialite Barbara Hutton and became a father figure and lifelong influence on her son, Lance Reventlow, who died in a plane crash. The couple were derisively nicknamed "Cash and Cary," although in an extensive prenuptial agreement Grant refused any financial settlement in the event of a divorce. After divorcing in 1945, they remained lifelong friends. Grant always bristled at the accusation that he married for money. He said with his typical wit, "I may not have married for very sound reasons, but money was never one of them."
Grant married his third wife, the actress Betsy Drake, on December 25, 1949. He appeared with her in two films. This would prove to be his longest marriage, ending on August 14, 1962. Drake introduced Grant to LSD, and in the early 60s he related how treatment with the hallucinogenic drug—legal at the time—at a prestigious California clinic had finally brought him inner peace after yoga, hypnotism, and mysticism had proved ineffective.
His fourth marriage, to actress Dyan Cannon, who was thirty-three years his junior, took place on July 22, 1965 in Las Vegas. The marriage was followed by the premature birth of his only child, Jennifer Grant, on February 26, 1966 when Grant was sixty-two. He frequently called her his "best production", and regretted that he hadn't had children sooner. The marriage was troubled from the beginning and Cannon left him in December 1966, claiming that Grant flew into frequent rages and spanked her when she "disobeyed" him. The divorce, finalized in 1968, was bitter and public, and custody fights over their daughter went on for nearly ten years.
On April 11, 1981 Grant married his long-time companion, British hotel PR agent Barbara Harris, who was forty-seven years his junior. Harris was by his side when he died.
War years and U.S. citizenship
Grant became a naturalized U.S. citizen in 1942 in order to defuse the scandal resulting from his failure to return to Britain to serve in the military. He had, in fact, volunteered for service in the Royal Navy as early as 1940, but at 36 was past the then-maximum enlistment age. This prompted Grant to declare that he wanted to go back to do his bit, even if it meant being a "fireman". However, certain sections of the British government thought Grant would be of more use to the war effort if he remained in Hollywood. During the war years, Grant donated his entire salaries from several movies to British war charities, and it is even rumored that Grant was working for British Intelligence, monitoring suspected Nazi sympathizers among the Hollywood elite. This, however, has never been substantiated as records on the subject remain classified to this day. In 1947, King George VI awarded Grant the King's Medal for his services to Britain during hostilities.
Politics
Grant was a Republican, but did not think movie stars should publicly make political declarations. Ironically, during his career some people considered him to be a left-winger, as he publicly condemned McCarthyism in 1953 and vocally supported his blacklisted friend Charlie Chaplin. Grant was also criticized by right-wing columnist Hedda Hopper for vacationing in the Soviet Union after filming Indiscreet (1958). He appeared to worsen the situation by remarking to an interviewer "I don't care what kind of government they have over there, I never had such a good time in my life". However, after his retirement from acting, Grant was active in a number of Republican causes. He introduced First Lady Betty Ford to the audience at the Republican National Convention in 1976. He was also a vocal supporter of his friend Ronald Reagan during the 1980s.
Tribute
In 2001 a statue of Grant was erected in Millennium Square, a regenerated area next to the harbor in his city of birth, Bristol, England.
In November 2004 Grant was named "The Greatest Movie Star of All Time" by Premiere Magazine. Richard Schickel, the film critic, said about Grant: "He's the best star actor there ever was in the movies."
Ian Fleming stated that he partially had Cary Grant in mind when he created his suave super-spy, James Bond. Sean Connery was selected for the first James Bond movie because of his likeness to Grant. Likewise, the later Bond, Roger Moore, was also selected for sharing Grant's wry sense of humor.
John Cleese's character in the film A Fish Called Wanda was named Archie Leach, a reference to Grant's legal birth name.
The film Touch of Pink features a caricature of Grant, played by Kyle MacLachlan who is guardian angel to a young man trying to come out to his parents.
SHOWS LIST
Academy Award Theater-1946-10-30-Suspicion
Black Curtain 441130 120
Burns And Allen 1947-02-13 Cary Grant And The Uplifters
Command Performance 420818-27 Cary Grant Virginia OBrien Joan Davis Bert Lahr
Command Performance 421007-34 Cary Grant - Spike Jones
Command Performance-440722
Command Performance-Victory Extra-1945-08-14
Eddie Cantor-430519 Guest Cary Grant, Save Waste Fats
Judy Canova-431012-015 Jailed Breaking Iinto Cary Grant
Just Plain Bill-1940 Cablegram From Cary
Kraft Music Hall-1949-03-04 Cary Grant
Lux Radio Theater-1937-03-08-Madama Butterfly
Lux Radio Theater-1938-06-13-Theodora Goes Wild
Lux Radio Theater-1939-05-29-Only Angels Have Wings
Lux Radio Theater-1939-09-11-The Awful Truth
Lux Radio Theater-1939-12-11-In Name Only
Lux Radio Theater-1941-06-30-I Love You Again
Lux Radio Theater-1942-07-20-Philadelphia Story
Lux Radio Theater-1943-05-17-Talk of the Town
Lux Radio Theater-1943-10-18-Mister Lucky
Lux Radio Theater-1945-02-26-Bed time Story w Cary Grant Greer Garson
Lux Radio Theater-1949-06-13-Bachelor and the Bobby Soxer
Lux Radio Theater-1949-10-10-Mr Blandings Builds His Dream House
Lux Radio Theater-1953-05-11-The Bishops Wife
Lux Radio Theater-1953-09-21-I Confess
Lux Radio Theater-1954-01-25-People Will Talk
Lux Radio Theater-1954-04-05-Welcome Stranger
Mr And Mrs Blandings-50-11-08-The New Highway
Mr And Mrs Blandings-51-02-22-On Television
Mr And Mrs Blandings-51-03-18-Selling The House
Mr And Mrs Blandings-51-04-29-Involved In Nature
Mr And Mrs Blandings-51-05-06-Repairing The Barn
Mr And Mrs Blandings-51-08-25-Lost
San Diego Pepsident Show
Screen Directors Playhouse-1949-07-01-Mr Blandings Builds His Dream House
Screen Directors Playhouse-1950-11-09-Shadow of a Doubt
Screen Directors Playhouse-1950-12-17-My Favorite Wife
Screen Guild Theater-1939-04-30-Alone in Paris
Screen Guild Theater-1939-09-24-Variety
Screen Guild Theater-1941-03-30His Girl Friday
Screen Guild Theater-1941-11-16-Penny Serenade
Silver Theater-1939-Wings in the Dark
Suspense-Black Curtain 43-12-02
Suspense-Black Path of Fear 46-03-07
Suspense-Hitchhike Poker 48-09-16
Suspense-On a Country Road 1950-11-16
The Circle-1939-01-22
The Doctor Prescribe 430202
THESE ARE MP3 RECORDINGS
THEY WILL NOT PLAY IN REGULAR CD PLAYERS
CLICK HERE TO KNOW MORE ABOUT mp3
CLICK HERE TO LEARN MORE ABOUT OUR PRODUCTS
We guarantee delivery of your item. If your item doesn't get there or is damaged, please notify us and we'll reship for you.
FULL REFUND IF NOT SATISFIED
Item number
OTR-1CD-CaryGrantCollection
Currently there are no reviews available for this product. Be the first to write a review.