FREE SHIPPING USA ONLY. International Customers: Please add international shipping: http://m.onesmedia.com/category/313432
INNER SANCTUM MYSTERIES
OLD TIME RADIO - 8 AUDIO CD - 16 ShowsTotal Playtime: 11:31:33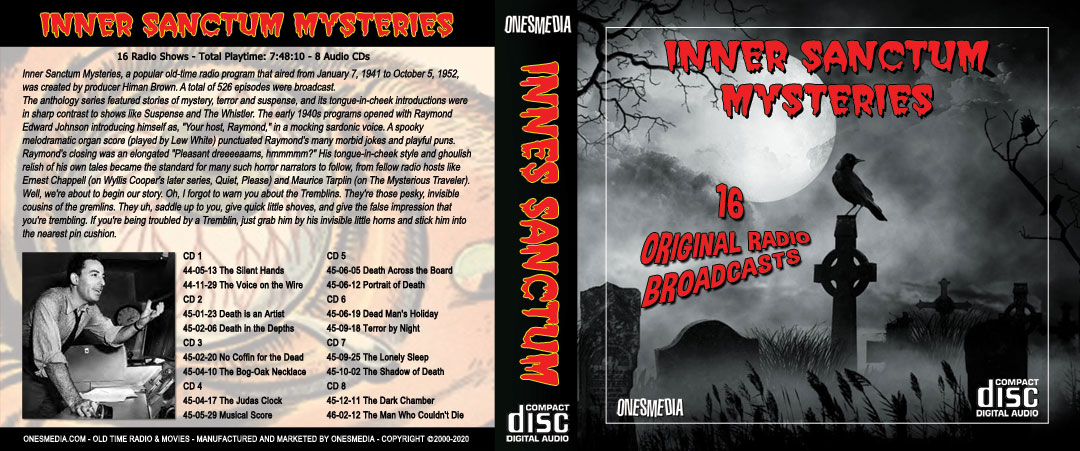 Inner Sanctum Mysteries, a popular old-time radio program that aired from January 7, 1941 to October 5, 1952, was created by producer Himan Brown. A total of 526 episodes were broadcast. The anthology series featured stories of mystery, terror and suspense, and its tongue-in-cheek introductions were in sharp contrast to shows like Suspense and The Whistler. The early 1940s programs opened with Raymond Edward Johnson introducing himself as, "Your host, Raymond," in a mocking sardonic voice. A spooky melodramatic organ score (played by Lew White) punctuated Raymond's many morbid jokes and playful puns. Raymond's closing was an elongated "Pleasant dreeeeaams, hmmmmm?" His tongue-in-cheek style and ghoulish relish of his own tales became the standard for many such horror narrators to follow, from fellow radio hosts like Ernest Chappell (on Wyllis Cooper's later series, Quiet, Please) and Maurice Tarplin (on The Mysterious Traveler). Well, we're about to begin our story. Oh, I forgot to warn you about the Tremblins. They're those pesky, invisible cousins of the gremlins. They uh, saddle up to you, give quick little shoves, and give the false impression that you're trembling. If you're being troubled by a Tremblin, just grab him by his invisible little horns and stick him into the nearest pin cushion.
THESE ARE REGULAR AUDIO CD
CAN BE PLAYED IN ANY CD PLAYER, DVD PLAYER OR COMPUTERS
THIS COLLECTION WILL BE DELIVERED IN A BOX SET WITH ART WORK
We guarantee delivery of your item. If your item doesn't get there or is damaged, please notify us and we'll reship for you.
FULL REFUND IF NOT SATISFIED
SHOWS LIST
CD 1
44-05-13 The Silent Hands
44-11-29 The Voice on the Wire
CD 2
45-01-23 Death is an Artist
45-02-06 Death in the Depths
CD 3
45-02-20 No Coffin for the Dead
45-04-10 The Bog-Oak Necklace
CD 4
45-04-17 The Judas Clock
45-05-29 Musical Score
CD 5
45-06-05 Death Across the Board
45-06-12 Portrait of Death
CD 6
45-06-19 Dead Man's Holiday
45-09-18 Terror by Night
CD 7
45-09-25 The Lonely Sleep
45-10-02 The Shadow of Death
CD 8
45-12-11 The Dark Chamber
46-02-12 The Man Who Couldn't Die

 
Item number
OTR-8CDA-InnerSanctumCollection
Currently there are no reviews available for this product. Be the first to write a review.