FREE SHIPPING USA ONLY. International Customers: Please add international shipping: http://m.onesmedia.com/category/313432
TALES OF THE TEXAS RANGERS Volume 2
OLD TIME RADIO - 10 AUDIO CD - 20 Shows - Total Playtime: 9:57:43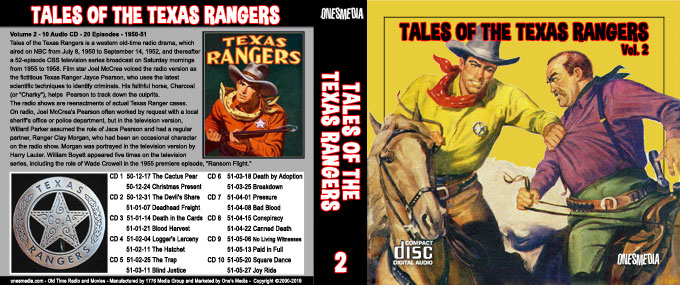 Tales of the Texas Rangers is a western old-time radio drama, which aired on NBC from July 8, 1950 to September 14, 1952, and thereafter a 52-episode CBS television series broadcast on Saturday mornings from 1955 to 1958. Film star Joel McCrea voiced the radio version as the fictitious Texas Ranger Jayce Pearson, who uses the latest scientific techniques to identify criminals. His faithful horse, Charcoal (or "Charky"), helps Pearson to track down the culprits. The radio shows, some of which are available on the Internet, are reenactments of actual Texas Ranger cases.

The television version was produced and also directed for several episodes by Stacy Keach, Sr. It was sponsored for part of its run by Wheaties cereal. Captain Manuel T. "Lone Wolf" Gonzaullas, who was said to have killed thirty-one men during his 30-year career as a Texas Ranger, was the consultant for the television series, filmed by Screen Gems.

On radio, Joel McCrea's Pearson often worked by request with a local sheriff's office or police department, but in the television version, Willard Parker assumed the role of Jace Pearson and had a regular partner, Ranger Clay Morgan, who had been an occasional character on the radio show. Morgan was portrayed in the television version by Harry Lauter. William Boyett appeared five times on the television series, including the role of Wade Crowell in the 1955 premiere episode, "Ransom Flight."

During the opening and closing credits of the television series, the actors march toward the camera as an off-screen men's chorus sings the theme song, "These Are Tales of Texas Rangers", to the tune of "The Eyes of Texas Are Upon You" and "I've Been Working on the Railroad". The radio series used contemporary cases and modern detective methods to solve crimes; it was a procedural drama, in many ways Jack Webb's Dragnet with a western flavor. The television version had some episodes set in the 1950s, comparable in some ways to Rod Cameron's syndicated series, State Trooper. Other episodes were set in the 19th century in a traditional western genre. In each case, Parker and Lauter were involved with chases and shoot-outs. The weaponry varied greatly between the modern and older stories.

Irving J. Moore, later with Gunsmoke, began his career as a director on two episodes of Tales of the Texas Rangers. Besides Keach and Moore, the other directors included Lew Landers, George Blair, and Earl Bellamy.
SHOWS LIST
CD 1
50-12-17 The Cactus Pear
50-12-24 Christmas Present
CD 2
50-12-31 The Devil's Share
51-01-07 Deadhead Freight
CD 3
51-01-14
Death in the Cards
51-01-21 Blood Harvest
CD 4
51-02-04
Logger's Larceny
51-02-11 The Hatchet
CD 5
51-02-25 The Trap
51-03-11 Blind Justice
CD 6
51-03-18 Death by Adoption
51-03-25 Breakdown
CD 7
51-04-01 Pressure
51-04-08 Bad Blood
CD 8
51-04-15 Conspiracy
51-04-22 Canned Death
CD 9
51-05-06 No Living Witnesses
51-05-13 Paid in Full
CD 10
51-05-20 Square Dance
51-05-27 Joy Ride
THESE ARE REGULAR AUDIO CD
WILL PLAY IN ANY CD PLAYER, DVD PLAYER OR COMPUTERS
THIS COLLECTION WILL BE DELIVERED IN A BOX SET WITH ART WORK
CLICK HERE TO LEARN MORE ABOUT OUR PRODUCTS
We guarantee delivery of your item. If your item doesn't get there or is damaged, please notify us and we'll reship for you.
FULL REFUND IF NOT SATISFIED
Item number
OTR-10CD-TOTTR2
Currently there are no reviews available for this product. Be the first to write a review.