FREE SHIPPING USA ONLY. International Customers: Please add international shipping: http://m.onesmedia.com/category/313432
MY FAVORITE HUSBAND Collection
14 AUDIO CD - 28 EPISODES - 1948/1950 - Starring Lucille Ball and Richard Denning - Total Playtime: 13:03:02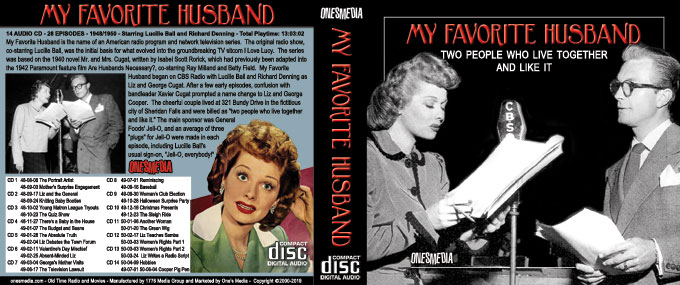 My Favorite Husband is the name of an American radio program and network television series. The original radio show, co-starring Lucille Ball, was the initial basis for what evolved into the groundbreaking TV sitcom I Love Lucy. The series was based on the 1940 novel Mr. and Mrs. Cugat, written by Isabel Scott Rorick, which had previously been adapted into the 1942 Paramount feature film Are Husbands Necessary?, co-starring Ray Milland and Betty Field. My Favorite Husband began on CBS Radio with Lucille Ball and Richard Denning as
Liz and George Cugat. After a few early episodes, confusion with bandleader Xavier Cugat prompted a name change to Liz and George Cooper. The cheerful couple lived at 321 Bundy Drive in the fictitious city of Sheridan Falls and were billed as "two people who live together
and like it." The main sponsor was General Foods' Jell-O, and an average of three "plugs" for Jell-O were made in each episode, including Lucille Ball's usual sign-on, "Jell-O, everybody!"
SHOWS LIST
CD 1
48-08-06 The Portrait Artist
48-09-03 Mother's Surprise Engagement
CD 2
48-09-17 Liz and the General
48-09-24 Knitting Baby Booties
CD 3
48-10-02 Young Matron League Tryouts
48-10-23 The Quiz Show
CD 4
48-11-27 There's a Baby in the House
49-01-07 The Budget and Beans
CD 5
49-01-28 The Absolute Truth
49-02-04 Liz Debates the Town Forum
CD 6
49-02-11 Valentine's Day Mischief
49-02-25 Absent-Minded Liz
CD 7
49-03-04 George's Mother Visits
49-06-17 The Television Lawsuit
CD 8
49-07-01 Reminiscing
49-09-16 Baseball
CD 9
49-09-30 Woman's Club Election
49-10-28 Halloween Surprise Party
CD 10
49-12-16 Christmas Presents
49-12-23 The Sleigh Ride
CD 11
50-01-06 Another Woman
50-01-20 The Green Wig
CD 12
50-02-17 Liz Teaches Samba
50-03-03 Women's Rights Part 1
CD 13
50-03-03 Women's Rights Part 2
50-03-24 Liz Writes a Radio Script
CD 14
50-04-09 Hobbies
49-07-01 50-06-04 Cooper Pig Pen
 
THESE ARE REGULAR AUDIO CD
WILL PLAY IN ANY CD PLAYER, DVD PLAYER OR COMPUTERS
CLICK HERE TO LEARN MORE ABOUT OUR PRODUCTS
We guarantee delivery of your item. If your item doesn't get there or is damaged, please notify us and we'll reship for you.
FULL REFUND IF NOT SATISFIED
Item number
OTR-14CDA-MyFavoriteHusband
Currently there are no reviews available for this product. Be the first to write a review.