FREE SHIPPING USA ONLY. International Customers: Please add international shipping: http://m.onesmedia.com/category/313432
AMERICAN FILM INSTITUTE Volume 2
AMERICAN FILM INSTITUTE - Life Achievement Awards Collection - 6 DVD-R - 1979-1984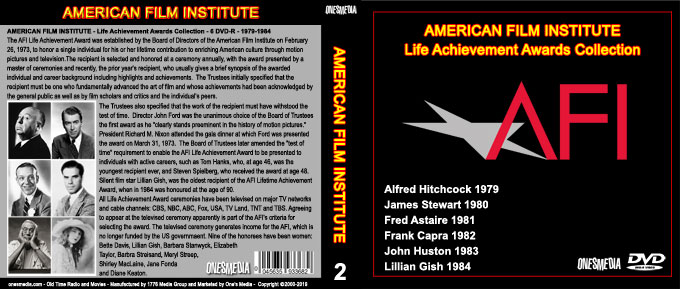 The AFI Life Achievement Award was established by the Board of Directors of the American Film Institute on February 26, 1973, to honor a single individual for his or her lifetime contribution to enriching American culture through motion pictures and television.The recipient is selected and honored at a ceremony annually, with the award presented by a master of ceremonies and recently, the prior year's recipient, who usually gives a brief synopsis of the awarded individual and career background including highlights and achievements. The Trustees initially specified that the recipient must be one who fundamentally advanced the art of film and whose achievements had been acknowledged by the general public as well as by film scholars and critics and the individual's peers.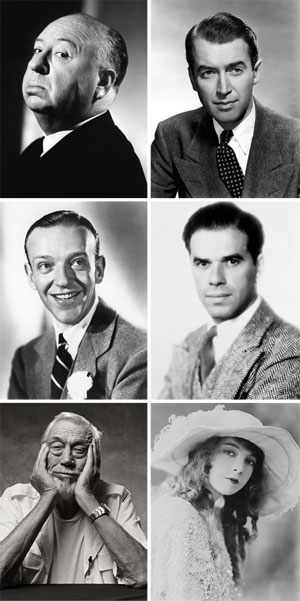 The Trustees also specified that the work of the recipient must have withstood the test of time. Director John Ford was the unanimous choice of the Board of Trustees the first award as he "clearly stands preeminent in the history of motion pictures." President Richard M. Nixon attended the gala dinner at which Ford was presented the award on March 31, 1973. The Board of Trustees later amended the "test of time" requirement to enable the AFI Life Achievement Award to be presented to individuals with active careers, such as Tom Hanks, who, at age 46, was the youngest recipient ever, and Steven Spielberg, who received the award at age 48. Silent film star Lillian Gish, was the oldest recipient of the AFI Lifetime Achievement Award, when in 1984 was honoured at the age of 90. All Life Achievement Award ceremonies have been televised on major TV networks and cable channels: CBS, NBC, ABC, Fox, USA, TV Land, TNT and TBS. Agreeing to appear at the televised ceremony apparently is part of the AFI's criteria for selecting the award. The televised ceremony generates income for the AFI, which is no longer funfederal by the US government. Nine of the honorees have been women: Bette Davis, Lillian Gish, Barbara Stanwyck, Elizabeth Taylor, Barbra Streisand, Meryl Streep, Shirley MacLaine, Jane Fonda and Diane Keaton.

VOLUME 2 LIST:
Alfred Hitchcock 1979
James Stewart 1980
Fred Astaire 1981
Frank Capra 1982
John Huston 1983
Lillian Gish 1984
THE QUALITY OF THIS VIDEO IS FAIR-GOOD

 
CLICK HERE TO LEARN MORE ABOUT OUR PRODUCTS
We guarantee delivery of your item. If your item doesn't get there or is damaged, please notify us and we'll reship for you.
FULL REFUND IF NOT SATISFIED
Item number
MOV-6DVD-AFIVolume 2
Currently there are no reviews available for this product. Be the first to write a review.