FREE SHIPPING USA ONLY. International Customers: Please add international shipping: http://m.onesmedia.com/category/313432
DR. KILDARE AND DR.GILLESPIE COLLECTION
DR. KILDARE AND DR.GILLESPIE COLLECTION
16 DVD-R - 17 MOVIES, 2 BOX SETS - 1937/1947
 
The character of Dr. Kildare first appeared on film in the 1937 film, Internes Can't Take Money, based on Max Brand's previously published short story of the same name and starring Joel McCrea as Dr. Kildare.  The plot focused on Dr. Kildare's attempt to help ayoung female ex-convict (played by Barbara Stanwyck) locate her child. Lionel Barrymore as Dr. Gillespie and Lew Ayres as Dr.Kildare in Young Dr. Kildare (1938), the first of nine "Dr. Kildare" series films in which the duo appeared.  Dr. Kildare character (playedby Lew Ayres) first appears as a medical intern newly arrived at a New York City hospital, where he attracts the attention of a respected older physician and skilled diagnostician, Dr. Leonard Gillespie (played by Lionel Barrymore). After becoming a physician, Kildare faces a number of professional and personal challenges in the course of his work, while being mentored by Gillespie.
In 1942, during the making of the tenth film in the MGM series, originally titled Born to Be Bad, Ayres was drafted to serve in WWII and declared himself a conscientious objector. The resulting negative publicity caused MGM to cut Ayres from the film, eliminate thecharacter of Kildare, and change the film's focus to Barrymore's character Gillespie, eventually releasing the revamped film as Calling Dr. Gillespie (1942). The character of a young doctor mentored by the experienced Dr. Gillespie was played by Philip Dorn (as Dr.John Hunter Gerniede). More films featuring the Dr. Gillespie character mentoring various young doctors played by Van Johnson (as Dr. Randall "Red" Adams), Keye Luke (as Dr. Lee Wong How), and James Craig (as Dr. Tommy Coalt).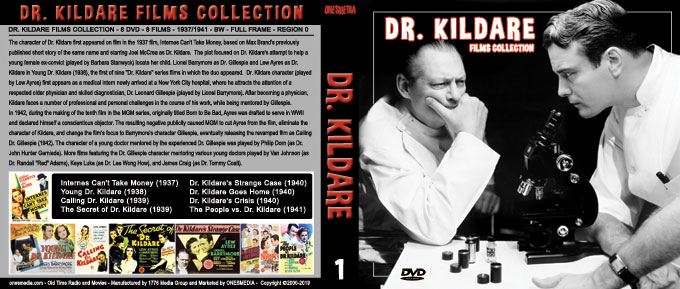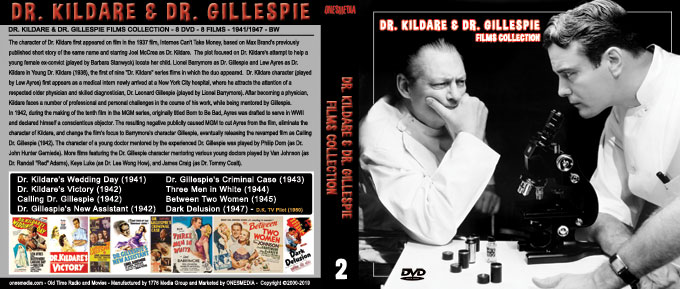 Item number
MOV-16DVD-DrKildare
Currently there are no reviews available for this product. Be the first to write a review.