FREE SHIPPING USA ONLY. International Customers: Please add international shipping: http://m.onesmedia.com/category/313432
MY SON JEEP
OLD TIME RADIO - 1 CD - 9 mp3 - Total Playtime: 4:29:44
My Son Jeep is an American situation comedy originally broadcast on the NBC Radio and Television networks in 1953 (January 25-June 14). Set in Grove Fall, USA, the program starred Martin Huston (later Bobby Alford) as Jeffrey "Jeep" Allison, a mischievous ten-year-old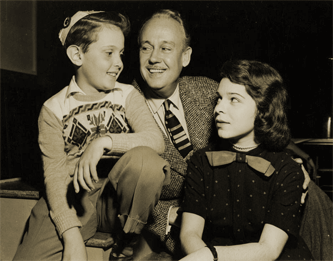 boy reminiscent of Dennis the Menace. Jeep was the younger of two children of Dr. Robert Allison, (Donald Cook and Paul McGrath on radio, Jeffrey Lynn on television), a widower and small-town doctor.
The program was later revived as a 15-minute weeknight program on the CBS Radio Network (October 3, 1955 – November 9, 1956).
Young Huston later appeared as Skipper Bradley in Johnny Weissmuller's short-lived Jungle Jim television series in the 1955-1956 season.
EPISODES LIST
My Son Jeep 1953-01-25 001 Jeep's Substitute Teacher
My Son Jeep 1953-02-01 002 Measles and A Ransom Note
My Son Jeep 1953-02-15 004 Jeep Climbs the Cub Scout Ladder
My Son Jeep 1953-03-15 006 Peggy's First Date
My Son Jeep 1953-03-29 010 Jeep Wants to Be a Bodybuilder
My Son Jeep 1953-04-26 014 The Allison National Bank and Trust
My Son Jeep 1953-05-03 015 The 'Sisters of Minnehaha' Installation
My Son Jeep 1953-06-07 020 Peg's New Dress
My Son Jeep 1953-06-14 021 Jeep Defends The Allisons' Honor
THESE ARE MP3 RECORDINGS
THEY WILL NOT PLAY IN REGULAR CD PLAYERS
CLICK HERE TO KNOW MORE ABOUT mp3
CLICK HERE TO LEARN MORE ABOUT OUR PRODUCTS
We guarantee delivery of your item. If your item doesn't get there or is damaged, please notify us and we'll reship for you.
FULL REFUND IF NOT SATISFIED
Item number
OTR-1CD-MySonJeep
Currently there are no reviews available for this product. Be the first to write a review.