FREE SHIPPING USA ONLY. International Customers: Please add international shipping: http://m.onesmedia.com/category/313432
DR SYN FILMS COLLECTION
DR. SYN FILMS COLLECTION 4 DVD-R - 3 MOVIES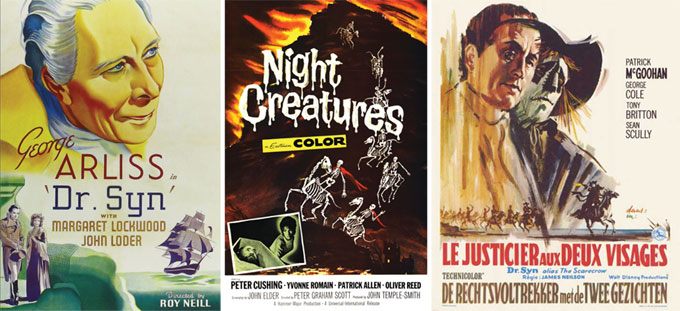 DR. SYN FILMS COLLECTION - 4 DVD - 3 FILMS - 1937/1963 - REGION 0 The Reverend Doctor Christopher Syn is the smuggler hero of a series of novels by Russell Thorndike. The first book, Doctor Syn: A Tale of the Romney Marsh was published in 1915. The story idea came from smuggling in the 18th century Romney Marsh, where brandy and tobacco were brought in at night by boat from France to avoid high tax. Minor battles were fought, sometimes at night, between gangs of smugglers, such as the Hawkhurst Gang, and the Revenue, supported by the army and local militias in the South, Kent and the West, Sussex. Three film adaptations have been made of Dr. Syn's exploits.The first, Doctor Syn (1937), starred the actor George Arliss in the title role and was his last film. Captain Clegg (1962), known as Night Creatures in the U. S., was produced by Hammer Film Productions with actor Peter Cushing in the lead role, directed by Peter Graham Scott. Captain Clegg's screenplay follows the novel Doctor Syn and the screenplay of the 1937 film closely with the exception of a tightening of the plot. In the Arliss movie Doctor Syn, Syn escapes to sea with Mipps and the rest of the Dymchurch smugglers, whereas Captain Clegg ends more faithfully to the novel, with Parson Blyss being killed by the mulatto (who is then killed by Mipps) and then being carried to and buried in Captain Clegg's empty grave by Mipps. The Scarecrow of Romney Marsh (1963) It was shot on location in England and was directed by James Neilson. It stars Patrick McGoohan in the title role, with George Cole as Mipps and Sean Scully as John Banks, the younger son of Squire Banks (Michael Hordern).
These films were originally produced long before the advent of High Definition TV, therefore they are best viewed on a small screen. HD TVs tend to stretch and skew the picture. Set your HD TV on 4:3 aspect ratio. (That was the old TV format). Please do not expect DVD or Commercial level DVDs from these films.

 THESE ARE REGULAR DVD-R DELIVERED IN A BOX SET WITH ART WORK
Item number
MOV-4DVD-DrSyn
Currently there are no reviews available for this product. Be the first to write a review.