FREE SHIPPING USA ONLY. International Customers: Please add international shipping: http://m.onesmedia.com/category/313432
WHEN A GIRL MARRIES
OLD TIME RADIO - 1 CD - 8 mp3 - Total Playtime: 1:51:37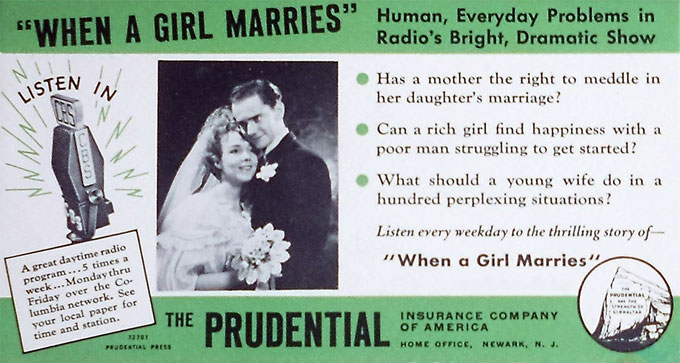 When a Girl Marries was an American daytime radio drama which was broadcast on three major radio networks from 1939 to 1957. Created by Elaine Sterne Carrington (who also was responsible for Pepper Young's Family and Rosemary), it was the highest rated soap opera during the mid-1940s.
The series premiered May 29, 1939 on CBS, moving to NBC on September 29, 1941 and then to ABC on July 2, 1951.
Promoted as "the tender, human story of young married life, dedicated to everyone who has ever been in love," the convoluted plot threads followed a married couple, Harry Davis (John Raby, Robert Haag) and Joan Field Davis (Noel Mills, Mary Jane Higby), as they confronted endless problems in the small town of Stanwood. Carrington created numerous conflicts by contrasting Harry's impoverished background with Joan's high society family.
Others in the cast included Michael Fitzmaurice, Marion Barney, Ellen Fenwick and Staats Cotsworth. Announcers included Frank Gallop, Bill Mazer and George Ansbro. Music was by organist Rosa Rio and others.
There was a long-running Australian version broadcast on the Major network.
 
EPISODES LIST
When a Girl Marries 39-09-21 Today is very much a Red Letter Day
When a Girl Marries 45-08-10 Bucket of Water Dumped
When a Girl Marries 45-xx-xx Hitchhiker Dumps Harry
When a Girl Marries 48-11-01 Cathy Safe From the Storm - The Hitchhiker
When a Girl Marries 48-11-03 Hitchhiker Dumps Harry
When a Girl Marries 49-xx-xx The Grandfather's Clock
When a Girl Marries Joan and Harry are in the Waiting Room
When a Girl Marries Joan And Harry Davis Have
THESE ARE MP3 RECORDINGS
THEY WILL NOT PLAY IN REGULAR CD PLAYERS
CLICK HERE TO KNOW MORE ABOUT mp3
CLICK HERE TO LEARN MORE ABOUT OUR PRODUCTS
We guarantee delivery of your item. If your item doesn't get there or is damaged, please notify us and we'll reship for you.
FULL REFUND IF NOT SATISFIED
Item number
OTR-1CD-WhenAGirlMarries
Currently there are no reviews available for this product. Be the first to write a review.