FREE SHIPPING USA ONLY. International Customers: Please add international shipping: http://m.onesmedia.com/category/313432
CLARA, LU'N EM
OLD TIME RADIO - 1 CD - 14 mp3 - Total Playtime: 3:00:44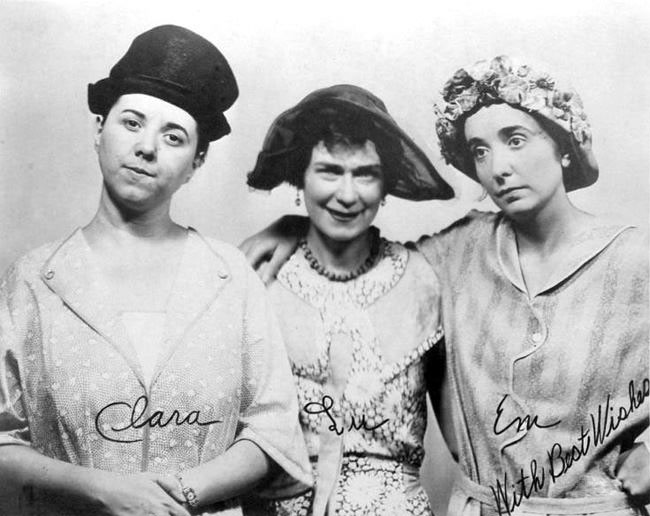 Clara, Lu, and Em was radio's first network daytime soap opera, beginning June 16, 1930 over WGN-AM Chicago, Illinois. It continued through the 1930s and early 1940s on the NBC Blue Network and CBS, finally airing as a syndicated series in 1945. The program became the first network daytime radio serial when it was moved from its original evening time slot to days.
The drama series began as a Northwestern University sorority sketch by Louise Starkey (Clara), Isobel Carothers (Lu) and Helen King (Em). Their friends suggested they go on the radio, so the trio approached WGN and did their first shows for no pay.
As interest grew, they were sponsored by Colgate-Palmolive and were heard evenings on the Blue Network from January 27, 1931 to February 12, 1932, moving to weekdays for a run from February 15, 1932 to March 12, 1934. They continued on NBC and the Blue Network, doing an evening series in 1936 with music by Ted Fio Rito.
Storylines centered on three women who lived in a small-town duplex. Clara Roach and her family lived on one side of the duplex, Emma Krueger lived with her family on the other side. Widow Lulu Casey lived upstairs with her daughter Florabelle. When Isobel Carothers suddenly died January 8, 1937 at age 32, Louise Starkey and Helen King decided not to continue.
When the program returned with Starkey and King in 1942 on CBS, another of their Northwestern University friends, Harriet Allyn, portrayed Lu. Allyn continued in the 1945 cast as Em, along with Fran Allison as Clara and Dorothy Day as Lu.
EPISODES LIST
Clara Lu 'n Em 310127 - Audition. Real Estate
Clara Lu 'n Em 340705 - The Girls Are In New York
Clara Lu 'n Em 350628 - Wedding Preparations
Clara Lu 'n Em 350701 - Lu Opens Wedding Gifts
Clara Lu 'n Em 360106 - Men Are The Weaker Sex
Clara Lu 'n Em 420608 - Undeclared Sugar Honey
Clara Lu 'n Em 420731 - The New Grand Baby
Clara Lu 'n Em 420812 - Clara Has Measles Symptoms
Clara Lu 'n Em 421109 - The Harvest Hop
Clara Lu 'n Em 421113 - An Old Fashioned Party
Clara Lu 'n Em 421116 - After The Party Complaints
Clara Lu 'n Em 421202 - Christmas Presents (Partial)
Clara Lu 'n Em 421204 - Grandpa Buys A Pig Show Finale (Partial)
Interviews
THESE ARE MP3 RECORDINGS
THEY WILL NOT PLAY IN REGULAR CD PLAYERS
CLICK HERE TO KNOW MORE ABOUT mp3
CLICK HERE TO LEARN MORE ABOUT OUR PRODUCTS
We guarantee delivery of your item. If your item doesn't get there or is damaged, please notify us and we'll reship for you.
FULL REFUND IF NOT SATISFIED
Item number
OTR-1CD-ClaraLuEm
Currently there are no reviews available for this product. Be the first to write a review.