FREE SHIPPING USA ONLY. International Customers: Please add international shipping: http://m.onesmedia.com/category/313432
BARBARA HALE COLLECTION
OLD TIME RADIO - 1 CD - 7 mp3 - Total Playtime: 3:53:29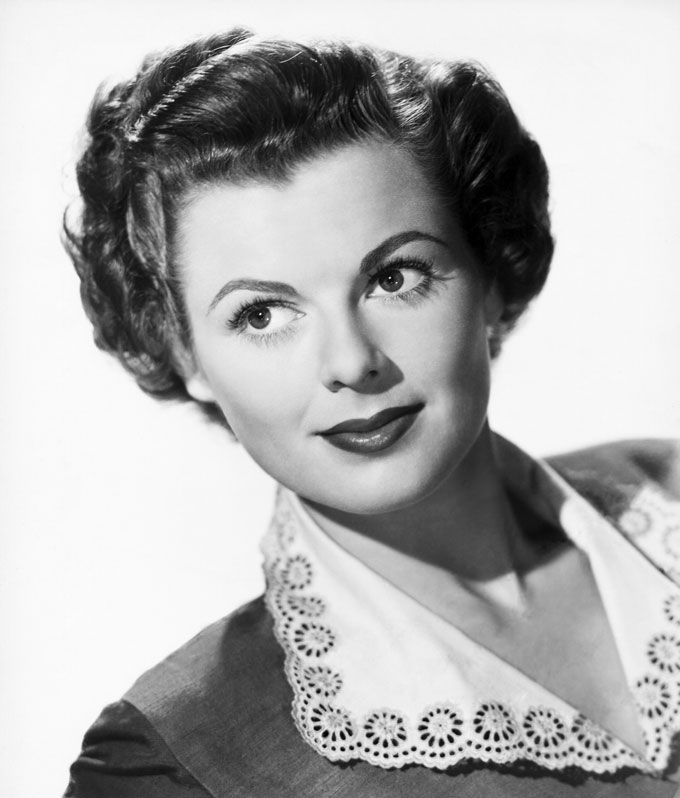 Barbara Hale (April 18, 1922 – January 26, 2017) was an American actress best known for her role as legal secretary Della Street on more than 270 episodes of the long-running Perry Mason television series from 1957 to 1966, earning her a 1959 Emmy Award as Outstanding Supporting Actress in a Drama Series. She reprised the role in 30 Perry Mason movies for television. Her many films roles included The Window (1949), in which she starred as the mother of a boy who witnesses a murder.
Barbara Hale was born in DeKalb, Illinois, a daughter of Luther Ezra Hale, a landscape gardener, and Wilma Colvin. She had one sister, Juanita, for whom Hale's younger daughter was named. The family was of Scots-Irish ancestry. In 1940, Hale graduated from Rockford High School in Rockford, Illinois, then attended the Chicago Academy of Fine Arts, planning to be an artist. Her performing career began in Chicago, when she started modeling to pay for her education.
Hale moved to Hollywood in 1943, and made her first screen appearances playing small parts (often uncredited). Her first role was in Gildersleeve's Bad Day. She was under contract to RKO Radio Pictures through the late 1940s. She appeared in Higher and Higher (1943) with Frank Sinatra and sang with the crooner; played leading lady to Robert Mitchum in West of the Pecos (1945); enjoyed top billing in both Lady Luck (1946) opposite Robert Young, her first "full stardom" and "her fifth A picture", and The Window (1949) with Arthur Kennedy, and co-starred in Jolson Sings Again (1949), with Larry Parks playing Al Jolson and Hale as Jolson's wife, Ellen Clark.
She played the top-billed title role in Lorna Doone (1951), co-starred with James Stewart in The Jackpot (1951), with James Cagney in A Lion Is in the Streets (1953) and opposite Rock Hudson in Seminole (1953). She appeared in 1955's The Far Horizons with Fred MacMurray and Charlton Heston.
Hale's last leading role in motion pictures was with Joel McCrea as co-star in the 1957 western The Oklahoman. However, she did have a featured role in the 1970 ensemble film Airport, playing the wife of a jetliner pilot (Dean Martin). Her final film appearances were in The Giant Spider Invasion (1975) and Big Wednesday (1978).
Hale was considering retirement from acting when she accepted her best known role as legal secretary Della Street in the television series Perry Mason starring Raymond Burr as the titular character. The show ran from 1957 to 1966, and she reprised the role in 30 Perry Mason television films (1985–95).
Hale's career became inextricably linked with that of Perry Mason co-star Burr, including her 1971 guest-starring role on his next series, Ironside, in an episode titled "Murder Impromptu," followed by their 1980s and early '90s TV movies together.
Her last onscreen appearance was a TV biographical documentary about Burr that aired in 2000.
Hale's activity in radio was more limited. She appeared in five episodes of Family Theater (1950–1954) and in one episode each of Lux Radio Theatre (1950), Voice of the Army (1947), and Proudly We Hail (syndicated).
SHOWS LIST
Family Theater 50-09-20 God and a Red Scooter
Family Theater 51-08-29 Masquerade
Family Theater 52-05-28 The Baby Sitter
Family Theater 53-03-18 Safe at Home
Family Theater 54-11-10 At 155 Pounds
Lux Radio Theater 50-05-22 Jolson Sings Again
Second Generation - Audition - 54-11-11
THESE ARE MP3 RECORDINGS
THEY WILL NOT PLAY IN REGULAR CD PLAYERS
CLICK HERE TO KNOW MORE ABOUT mp3
CLICK HERE TO LEARN MORE ABOUT OUR PRODUCTS
We guarantee delivery of your item. If your item doesn't get there or is damaged, please notify us and we'll reship for you.
FULL REFUND IF NOT SATISFIED
Item number
OTR-1CD-BarbaraHale
Currently there are no reviews available for this product. Be the first to write a review.