FREE SHIPPING USA ONLY. International Customers: Please add international shipping: http://m.onesmedia.com/category/313432
LOUELLA PARSONS SHOW
OLD TIME RADIO - 1 CD - 16 mp3 - Total Playtime: 4:08:09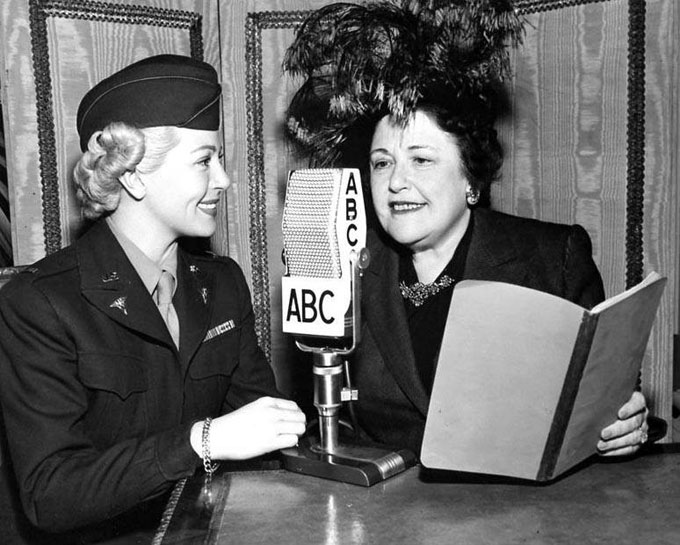 Louella Parsons (born Louella Rose Oettinger; August 6, 1881 – December 9, 1972) was the first American movie columnist and a screenwriter. She was retained by William Randolph Hearst, possibly because she had praised Hearst's mistress Marion Davies, and possibly because she helped him cover up the killing of Thomas H. Ince. At her peak, her columns were read by 20 million people in 400 newspapers worldwide.
She remained Queen of Hollywood until the arrival of flamboyant Hedda Hopper, who displayed similar talents, and with whom she feuded viciously for years.
In 1914, Parsons began writing the first gossip column in the United States for the Chicago Record Herald. William Randolph Hearst bought that newspaper in 1918 and Parsons was out of a job, as Hearst had not yet discovered that movies and movie personalities were news. Parsons then moved to New York City and started working for the New York Morning Telegraph writing a similar movie column, which attracted the attention of Hearst. In 1923, after shrewd bargaining on both sides, she signed a contract and joined the Hearst newspaper the New York American.
In 1925, Parsons contracted tuberculosis and was told she had six months to live. She moved to Arizona for the dry climate, then to Los Angeles, where she decided to stay. With the disease in remission, she went back to work, becoming a syndicated Hollywood columnist for Hearst. As she and the publishing mogul had developed an ironclad relationship, her Los Angeles Examiner column came to appear in over six hundred newspapers the world over, with a readership of more than twenty-million, and Parsons gradually became one of the most powerful voices in the movie business with her daily allotment of gossip. According to Hearst's mistress and protégé Marion Davies, Parsons had encouraged readers to "give this girl a chance" while the majority of critics disparaged Davies; it was on this basis that Hearst hired Parsons.
Beginning in 1928, she hosted a weekly radio program featuring movie star interviews that was sponsored by SunKist. A similar program in 1931 was sponsored by Charis Foundation Garment. In 1934, she signed a contract with the Campbell's Soup Company and began hosting a program titled Hollywood Hotel, which showcased stars in scenes from their upcoming movies.
She was associated with various Hearst enterprises for the rest of her career. Parsons saw herself as the social and moral arbiter of Hollywood. Her judgments were considered the final word in many cases, and her disfavor was feared by many more than that of movie critics. Eventually, Parson's daily gossip column appeared in more than 400 newspapers, and read by 20 million people around the world. Her unofficial title 'Queen of Hollywood' was challenged in 1938 by newcomer Hedda Hopper, to whom she was initially friendly and helpful. But they became fierce rivals, Hopper being classed as the more vicious and unforgiving of the two.
Parsons also appeared in numerous cameo spots in movies, including Hollywood Hotel (1937), Without Reservations (1946), and Starlift (1951).
In 1944, she wrote her memoirs, The Gay Illiterate, published by Doubleday, Doran and Company, which became a bestseller. That was followed by another volume in 1961, Tell It to Louella, published by G.P. Putnam's Sons.
After the 1950s, Parsons's influence diminished. She continued her column until December 1965 when it was taken over by her assistant, Dorothy Manners, who had already been writing the column for more than a year.
EPISODES LIST
Louella Parsons 45-07-29 Plus Hollywood Mystery Hot & Low Down
Louella Parsons 46-11-03 Bebe Daniels, Ben Lyons
Louella Parsons 47-03-09 Jean Hersholt
Louella Parsons 47-03-23 Guest - Spencer Tracy
Louella Parsons 47-07-13 Guest - Elizabeth Taylor
Louella Parsons 47-11-09 Joan Crawford
Louella Parsons 48-09-12 Farley Granger, Edith Head
Louella Parsons 48-09-26 George Raft
Louella Parsons 48-12-05 Ethel Barrymore
Louella Parsons 50-07-09 Shelly Winters
Louella Parsons 51-01-07 John Wayne
Louella Parsons 51-07-29 Guest - Martin and Lewis
Louella Parsons 51-08-05 Dorothy LaMour Subs
Louella Parsons 51-09-09 Ida Lupino To Marry
Louella Parsons 51-09-23 Ann Blythe
Louella Parsons 51-10-07 Vic Damone
THESE ARE MP3 RECORDINGS
THEY WILL NOT PLAY IN REGULAR CD PLAYERS
CLICK HERE TO KNOW MORE ABOUT mp3
CLICK HERE TO LEARN MORE ABOUT OUR PRODUCTS
We guarantee delivery of your item. If your item doesn't get there or is damaged, please notify us and we'll reship for you.
FULL REFUND IF NOT SATISFIED
Item number
OTR-1CD-LouellaParsons
Currently there are no reviews available for this product. Be the first to write a review.