FREE SHIPPING USA ONLY. International Customers: Please add international shipping: http://m.onesmedia.com/category/313432
JOAN DAVIS SHOW
OLD TIME RADIO - 1 CD - 21 mp3 - Total Playtime: 8:58:46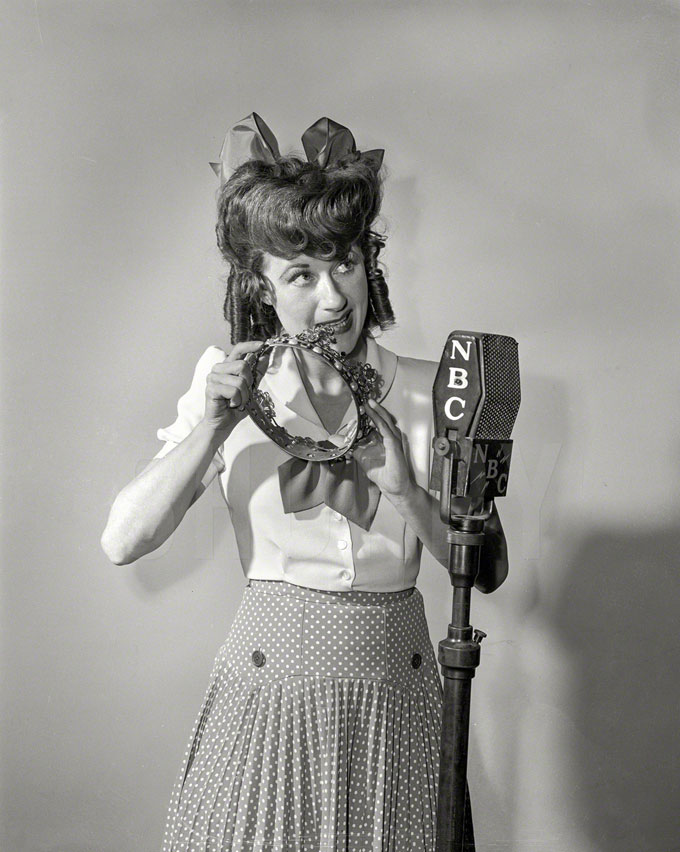 Joan Davis (June 29, 1912 – May 22, 1961) was an American comedic actress whose career spanned vaudeville, film, radio, and television. Remembered best for the 1950s television comedy I Married Joan, Davis had a successful earlier career as a B-movie actress and a leading star of 1940s radio comedy.
Born Josephine Davis in Saint Paul, Minnesota, she was the only child of LeRoy Davis and Nina Mae (née Sinks) Davis, who were married in St. Paul on November 23, 1910. Davis had been a performer since childhood. She appeared with her husband Si Wills in vaudeville.
Joan Davis entered radio with an August 28, 1941, appearance on The Rudy Vallee Show and became a regular on that show four months later.
Swan soap ad featuring Davis' radio show, 1945
Davis then began a series of shows that established her as a top star of radio situation comedy throughout the 1940s. When Vallee left for the Coast Guard in 1943, Davis and Jack Haley became the co-hosts of the show. With a title change to The Sealtest Village Store, Davis was the owner-operator of the store from July 8, 1943, to June 28, 1945, when she left to do Joanie's Tea Room on CBS from September 3, 1945, to June 23, 1947. Sponsored by Lever Brothers on behalf of Swan Soap, the premise had Davis running a tea shop in the little community of Smallville. The supporting cast featured Verna Felton. Harry von Zell was the announcer, and her head writer was Abe Burrows, formerly the head writer (and co-creator) of Duffy's Tavern and eventually a legendary Broadway playwright. The tea shop setting continued in Joan Davis Time, a CBS Saturday-night series from October 11, 1947, to July 3, 1948. With Lionel Stander as the tea shop manager, the cast also included Hans Conried, Mary Jane Croft, Andy Russell, the Choraliers quintet, and John Rarig and his Orchestra. Leave It to Joan ran from July 4 to August 22, 1949, as a summer replacement for Lux Radio Theater and continued from September 9, 1949, to March 3, 1950. She was also heard on CBS July 3 through August 28, 1950. She was a frequent and popular performer on Tallulah Bankhead's legendary radio variety show, The Big Show (1950–52). Davis was also a regular on Eddie Cantor's Time to Smile program.
EPISODES LIST
Joan Davis Show 45-10-22 Andy's Recording to Hollywood
Joan Davis Show 45-12-03 Going Hunting
Joan Davis Show 45-12-10 Red Flannel Underwear
Joan Davis Show 45-12-24 Christmas Party
Joan Davis Show 46-01-07 (19) Barbara Plays Trick
Joan Davis Show 46-01-21 (21) Double Love Triangle
Joan Davis Show 46-01-28 Joan Joins Literary Society
Joan Davis Show 46-02-04 Gold Found in Swanville
Joan Davis Show 46-02-11 Birthday Party for Joan
Joan Davis Show 46-02-18 (25) $300 Missing
Joan Davis Show 46-02-25 U.N.O. Meeting
Joan Davis Show 46-03-11 Joan Has Insomnia
Joan Davis Show 46-03-18 Counterfeiter Visits Tea Room
Joan Davis Show 46-05-27 (39) Last show of the season
Joan Davis Show 46-11-11 Joan Cooks Dinner
Joan Davis Show 47-12-12 Joan's Cleaning Fluid
Joan Davis Show 47xxxx - Gary Moore [287]
Joan Davis Show 48-02-14 Joan Wants a Career in Medicine
Joan Davis Show 48-03-27 (76) Joan Sells Advertising
Joan Davis Show 48-04-03 Is Joan Married to John Payne
Joan Davis Show 50-01-20 Guest - Al Jolson
THESE ARE MP3 RECORDINGS
THEY WILL NOT PLAY IN REGULAR CD PLAYERS
CLICK HERE TO KNOW MORE ABOUT mp3
CLICK HERE TO LEARN MORE ABOUT OUR PRODUCTS
We guarantee delivery of your item. If your item doesn't get there or is damaged, please notify us and we'll reship for you.
FULL REFUND IF NOT SATISFIED
Item number
OTR-1CD-JoanDavis
Currently there are no reviews available for this product. Be the first to write a review.