FREE SHIPPING USA ONLY. International Customers: Please add international shipping: http://m.onesmedia.com/category/313432
THE LONE WOLF TV COLLECTION
THE LONE WOLF TV COLLECTION
THE LONE WOLF TV COLLECTION - 10 DVD-R - 39 TV MOVIES - 1954/1955 - Total Playtime: 15:19:15
 Michael Lanyard, better known as the Lone Wolf, is a rapscallion gentleman who travels the world to fight the proponents of crime. This one-season syndicated series was released during the 1954-1955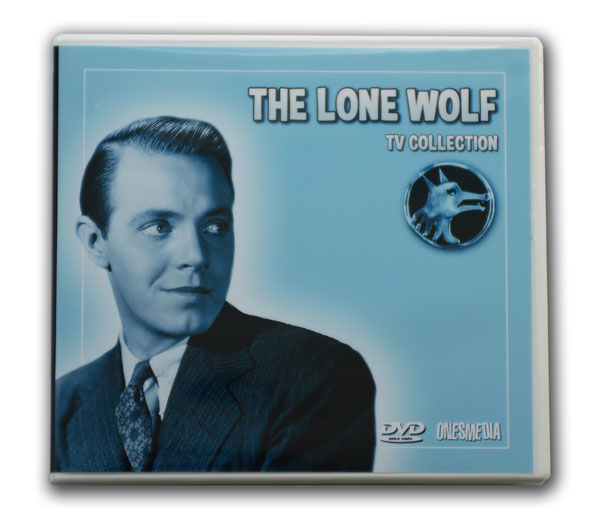 season and produced 39 episodes. Lasting only one season in the then standard 39 episode/half hour format, no two episodes are alike. With the exception of Hayward, there's no recurring characters. Many guest stars range from performers who have passed their prime to actors whose careers are on the rise. There's Barbara Billingsley in the premiere episode, two years before being immortalized as June Cleaver in "Leave It to Beaver," Ernest Borgnine, 1955 Academy Award winner of MARTY (United Artists), and future star of the 1960s TV comedy series, "McHale's Navy," appearing in one of the more exciting episodes set on a train involving a passenger carrying a suitcase with a bomb; Harry Morgan, of "Dragnet" and "M.A.S.H." fame, playing a minister whose life is being threatened by a mysterious assassin, or in another episode, a different character; Joe Besser of the Three Stooges during the late 1950s convincing in a very rare serious role; as well as former Republic starlet Adela Mara, MGM's own Virginia Grey, or 1940s "film noir" psycho Elisha Cook Jr. all having their share with Michael Lanyard's escapades. While some beauties may come Lanyard's way for some love making, unlike Ian Fleming's character of James Bond, when duty calls, Lanyard would tell them, "Some other time."
1 The Long Beach Story
2 The Avalanche Story
3 The Chinese Story
4 The Carnival Story
5 The Blue Lantern Story
6 The Ski Story
7 Plantation Story
8 Pursuit
9 The Malibu Story
10 The Murder Story
11 The Honolulu Story
12 Skid Row
13 The Arena
14 The Karachi Story
15 The Las Vegas Story
16 The Italian Story
17 The Hunt
18 The Oil Story
19 The Boy Story
20 The Emerald Ring
21 The Department Store Story
22 The Mexico Story
23 The Art Story
24 The Carlsbad Big Lie Story
25 The Last Ballet Story
26 The Beverly Hills Story
27 The Jet Story
28 The San Francisco Story
29 The Savage
30 Deep Sea Diving
31 The Werewolf Story
32 The Stamp Story
33 The Minister Story
34 The Robbery Story
35 The Wife Story
36 The Planetarium Story
37 The San Pedro Story
38 The Runaway Story
39 The Newhall Story
 
Email mail@onesmedia.com for any additional info
Item number
MOV-10DVD-LoneWolfTV
This is a nice Collection of an early detective TV-Show with a astonishing good viewing and Audio Quality - i' am glad i bought this and can recommend it utterly to everyone - thanks to ones Media for making it available !!
---