FREE SHIPPING USA ONLY. International Customers: Please add international shipping: http://m.onesmedia.com/category/313432
NICK CARTER FILMS COLLECTION
2 DVD-R - 4 MOVIES

 Nick Carter is a fictional character who began as a dime novel private detective in 1886 and has appeared in a variety of formats over more than a century. The character has had a long and varied film history, with three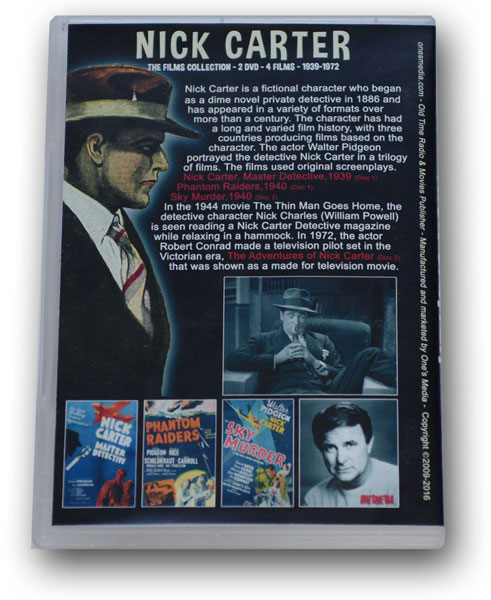 countries producing films based on the character. The actor Walter Pidgeon portrayed the detective Nick Carter in a trilogy of films. The films used original screenplays. Nick Carter, Master Detective,1939 (Disc 1) Phantom Raiders,1940 (Disc 1) Sky Murder,1940 (Disc 2) In the 1944 movie The Thin Man Goes Home, the detective character Nick Charles (William Powell) is seen reading a Nick Carter Detective magazine while relaxing in a hammock. In 1972, the actor Robert Conrad made a television pilot set in the Victorian era, The Adventures of Nick Carter (Disc 2) that was shown as a made for television movie.
These films were originally produced long before the advent of High Definition TV, therefore they are best viewed on a small screen. HD TVs tend to stretch and skew the picture. Set your HD TV on 4:3 aspect ratio. (That was the old TV format). Please do not expect DVD or Commercial level DVDs from these films. Email us for any additional info.
CLICK HERE TO LEARN MORE ABOUT OUR PRODUCTS
We guarantee delivery of your item. If your item doesn't get there or is damaged, please notify us and we'll reship for you.
Item number
MOV-2DVD-NickCarter
Currently there are no reviews available for this product. Be the first to write a review.