FREE SHIPPING USA ONLY. International Customers: Please add international shipping: http://m.onesmedia.com/category/313432
CHESTERFIELD SUPPER CLUB
OLD TIME RADIO - 1 CD - 20 mp3 - Total Playtime: 5:05:13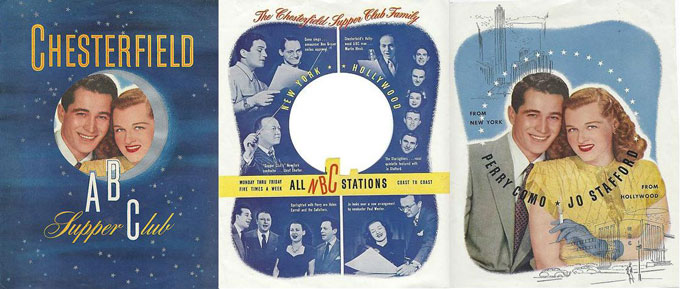 The Chesterfield Supper Club, an NBC Radio musical variety program (1944–1950), which was also telecast by NBC Television (1948–1950).
The Chesterfield Supper Club began on December 11, 1944, as a 15-minute radio program, airing at 7 pm weeknights on the NBC Radio Network. This musical variety show was sponsored by Chesterfield cigarettes and featured live musical performances. Perry Como initially hosted The Chesterfield Supper Club five nights a week. Initially, Como's female singer was Mary Ashworth. During World War II, the broadcasts were transcribed for re-broadcast on Armed Forces Radio Service.
The idea for the radio show originated with Doug Storer, who was then an advertising executive with the Blackman Company. Storer had heard Perry Como on his non-sponsored CBS radio program and believed he would do well in a radio show of the type he was proposing. Storer recorded a demo of the radio show with Como as its host and Mitchell Ayres and his Orchestra providing the music. He took the recording to the advertising agency that handled the Chesterfield cigarettes account.
The agency was enthusiastic about the program's format, but did not want Como as its host. The singer the agency preferred was under contract and would need to be released from it before he could accept a job on the new radio program. They asked Storer to get the singer released from his contract. Storer, who was still of the belief that the new show needed Como as its host, did not go through with the advertising agency's request. He received a call from the agency some weeks later, asking about the singer's contract and saying their new program would make its radio debut in about one week's time. Storer told them the right man for the radio show was the one who had made the demo recording-Perry Como. Chesterfield's advertising agency did not have time to do anything but sign Como as the host of the show.
During the first year, Como was backed by the Ted Steele Orchestra, followed by the Lloyd Shaffer Orchestra at the end of 1945 until 1948. With John Klenner, Shaffer and Steele composed the show's theme song, "Smoke Dreams." Roy Ringwald's "A Cigarette, Sweet Music and You" was also used on the show as a musical theme. The Satisfiers vocal group was also part of the program; they also made many records with Como.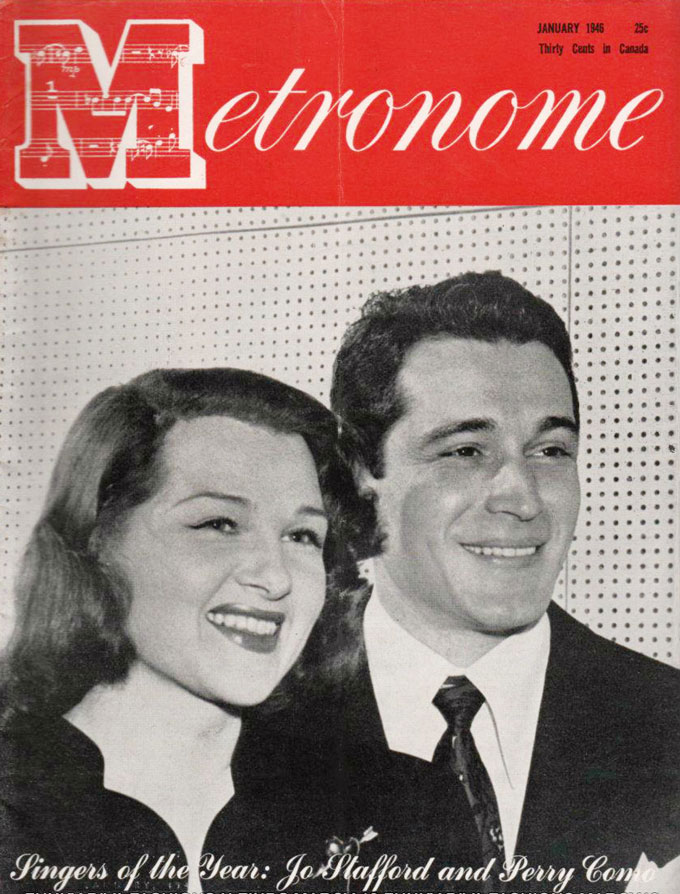 SHOWS LIST
Chesterfield Supper Club 45-05-23 First Song theme song of Pick and Pat's radio program
Chesterfield Supper Club 45-05-30 First Song - Carry On, Brother, Carry On
Chesterfield Supper Club 45-07-12 112 1st Song - The Missouri Waltz, Martin Block Subs for Perry
Chesterfield Supper Club 45-07-13 113 1st Song - Minstrel Overture
Chesterfield Supper Club 45-09-14 156 First Song - I'd Do It All Over Again
Chesterfield Supper Club 45-10-30 184 1st Song - Take Care, Guest - Evelyn Knight
Chesterfield Supper Club 45-10-31 185 1st Song - You Won't be Satisfied, Guests - The Wesson Brothers
Chesterfield Supper Club 46-01-21 (0241) First Song - Don't You Remember Me
Chesterfield Supper Club 46-06-14 337 1st Song - Without a Penny in Your Pocket
Chesterfield Supper Club 46-06-17 338 1st Song - You Got Me Crying Again, Guest - Charlie Cantor }
Chesterfield Supper Club 47-12-11 (xxxx) First Song - The Best Things In Life Are Free
Chesterfield Supper Club 48-03-03 (xxxx) First Song - Now Is the Hour
Chesterfield Supper Club 48-03-10 (xxxx) First Song - Mary Lou
Chesterfield Supper Club 48-04-14 (xxxx) First Song - I'll Never Say I Love You
Chesterfield Supper Club 48-10-21 (xxxx) First Song - Then I'll Be Happy
Chesterfield Supper Club 48-12-18 (xxxx) First Song - You're Gonna Get My Letter In The Morning
Chesterfield Supper Club 49-01-03 (xxxx) First Song - Its A Big Wide Wonderful World
Chesterfield Supper Club 49-06-23 (xxxx) First Song - Laurabelle Lee
Chesterfield Supper Club 49-06-30 (xxxx) First Song - S'wonderful
Chesterfield Supper Club 50-03-09 (xxxx) First Song - Dear Hearts and Gentle People
THESE ARE MP3 RECORDINGS
THEY WILL NOT PLAY IN REGULAR CD PLAYERS
CLICK HERE TO KNOW MORE ABOUT mp3
CLICK HERE TO LEARN MORE ABOUT OUR PRODUCTS
We guarantee delivery of your item. If your item doesn't get there or is damaged, please notify us and we'll reship for you.
FULL REFUND IF NOT SATISFIED
Item number
OTR-1CD-ChesterfieldSupperClub
Currently there are no reviews available for this product. Be the first to write a review.