FREE SHIPPING USA ONLY. International Customers: Please add international shipping: http://m.onesmedia.com/category/313432
COKE TIME
OLD TIME RADIO - 1 CD - 17 mp3 - Total Playtime: 5:44:50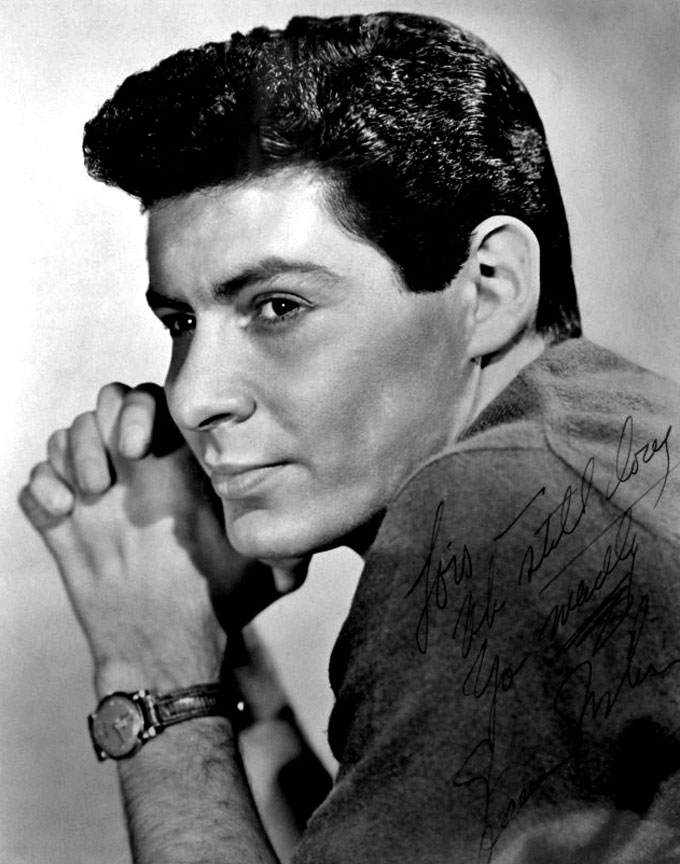 Coke Time with Eddie Fisher is an American musical variety television series starring singer Eddie Fisher which was broadcast by NBC on Wednesday nights in early prime time from 1953 to 1957. The program was aired from 7:30 to 7:45 p.m. Eastern Time on Wednesdays and Fridays, and was not seen during the summer months. (A radio edition, recorded from previous TV soundtracks, was also heard on Tuesdays and Thursdays at 7:45 P.M. Eastern Time over the Mutual Broadcasting System from 1953 through 1955).
The program was initially hosted by Don Ameche with Freddy Robbins as the announcer, but in late October 1953 Ameche left the program and Robbins became its host. As could have been surmised from the title, the program was sponsored by Coca-Cola. The house band was Axel Stordahl and His Orchestra, and beginning in 1956 the singing group The Echoes appeared as a permanent backup group for Fisher and his frequent guest stars. The program was generally presented live, but was occasionally filmed in advance or shot on location. Coke Time with Eddie Fisher was last aired on February 22, 1957, although the series was by then sponsored by Standard Brands' Planters peanuts, as Coca-Cola previously cancelled their sponsorship during 1956 due to a dispute with bottlers over a proposed larger Coke bottle.
One of the primary purposes served by Coke Time was to round out the balance of the half-hour it shared with John Cameron Swayze's Camel News Caravan (The Huntley-Brinkley Report in 1956-'57), which was then, like all such regularly scheduled U.S. national newscasts, only 15 minutes in length. After the 1956-57 season, all such brief entertainment programs were discontinued, even though network news broadcasts remained 15 minutes in length until 1963, and afterwards there were no regularly scheduled prime time entertainment programs of this length remaining on U.S. network television, although there were daytime soap operas of this duration for many more years, and sports programs of roughly this length were often used as fillers to complete the time slots assigned to sports events of uncertain length, particularly boxing matches.
After Coke Time ended, Eddie Fisher became the host of his own hour-long variety show called The Eddie Fisher Show (alternating with The George Gobel Show) on NBC's Tuesday night schedule from October 1957 through March 1959.
SHOWS LIST
Coke Time 54-07-04 (054) First Song - The Sunny Side Of The Street
Coke Time 54-07-05-055- First Song - I Found A Million Dollar Baby
Coke Time 54-08-01 (062) First Song - Those Green Years
Coke Time 54-08-02 (063) First Song - I Feel A Song Comin On
Coke Time 54-08-15 (066) First Song - It's A Great Day For The Irish
Coke Time 54-08-22 (068) First Song - Oh, What A Beautiful Morning
Coke Time 54-08-23 (069) First Song - Make Love To Me
Coke Time 54-08-29 (070) First Song - Everywhere You Go
Coke Time 54-09-05 (072) First Song - Don't Fence Me In
Coke Time 54-09-06 (073) First Song - The Best Things In Life Are Free
Coke Time 54-10-11 (083) First Song - I've Got The Sun
Coke Time 54-10-17 (084) First Song - Any Time
Coke Time 54-10-18 (085) First Song - The Birth Of The Blues
Coke Time 54-10-24 (086) First Song - Swanee
Coke Time 54-10-25 (087) First Song - You Made Me Love You
Coke Time 54-10-31 (088) First Song - I Can't Give You Anything But Love
Coke Time 57-07-xx (368) First Song - Back In Your Own Backyard
THESE ARE MP3 RECORDINGS
THEY WILL NOT PLAY IN REGULAR CD PLAYERS
CLICK HERE TO KNOW MORE ABOUT mp3
CLICK HERE TO LEARN MORE ABOUT OUR PRODUCTS
We guarantee delivery of your item. If your item doesn't get there or is damaged, please notify us and we'll reship for you.
FULL REFUND IF NOT SATISFIED
Item number
OTR-1CD-CokeTime
Currently there are no reviews available for this product. Be the first to write a review.