FREE SHIPPING USA ONLY. International Customers: Please add international shipping: http://m.onesmedia.com/category/313432
MEET MILLIE
OLD TIME RADIO - 1 CD - 13 mp3 - Total Playtime: 6:10:19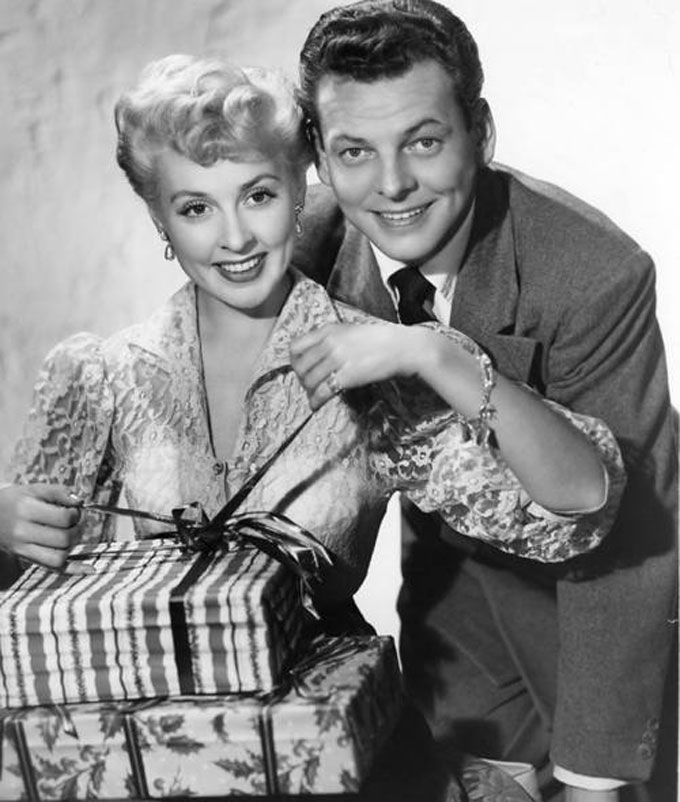 Meet Millie, a situation comedy about a wisecracking Manhattan secretary from Brooklyn, made a transition from radio to television in the early 1950s. In the live television version, Mom and Millie were living in Jackson Heights, Queens. The popularity of this series led to a four-year run on CBS Television.
The radio series began on CBS July 2, 1951, continuing until September 23, 1954. Audrey Totter created the role of Millie Bronson on radio, but she dropped out when her film studio refused to allow her to appear as the character on television.
After seeing Elena Verdugo in Columbia's Thief of Damascus (1952), Eddie Bracken's secretary recommended her to Bracken when a replacement for Totter was needed. Verdugo brought the character to television in October 1952 and also took over the radio role beginning January 1, 1953.
Bea Benaderet originally appeared on Millie's mother on radio, but due to her commitment to play "Blanche Morton" on The George Burns and Gracie Allen Show, her role was filled by Florence Halop on TV (and eventually on the radio show).
The show opened with the announcer's introduction: "A gay, new comedy about the life and loves of a secretary in Manhattan. It's time to Meet Millie." Millie lived in a Jackson Heights apartment with her mother (Florence Halop), who is continually on the lookout for a possible husband for Millie. Millie's boyfriend, J.R. "Johnnie" Boone, Jr. (Ross Ford), is the son of her boss (Earle Ross, Roland Winters). Aspiring poet-composer Alfred Prinzmetal (Marvin Kaplan) drops in for friendly visits. Isabel Randolph portrayed Mrs. Boone. Other cast regulars were Virginia Vincent, Harry Cheshire and Ray Montgomery.
Meet Millie, one of the first series telecast from the CBS Television City facility in Hollywood, was seen on CBS from October 25, 1952 until March 6, 1956. The live studio audience responded to Meet Millie with such enthusiasm that it was sometimes necessary for the actors to freeze in position until the laughter stopped. Kaplan and Verdugo became friends during the years the show was in production, and their close friendship continued for decades.
An episode of Meet Millie was shown September 15, 2000 at the Library of Congress' Mary Pickford Theater.
 
SHOWS LIST
Meet Millie 51-09-04 Morton Claims He's Being Drafted
Meet Millie 51-09-11 The Party Invitation
Meet Millie 52-03-23 Aunt Ethel, The Kooky Vegetarian
Meet Millie 53-10-22 Painting The Town Red
Meet Millie xx-xx-xx Alfred's in Love
Meet Millie xx-xx-xx Apartment Hunting
Meet Millie xx-xx-xx Dinner with the Boones
Meet Millie xx-xx-xx Horse Racing
Meet Millie xx-xx-xx Increased Rent (aka Millie and Momma Have To Take In Boarders)
Meet Millie xx-xx-xx Johnny Comes to Dinner (aka Momma's Home Cooked Meal)
Meet Millie xx-xx-xx Mrs Brubaker
Meet Millie xx-xx-xx Sponsoring the Frenchman
Meet Millie xx-xx-xx Uncle Theodore
THESE ARE MP3 RECORDINGS
THEY WILL NOT PLAY IN REGULAR CD PLAYERS
CLICK HERE TO KNOW MORE ABOUT mp3
CLICK HERE TO LEARN MORE ABOUT OUR PRODUCTS
We guarantee delivery of your item. If your item doesn't get there or is damaged, please notify us and we'll reship for you.
FULL REFUND IF NOT SATISFIED
Item number
OTR-1CD-MeetMillie
Currently there are no reviews available for this product. Be the first to write a review.