FREE SHIPPING USA ONLY. International Customers: Please add international shipping: http://m.onesmedia.com/category/313432
LAND OF THE LOST
OLD TIME RADIO - 1 CD - 6 mp3 - Total Playtime: 2:41:22
Land of the Lost was a 1940s radio fantasy adventure, written and narrated by Isabel Manning Hewson, about the adventures of two children who traveled underwater with the fatherly fish Red Lantern. Each week the show opened with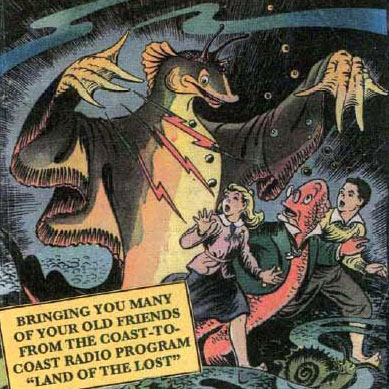 the line, "In that wonderful kingdom at the bottom of the sea...", and then Red Lantern showed Billy and Isabel where different lost objects were stored beneath the waves.
The Land of the Lost radio series aired from 1943 to 1948 on the Mutual Broadcasting System and ABC. Betty Jane Tyler was the voice of the young Isabel, and Ray Ives was the voice of Billy. Several actors voiced Red Lantern, including Art Carney, Julius Matthews and William Keene. The announcer was Michael Fitzmaurice, and Cyril Armbrister directed.
With music by John Winters and lyrics by Barbara Miller, Peggy Marshall did the vocal arrangements. Organist Bob Hamilton provided background music.
A pioneer female radio commentor prior to Land of the Lost, Hewson did a food shopping show, Morning Market Basket, on the NBC Red network during World War II. She launched Land of the Lost October 9, 1943, and it was broadcast Saturday mornings at 11:30am on the ABC Blue network until September 22, 1945. In 1944, it also was on ABC Tuesdays at 7:00pm from July 4 until October 3. On October 14, 1945, the series moved to Mutual, where it was heard until July 6, 1946 (Sundays at 3:30 until mid-January and then Saturdays at 11:30am). Sponsored by Bosco, Land of the Lost aired on ABC from October 11, 1947 until the end of the run on July 3, 1948.
 
EPISODES LIST
Land of the Lost 451028 - Knights of the Square Table
Land of the Lost 451104 - The Mike Pike Incident aka A Flying Fish Named Mike
Land of the Lost 451223 - The Blue Pearl of Atlantis
Land of the Lost 470000 - Lead Pencilvania
Land of the Lost 471213 - Prince of Tides
Land of the Lost xxxxxx - Red Lantern and Jack Knife
THESE ARE MP3 RECORDINGS
THEY WILL NOT PLAY IN REGULAR CD PLAYERS
CLICK HERE TO KNOW MORE ABOUT mp3
CLICK HERE TO LEARN MORE ABOUT OUR PRODUCTS
We guarantee delivery of your item. If your item doesn't get there or is damaged, please notify us and we'll reship for you.
FULL REFUND IF NOT SATISFIED
Item number
OTR-1CD-LandOfTheLost
Currently there are no reviews available for this product. Be the first to write a review.