FREE SHIPPING USA ONLY. International Customers: Please add international shipping: http://m.onesmedia.com/category/313432
I LOVE A MYSTERY FILMS COLLECTION
2 DVD-R - 3 MOVIES
I Love a Mystery was an extremely popular radio series, which was first broadcast in 1939, and was created by Carleton E. Morse. In the radio series, I Love a Mystery followed the exploits of three intrepid detectives, Doc Long, Reggie York and Jack Packard, who had (as the story went) originally met as soldiers of fortune in the Far East. The three comrades traveled the world in search of mystery, adventure, and danger, which always met them with equal enthusiasm. As the partners in the A-1 Detective Agency - "no job too tough, no adventure too baffling" - Jack, Doc and Reggie matched wits with an assortment of both earthbound and supernatural villains, in a group of serialized dramas that held enthusiastic listeners spellbound. Indeed, the radio show still inspires near-fanatical devotion today among its fans, and episodes of the surviving programs are featured in a number of sites on the web for interested listeners. A 1945 movie called I Love a Mystery starred Jim Bannon as Jack, Barton Yarborough as Doc, George Macready, and Nina Foch. Reggie did not appear in the movies as he had been written out of the radio series. The movie was about a man who seeks protection after he predicts his own death in three days. Two more movies in the series starring Bannon and Yarborough followed in 1946: The Devil's Mask and The Unknown.
A TV movie produced in 1967 starred Les Crane as Jack, David Hartman as Doc, and Hagan Beggs as Reggie. After being shelved for six years, NBC aired the movie in 1973.
I Love a Mystery was an influence in the development of the long-running
Hanna-Barbera franchise Scooby-Doo in its early stages of development as a live-action
series under the working titles Mysteries Five and Who's Scared?
MOVIES LIST
1945 - I LOVE A MYSTERY
Starring: Jim Bannon, Nina Foch, and George Macready
1946 - THE DEVIL'S MASK
Starring: Anita Louse, Jim Bannon, Michael Duane, and Mona Barrie
1946 - THE UNKNOWN
Starring: Karen Morley,Jim Bannon, Jeff Donnell, and Robert Scott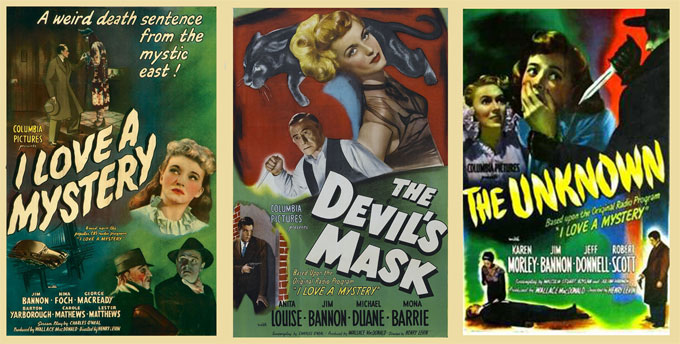 These films were originally produced long before the advent of High Definition TV, therefore they are best viewed on a small screen. HD TVs tend to stretch and skew the picture. Set your HD TV on 4:3 aspect ratio. (That was the old TV format). Please do not expect DVD or Commercial level DVDs from these films. Email us for any additional info.
CLICK HERE TO LEARN MORE ABOUT OUR PRODUCTS
We guarantee delivery of your item. If your item doesn't get there or is damaged, please notify us and we'll reship for you.
Item number
MOV-2DVD-ILoveAMystery
Currently there are no reviews available for this product. Be the first to write a review.