FREE SHIPPING USA ONLY. International Customers: Please add international shipping: http://m.onesmedia.com/category/313432
HILDEGARDE WITHERS FILMS COLLECTION
4 DVD-R - 7 MOVIES - 1932-1944

Hildegarde Withers is a fictional character who appeared in several novels and films. She was created by Stuart Palmer. Miss Withers "whom the census enumerator had recently listed as "spinster, born Boston, age thirty-nine, occupation school teacher"' becomes an amateur sleuth in the first book of the series. Her adventures are usually comic but are nevertheless straightforward mysteries. She is a sort of variation on Agatha Christie's Miss Marple. "A lean, angular spinster lady, her unusual hats and the black cotton umbrella she carries are her trademark. ... Hildegarde collects tropical fish, abhors alcohol and tobacco, and appears to have an irritable disposition. However, she is a romantic at heart and will extend herself to help young overs. " She collaborates, and frequently butts heads, with Inspector Oscar Piper, a high-ranking homicide detective i n the New York Police Department.Edna May Oliver starred in the first three screen adaptations, produced by RKO Radio Pictures, and is considered the definitive Miss Withers. When Oliver left RKO in 1935 to sign with Metro-Goldwyn-Mayer, RKO attempted to continue the series with Helen Broderick and then ZaSu Pitts, but Oliver's presence was sorely missed and the films were poorly received. Author Palmer approved of Oliver's characterization so much that he gave the actress a mention in his Hollywood-based Withers novel The Puzzle of the Happy Hooligan. In 1972, CBS made a Withers television movie with Eve Arden as Withers and James Gregory as Piper. The movie was well-received, but failed to produce any sequels.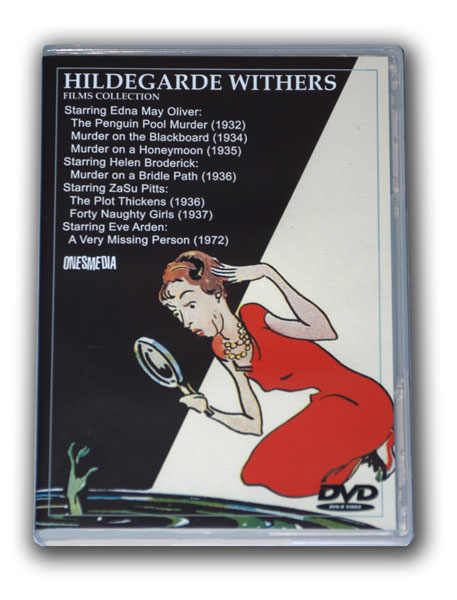 MOVIES LIST:
Starring Edna May Oliver:
The Penguin Pool Murder (1932)
Murder on the Blackboard (1934)
Murder on a Honeymoon (1935)

Starring Helen Broderick:
Murder on a Bridle Path (1936)

Starring ZaSu Pitts:
The Plot Thickens (1936)
Forty Naughty Girls (1937)
 
Starring Eve Arden:
A Very Missing Person (1972)
 
These films were originally produced long before the advent of High Definition TV, therefore they are best viewed on a small screen. HD TVs tend to stretch and skew the picture. Set your HD TV on 4:3 aspect ratio. (That was the old TV format). Please do not expect DVD or Commercial level DVDs from these films. Email us for any additional info.
Item number
MOV-4DVD-HildergardwWhithers
Currently there are no reviews available for this product. Be the first to write a review.