FREE SHIPPING USA ONLY. International Customers: Please add international shipping: http://m.onesmedia.com/category/313432
RICHARD DIX FILM COLLECTION Volume 1
8 DVD-R - 9 MOVIES
Richard Dix was one of the few actors to make the successful transition from silent pictures to sound. He worked for every major studio, most notably for Paramount in the 1920's and RKO in the 1930's.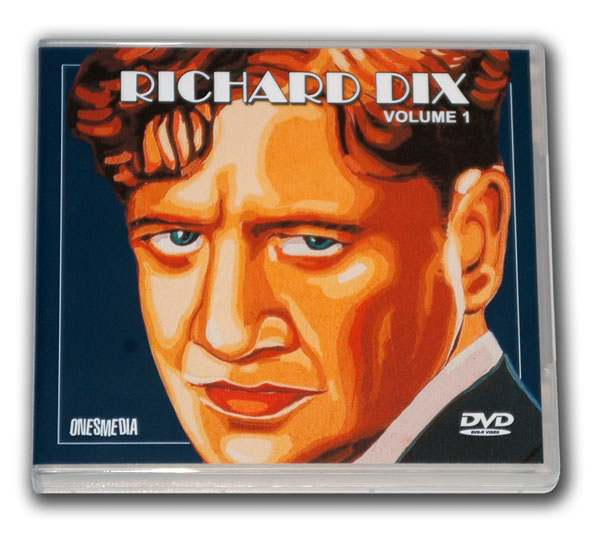 Remembered mostly for his cowboy roles, Dix was a diverse actor, starring in comedies, dramas, mysteries and historical epics. Aside from Cimarron, he is probably best know for his role as the maniacal Captain Stone in Val Lewton's The Ghost Ship. It was his last picture for RKO.Richard Dix hit his peak in 1931 when he was nominated for an Academy Award for his portrayal of Yancey Cravat in Cimarron. He retired in 1947, due to poor health, finishing his career at Columbia Studios. While there he made 7 films based on the popular radio series, The Whistler.
 
 
MOVIES LIST:
Disc 1 - Seven Keys to Baldpate (1929 - 72 Min.)
A writer, looking for some peace and quiet in order to finish a novel, takes a room at the Baldpate Inn. Peace and quiet are last things he gets, though, as there are some very strange things going on at the establishment.
Director: Reginald Barker.
Writers: Earl Derr Biggers (novel), George M. Cohan (play).
Stars: Richard Dix, Miriam Seegar, Margaret Livingston.
Disc 2 - Lovin' the Ladies (1930 - 65 Min.)
Jimmy Farnsworth (Allen Kearns) bets his friend $5,000 that he can get any two people, under the proper environment, to fall in love and become engaged within a month. It made a profit of $65,000.
The film's screenplay was adapted by J. Walter Ruben, based on the 1919 Broadway play, I Love You, which was written by William Le Baron, who produced this film. A younger Richard Dix starred in the play, which was produced by legendary movie cowboy G. M. Anderson.
Director: Melville W. Brown (as Melville Brown)
Writers: William LeBaron (based on the play: "I Love You"), J. Walter Ruben (adapted for the screen by)
Stars: Richard Dix, Lois Wilson, Allen Kearns.
Disc 3 - The Public Defender (1931 - 70 Min.) & The Stolen Jools (1931 - 19 Min.)
The Public Defender is a 1931 crime film directed by J. Walter Ruben, starring Richard Dix and featuring Boris Karloff. Rich playboy Pike Winslow dons the mantle of 'The Reckoner', a mysterious avenger, when he learns that his lady friend Barbara Gerry's father has been framed in a bank embezzlement scandal. Using meticulous planning and split-second timing, Pike, along with his associates, the erudite 'Professor' and tough-guy scrapper 'Doc', attempt to find proof that will clear Gerry and identify the real culprits.
Director: J. Walter Ruben.
Writers: George Goodchild (by), Bernard Schubert (adaptation).
Stars: Richard Dix, Shirley Grey, Purnell Pratt.
The Stolen Jools (1931) (Short)
The Stolen Jools (1931) is a short comedy film produced by the Masquers Club of Hollywood, featuring many cameo appearances by the film stars of the day. The stars appeared in the film, distributed by Paramount Pictures, to raise funds for the National Variety Artists Tuberculosis Sanitarium. The UCLA Film and Television Archive entry for this film says -- as do the credits -- that the film was co-sponsored by Chesterfield cigarettes to support the "fine work" of the NVA sanitarium.
When the film was shown in theaters in 1931, a person would appear after the film to ask the audience for donations. Because the film was made for charity, it has an unusually large cast of actors from various studios in addition to Paramount, such as Warner Bros., RKO, MGM, and Hal Roach Studios.
This film was known by the name The Slippery Pearls in the United Kingdom, and was thought to be a lost film until a print was found in the UK in the 1990s. Another print was later found in the US under the alternate title.
Directors: William C. McGann, John G. Adolfi (uncredited).
Stars: Norma Shearer, Stan Laurel, Oliver Hardy, Richard Dix.
Disc 4 - Ace of Aces (1933 - 77 Min.)
Ace of Aces (1933), also known as Bird of Prey, was a war film, based on the story The Bird of Prey by World War I pilot John Monk Saunders that explores how war can turn a man's moral compass from pacifism to warmonger. Starring Richard Dix, it was similar to many of the period films that appeared to glorify the "knights of the air", but was more complex, examining the motivations of those who choose to go to war.
Director: J. Walter Ruben.
Writers: John Monk Saunders (screen play), H.W. Hanemann (screen play).
Stars: Richard Dix, Elizabeth Allan, Ralph Bellamy.
Disc 5 - The Tunnel aka Trans-Atlantic Tunnel (1935 - 94 Min.)
It's the story of an engineer who takes on the most ambitious project ever - excavating a tunnel under the Atlantic Ocean from England to America - and the obstacles and sacrifices he makes while doing so. Stars Richard Dix and Leslie Banks with special appearances by George Arliss and Walter Huston. Directed by Maurice Elvey.
Director: Maurice Elvey.
Writers: Bernhard Kellermann (novel) (as B. Kellermann) , Curt Siodmak (screen story) (as Kurt Siodmak).
Stars: Richard Dix, Leslie Banks, Madge Evans.
Disc 6 - Reno (1939 - 62 Min.)
A gambler's (Richard Dix) daughter (Anita Louise) discovers he was the first divorce lawyer in Reno, Nev.
Director: John Farrow.
Writers: Ellis St. Joseph (story), John Twist (screen play).
Stars: Richard Dix, Gail Patrick, Anita Louise.
Disc 7 - Men Against the Sky (1940 - 75 Min.)
Men Against the Sky is a 1940 drama directed by Leslie Goodwins and featuring former silent film stars Richard Dix and Edmund Lowe. Based on a story by John Twist, and screenplay by novelist Nathanael West, the film deals with aircraft development and the dangers of flying in the period before World War II.
Director: Leslie Goodwins.
Writers: Nathanael West (screenplay), John Twist (story).
Stars: Richard Dix, Kent Taylor, Edmund Lowe.
Disc 8 - The Ghost Ship (1943 - 69 Min.)
The Ghost Ship (1943) is an American black-and-white psychological thriller film, with elements of mystery and horror, directed by Mark Robson, starring Richard Dix and featuring Russell Wade, Edith Barrett, Ben Bard and Edmund Glover, along with Skelton Knaggs. It was produced by Val Lewton for RKO Radio Pictures as part of a series of low-budget horror films. The film can be seen as a "low-key psychological thriller", a "suspense drama", and a "waterlogged melodrama".
The film is about a young merchant marine officer who begins to suspect that his ship's captain is mentally unbalanced and endangering the lives of the ship's crew. The ship's crew, however, believes the vessel to be haunted and cursed and several mysterious deaths occur.
Upon its theatrical release on Christmas Eve, 1943, the film was a box office success but received a mixed critical reception. However, in February 1944, Lewton was sued for plagiarism by playwrights Samuel R. Golding and Norbert Faulkner, who claimed that the script was based on a play that was submitted to Lewton for a possible film. Because of the suit, The Ghost Ship was withdrawn from theatrical release and not shown for nearly 50 years. It was not until the film's copyright was not renewed and it entered the public domain in the 1990s, that it began to be available again.
Director: Mark Robson.
Writers: Donald Henderson Clarke (screenplay), Leo Mittler (story).
Stars: Richard Dix, Russell Wade, Edith Barrett.
These films were originally produced long before the advent of High Definition TV, therefore they are best viewed on a small screen. HD TVs tend to stretch and skew the picture. Set your HD TV on 4:3 aspect ratio. (That was the old TV format). Please do not expect DVD or Commercial level DVDs from these films. Email us for any additional info.
CLICK HERE TO LEARN MORE ABOUT OUR PRODUCTS
We guarantee delivery of your item. If your item doesn't get there or is damaged, please notify us and we'll reship for you.
FULL REFUND IF NOT SATISFIED
Item number
MOV-8DVD-RichardDix1
Currently there are no reviews available for this product. Be the first to write a review.