FREE SHIPPING USA ONLY. International Customers: Please add international shipping: http://m.onesmedia.com/category/313432
MR. ACE AND JANE
OLD TIME RADIO - 1 CD - 15 mp3 - Total Playtime: 6:50:04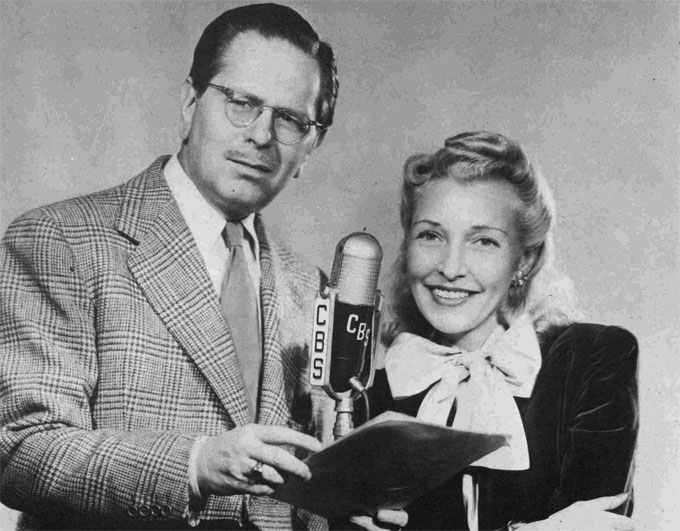 Short-lived update of the original Easy Aces comedy---this time, expanded to a half-hour, with music, live audience, and studio band. (The audition episode, "Paul Tries to Borrow Two Hundred Dollars," featured only an accompanying pianist and no studio audience.) Some of the storylines were adapted from the earlier Easy Aces (most notably, "Jury Duty," "Quiz Show," and part of the audition episode. (This episode was subsequently reworked into two individual episodes, one of which is missing from this set.)
Goodman and Jane Ace reprised themselves, with Ace now in the advertising business (he was formerly in the real estate business) and taking little barbs at radio advertising and other subjects contiguous to the medium. Jane's brother Johnny has been replaced by another shiftless brother, Paul (Leon Janney); Ace's new boss, the cliche-carrying Mr. Norris (Eric Dressler), is heard prominently, as is Ace's new and mostly incompetent secretary Sally Anderson (Florence Robinson). Ken Roberts---who played adult orphan Cokie in Easy Aces---appears as himself and also serves as the new show's announcer.
Sponsored originally by the U.S. Army and Air Force Recruiting Service, the sponsorship is said to have changed after the Army and the Air Force objected to the episodes spoofing jury duty and lawsuits; according to radio historian John Dunning, in "On the Air: The Encyclopedia of Old-Time Radio," the two branches of the military objected to a perceived disrespect for authority. General Foods became the new sponsor, for Jell-O, for the remainder of the series' brief life. After this series ended, the Aces attempted to bring the original Easy Aces style and format to television, in a fifteen-minute comedy for the experimental DuMont Network, but this lasted only one season.
Jane Ace then retired, mostly (except for a brief stint as what her husband called "a comedienne making her comedown as a disc jockey"); she died in 1974. Goodman Ace went on to forge a respected second career writing for other radio (The Big Show, especially) and television (Perry Como, Milton Berle, Bob Hope, others) programs and a weekly column for Saturday Review. He published four books---three anthologies of his Saturday Review writings (The Book of Little Knowledge: More Than You Wanted To Know About Television, The Fine Art of Hypochondria or How Are You, The Better of Goodman Ace); and, a collection of Easy Aces radio scripts under the title "Ladies and Gentlemen--Easy Aces," the show's longtime introduction---and became an occasional commentator for NPR's "All Things Considered" prior to his death in 1982.
EPISODES LIST

Mr Ace and Jane 48-01-16 (00) Paul Tries To Borrow Two Hundred Dollars
Mr Ace and Jane 48-02-14 (01) Loan Company
Mr Ace and Jane 48-02-21 (02) Send Flowers
Mr Ace and Jane 48-02-28 (03) Hiring a Maid
Mr Ace and Jane 48-03-06 (04) Talent Hunt
Mr Ace and Jane 48-03-13 (05) Jury Duty
Mr Ace and Jane 48-03-20 (06) The Mink Coat
Mr Ace and Jane 48-03-27 (07) Sally Fired
Mr Ace and Jane 48-04-03 (08) Cigarettes
Mr Ace and Jane 48-04-10 (09) Law Suits
Mr Ace and Jane 48-04-17 (10) Quiz Show
Mr Ace and Jane 48-04-24 (11) Bridge Game
Mr Ace and Jane 48-05-01 (12) Did You Ever See a Dream Walking
Mr Ace and Jane 48-05-08 (13) Baby Food
Mr Ace and Jane 48-06-04 (17) That Is No Lady, That Is My Wife
THESE ARE MP3 RECORDINGS
THEY WILL NOT PLAY IN REGULAR CD PLAYERS
CLICK HERE TO KNOW MORE ABOUT mp3
CLICK HERE TO LEARN MORE ABOUT OUR PRODUCTS
We guarantee delivery of your item. If your item doesn't get there or is damaged, please notify us and we'll reship for you.
FULL REFUND IF NOT SATISFIED
Item number
OTR-1CD-MrAceJane
Currently there are no reviews available for this product. Be the first to write a review.