FREE SHIPPING USA ONLY. International Customers: Please add international shipping: http://m.onesmedia.com/category/313432
ARSENE LUPIN COLLECTION
3 DVD-R - 3 MOVIES - 1932-1944
Arsène Lupin is a fictional gentleman thief and master of disguise created by French writer Maurice Leblanc. Lupin was featured in 20 novels and 28 short stories by Leblanc, with the short stories collected into book form for a total of 24 books. The first story, "L'Arrestation d'Arsène Lupin", was published in the magazine Je sais tout on 15 July 1905.The character has also appeared in a number of books from other writers as well as numerous film, television , stage play, and comic book adaptations.
 
MOVIES LIST:
Arsène Lupin (1932)
84 min - Mystery/Romance - 5 March 1932
A charming and very daring thief known as Arsene Lupin is terrorizing the wealthy of Paris, he even goes so far as to threaten the Mona Lisa. But the police, led by the great Guerchard, think they know Arsene Lupin's identity, and they have a secret weapon to catch him.

Director: Jack Conway
Writers: Maurice Leblanc (play), Francis de Croisset (play)
Stars: John Barrymore, Lionel Barrymore, Karen Morley

Arsène Lupin Returns (1938)
Passed 81 min - Mystery - 25 February 1938

A woman and a man vying for a woman's affection: the usual love trio? Not quite so since the belle in question is Lorraine de Grissac, a very wealthy and alluring society woman, while one of the two rivals is none other than Arsène Lupin, the notorious jewel thief everybody thought dead, now living under the assumed name of René Farrand. As for the other suitor he is an American, a former F.B.I. sleuth turned private eye by the name of Steve Emerson. Steve not only suspects Farrand of being Lupin but when someone attempts to steal a precious emerald necklace from Lorraine's uncle, Count de Brissac, he is persuaded Lupin is the culprit. Is Emerson right or wrong? Which of the two men will win over Lorraine's heart?

Director: George Fitzmaurice (as Geo Fitzmaurice)
Writers: James Kevin McGuinness (original story and screen play by), Howard Emmett Rogers (original story and screen play by)
Stars: Melvyn Douglas, Virginia Bruce, Warren William

Enter Arsène Lupin (1944)
72 min - Crime/Drama - 24 November 1944

A rich but naive young woman is in possession of some priceless jewels. She doesn't realize it, but a gang of jewel thieves does.

Director: Ford Beebe
Writers: Maurice Leblanc (character), Bertram Millhauser
Stars: Charles Korvin, Ella Raines, J. Carrol Naish

These films were originally produced long before the advent of High Definition TV, therefore they are best viewed on a small screen. HD TVs tend to stretch and skew the picture. Set your HD TV on 4:3 aspect ratio. (That was the old TV format). Please do not expect DVD or Commercial level DVDs from these films. Email us for any additional info.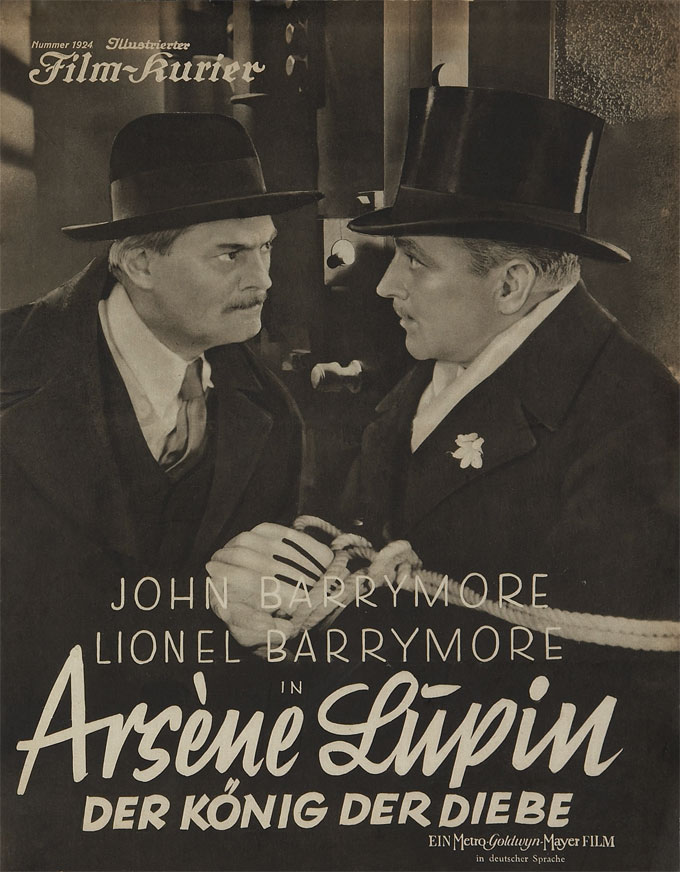 CLICK HERE TO LEARN MORE ABOUT OUR PRODUCTS
We guarantee delivery of your item. If your item doesn't get there or is damaged, please notify us and we'll reship for you.
FULL REFUND IF NOT SATISFIED
Item number
MOV-3DVD-ArseneLupin
Currently there are no reviews available for this product. Be the first to write a review.